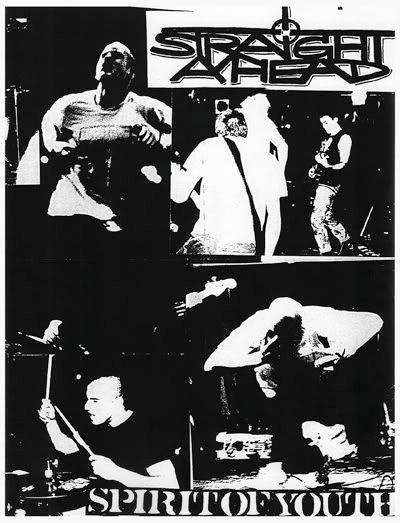 Original Straight Ahead artwork from the collection of Duane Some

Although you couldn't pick a loser out of the songs on the record, the self-titled tune by Straight Ahead took the win here, followed closely by my personal favorite, "Breakaway." While the song Straight Ahead is a no-nonsense classic anthem that should practically be the theme song for all youths growing up in New York City, the mosh part in Breakaway and accompanying solo is what I would want to have cued up on headphones if I was ordered to demolish a large bridge. I'm not sure anybody has ever sounded cooler than Tommy when he yells "BREAK THROUGH, BREAK FREE, BREAAAKKKKAWWWWAAYYYYY!!!!!..." Perfect, man.

That whole record is a classic. When I think of 1987 NYHC, I think of the Straight Ahead LP. Perfect recording, perfect raw energy...and I know there are people that will tell me the record is not nearly as good as how they were live, yada yada. Here's what I'm saying: this record is a classic. If you don't know it, if you don't love it, if you don't abide by it: you pose.



Original ad for the Straight Ahead LP that was posted on the door of Some Records

Oh...now is probably a good time to mention that in the coming weeks, we should have an interview with none other than the man himself, Mr. Tommy Carroll, brought to us via DCXX contributor-in-the-trenches, Howie "In-Effect" Abrams. Psyched!!! -Gordo DCXX

Straight Ahead - 86
Breakaway - 68
Spirit Of Youth - 27
Not Afraid - 13
We Stand - 13
Right Idea - 12



Straight Ahead flyer from the collection of Duane Some