Sergio with Amenity, Photo courtesy of: Amenity

Sergio Hernandez - Amenity

Crucifix - Dehumanization - straight from the start, Sothira's powerful & poetic intro leading into the classic guitar riff for the main album track blew my mind away as a 14 year old! Not to mention the fold out poster record cover, true DIY punk style. It's your choice! Peace! Or annilhilation!




Andy Guida - Altercation / Supertouch / Running Like Thieves

I was just thinking about what record it would be for me, I was thinking that I would choose Offenders, We Must Rebel. Strange. A lot of my friends missed that record. We Must Rebel has great playing and singing on it. Those guys could play. That record hit me hard. It still does. Good alienated, pissed off lyrics, catchy songs and they were fast and tight. I used to practice drums to that record. Fun. Although I think I had The Butthole Surfers, Psychic Powerless Another Man's Sack on the other side of that cassette. I listen to that record more consistently over the years. Are the Buttholes allowed to be on the list? Does the rule book allow for that?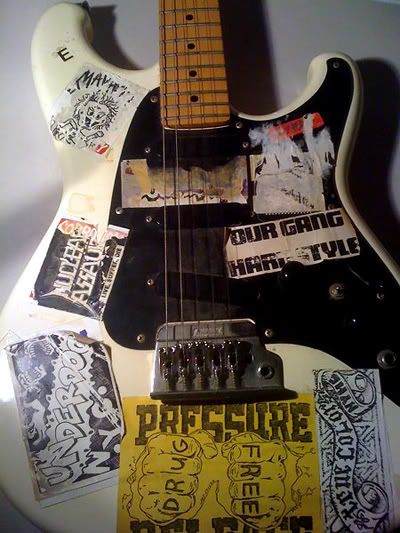 Lew's guitar, Photo courtesy of: Lewis Dimmick

Lewis Dimmick - Our Gang

I could easily go with the Minor Threat LP (two 7"s) or Bad Brains ROIR Cassette, but I've decided to go with a NY record: Agnostic Front's Victim In Pain.

This record, following its release, set the template for just about all the hardcore in and out of NY in the '80s, both musically (fast part / mosh, fast part / mosh) and lyrically (unity among members of the scene, who were outcasts from society).

It was a worthy template to follow, until the late '80s when the template shifted, from fast hardcore to heavy moshcore with lyrics about busting heads, and all the energy of hardcore became horribly misplaced.