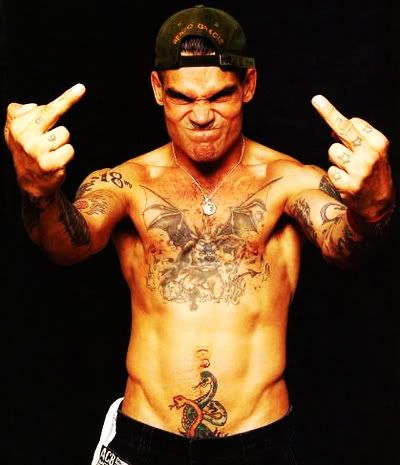 Harley Flanagan drops the dual fingered salute

We welcome NYHC legend Harley Flanagan to DCXX with what we hope will become an ongoing weekly installment where we pick his brain with random questions and he fires off in a way only he can. Maximum respect. -Gordo DCXX

What is your all time favorite Cro-Mags song, and why?

Well let me just say I don't think the records ever really did us justice ,I think the old demos and "Revenge" came the closest, but we were a live band, as anyone who ever saw us back in the day would tell you. Age Of Quarrel didn't come out nearly as good as we were live, none of it really did. But all time favorite, and why? I'm not sure, because they all mean something to me.

Some of my favorite ones never got recorded and or haven't been recorded yet just due to circumstances and the band falling apart, etc. Parris and I did write a few cool ones back in the old days even before Age Of Quarrel when Eric was still with us that never got recorded - they had great riffs and great lyrics, its too bad they never made it into the studio. Really great stuff.

But I feel like I still have my best songs in me - whether they ever got recorded or not we will see. But overall I can't be sure which one is my favorite. Whether it's a lyric or a riff or memory that goes along with it, they all mean something to me.

For example, Eric and me wrote the words to Life Of My Own and World Peace and those were some of the first sets of lyrics I wrote. The lyrics to Life Of My Own are still really meaningful to me, and we were just kids when we wrote that shit - like 14 or 15 years old. I mean the song is only one riff really but for whatever reason it works. Me and Parris writing the riffs to those songs...we took that shit real serious for two fuckin' kids barely into our teens.

I still enjoy playing all of them - Malfunction is real fun to play, even some of the stuff on Best Wishes like Death Camps or the song Age Of Quarrel...those are some heavy riffs. And I really liked some of the stuff on Revenge like Premeditated or Can You Feel - that one has a lot of the best elements of different styles of Cro-Mags songs in it. In a lot of ways I thought musically and performance-wise that was some of our best stuff.

Regardless of whether we get along or not now, I gotta tell you that Parris is one nasty motherfucking guitarist. I still haven't seen ANYONE on the NYHC scene that can fuck with him at all. His rhythm playing is as nasty as James Hetfield or Scott Ian, if not better. There's a few guys out there on the HC scene that are decent, and I've played with some great guys: Doug Holland who I gotta say was one of if not the best lead guitarist to come out of NY during the 80's, Gabby Abularach, Joe Affe, Sean Kilkenny, Will Dahl, Jay Vento, even AJ...and so on. But Parris, I gotta say, he is really nasty and probably the best to come out of the NY scene.

And no matter what people say or think of me, you still can't fuck with me, my shit, or the riffs I wrote. I mean some guys can fake it and play the right notes and shit Craig and that Chinese kid or whoever else he gets. And that's not to say they are not OK bass players and I'm not trying to dog them as people, they're nice guys and everything. But let's get real...they ain't really doing it right, they ain't got my right hand or my rhythm chops or skills and they don't bend the strings the way I do or have the grip I do. And I'm not bragging or talking shit.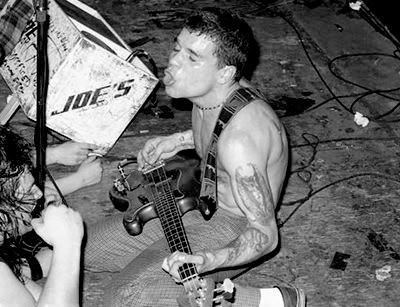 Harley with the Cro-Mags at City Gardens, Trenton NJ, Photo: Ken Salerno

I mean it's kind of like trying to replace Darryl in the Bad Brains or something, or Geezer with Sabbath. I mean even if they are playing the same notes it ain't gonna have the same feel, period. I know Tony had other guys but it just ain't the same...no one ever does it like the original.

I mean cats like AJ or whoever, even though he's pretty good, they can't fuck with Parris or Doug, he's not half the guitarist they were, never mind Rocky George or Gabby.

And I developed my style from years of being a drummer, and that strength comes from playing the ride cymbal and the high hats doing 16th notes and shit for years and years and watching the masters like Darryl and Lemmy for all those years back in the day. Once I learned all those songs and got down with Geezer and shit, then I started checking into guys like Stanley Clark and Jaco and crazy shit like that, and I took what I could and made it my own and that's why my playing is the way it is. I listen to a lot of different kinds of music and I try to incorporate it into my style. Plus, I've been playing for nearly 30 years.

I mean these hardcore kids can fake it jump around a lot and look tough or whatever, but there's only a couple guys that are really musical you know? As far as cats that I give props to, Robert who played with Suicidal and Ozzy and all that, yeah...he'll smoke me, but I will say that we have two different styles. I love his playing, he's also a great guy. Darryl, he'll smoke me, but I learned almost everything I know from him. Rainy from Discharge - he's fucking off the chain, you can't even fuck with that shit.

Brian Baker was really good back in the day when he was playing bass with Minor Threat. I mean there was some good guys here and there, and there was some really cool bass lines from back in the day like the song Problem Child from LA's Wasted Youth. There was a lot of great stuff, like Randy Rampage from D.O.A. Also Chuck Dukowski - I don't think people realize how good he was 'cause they were so crazy and sloppy live but that dude could really play. I used to sit and watch him warm up and practice back stage and he's fucking nuts. There was a few guys who were good, I can't think of 'em all right now - I mean Flea was sick, he used to be with FEAR before the Chili Peppers. But with most hardcore bands for the most part it's more about the look - they got the right tattoos, the right look and the moves...they can jump real high or whatever or they've got the tough guy look, that's enough for them. But can they actually play the shit? Like really?

For instance I mean John can get whatever Cro-Mag fan he wants on bass but it ain't gonna sound like me. It might sound sorta like the song, they may fake the left hand but they can't fake the right, and besides that he doesn't have anybody with him that wrote any of the songs. It's all kind of pitiful to me, it's real fake. I mean I'm not trying to take away who he is or what they are, but still, what they are doing is fake. And, Eric Casanova wrote most of the words to AOQ with me, and he never gets any credit.

I mean, Craig from SOIA knows it is not the real shit, whenever he runs into Sean Killkenny or other mutual friends of ours he never says yeah I'm playing with the 'Cro-Mags' or I'm filling in with the 'Cro-Mags' or jamming with the 'Cro-Mags' or anything like that, he always says yeah I'm filling in with 'John's thing,' they all know it ain't the "real' thing," and anybody who ever saw it when it was real knows it too. What can I tell you.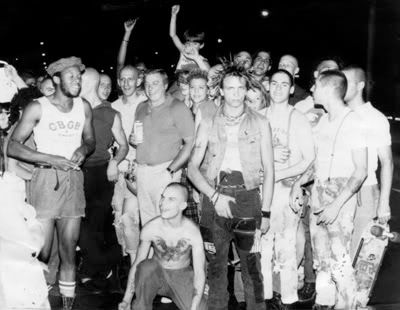 Harley front and center with the New York Crew, 1983, Photo: Ran D.

You've played with some great drummers over the years. Who do you say is the best, and who have you clicked with most?

Well I clicked with all of them, each one differently for different reasons, obviously Mackie set the bar high back in the day. Dave Dicenso was one of the most technically skilled drummers I've ever played with and he's a great guy. Ryan Krieger is sick. Gary G-Man Sullivan is off the fucking hook, I mean crazy! That motherfucker's nasty, I dont know too many humans who do anything with the power or intensity that that mofo drums with. I love playing with him and he's a great guy as well. Eric Arce is another one, Walter Ryan too.

I've been really lucky, but I'm a drummer so I don't settle for anything but top dog motherfuckers. Plus like I said we had Mackie and that set the bar kinda high, he's a nasty motherfucker so everyone that followed had to at least be able to pull that shit off which made them a great drummer automatically just to be able to do all that shit. Of course I mean I can't forget Pete Hines, he was another one who was one of the best drummers on the scene back then.

But man, any of those guys, I'd play with any of them gladly, purely on a musical level for that alone.



Harley with Andy Warhol and Joe Strummer, Phone courtesy of: Harley Flanagan

What has been your favorite place outside of the U.S. to play, and why?

Well I have so many great memories of different countries so it's hard to say.I love traveling and meeting people, trying new foods and all of that so touring outside of the states is always fun. I have been digging Japan a lot as it's just such a different culture, the people are so nice. They are almost too polite. The less drama the better, that's why I like it there. To get to travel by playing music just makes it all even better. If you would have told me when I was 14 years old living in a squat that I would travel the world so many times by playing music, I would have laughed at you. These days I don't do it as much as I used to, as I have a family now, and with that in the picture, it really has to be worth it to leave them.

I always have fun when I'm out with Harley's War, the guys are all so cool it's fun and it's all a good time. It ain't really like being in a band at all because there is no schism and no drama, and in truth, with all of the Cro-Mags bullshit over the past few years, it has kinda made it a drag for me. A lot of the people I used to deal with I just don't even feel like dealing with anymore. I mean I used to have really good memories of the shit, but people are so fake now. I don't know, maybe they always were, but everyone's always involving themselves with all of this bullshit that ain't really even their business except for the few people that were involved, so fuck 'em.

That said, it's all for money anyways with all these promoters and shit selling a fake band. They can claim whatever they want, it ain't really the band, it's some really fake shit, and all the new kids, well, they dont know any better so I guess they'll take what they can get. I mean I understand, they're fans of the music, so, it's like going to see Ozzy instead of Sabbath or going to see Sabbath without Ozzy - but on a much much much smaller level. Believe me I'm not trying to compare us to Sabbath, trust me - you take what you can get. They just want to hear the songs and have a good time - they didn't see it back in the day so they take what they can get. They dont know what they're missing, they didn't see it back in the day and they never saw the real shit. So they're happy to see whatever they can and I understand.

I wish the band could have put all the bullshit and egos in the past a while ago and given the fans what they wanted. But I guess John would rather sell some fake shit, that way he can be in control of it all instead of having to be a part of something where everyone is in control and has a say. That's why he's been talking all this shit for all these years, so people will support it. He's even been writing books to try and put this weird twist on everything, to make us look bad and make him look good or whatever. I tell people all the time, don't believe everything you hear or read. He's an entertainer and he does what he has to do to sell what he's doing. And Parris, well I don't even know what to tell you, it's just too bad and kind of pitiful. I never thought grown ass men could be this way.

But hey, none of us are innocent, and it don't help with all these fake motherfuckers adding fuel to the fire.

But fuck it, and fuck 'em all anyway. I'm so busy with my family, my kids and Jiu-jitsu. My kids train now, between me and them we are at the academy 5 to 6 days a week. It's a full time family affair now, I'm having a good time and life is good. I'm having fun with them, just living life. I am in the studio at the moment and I do have some stuff coming out soon, but I'm in no rush, I'm chilling. I'm supposed to be going to Japan again this summer. But that's about it, I'm training and chilling...



Harley and his boys hanging with Renzo Gracie, 2010, Photo courtesy of: Harley