With the release of their 12", "Uprising", due out any day now on Jack Roy Records, I had been talking to Lew from Our Gang to get them on board for some content on DCXX. We decided to do an interview, I sent them some questions and within a couple of hours I had gotten a message back from Lew saying that they had just done an interview that was posted on their own website and it had already answered a lot of the same questions we had asked. Lew asked if we'd be cool with re-posting the same interview that appears on their site and we agreed. So here it is, part one of an interview with Lew and Hobi of Our Gang. -Tim DCXX

How did Our Gang Originally form? Were you guys friends from high school? Meet one another at HC shows? How did it happen? What year was this?

Lew: Hobi and I formed the band together. We had been friends since junior high school and grew up listening to punk and metal together. Our first band was called Blood Sausage, a mock metal band. This was before we actually knew how to tune our guitars. We probably started writing the songs that we would later use in Our Gang in 1986 or so.

How old were you guys when you formed?

Lew: 15 or 16.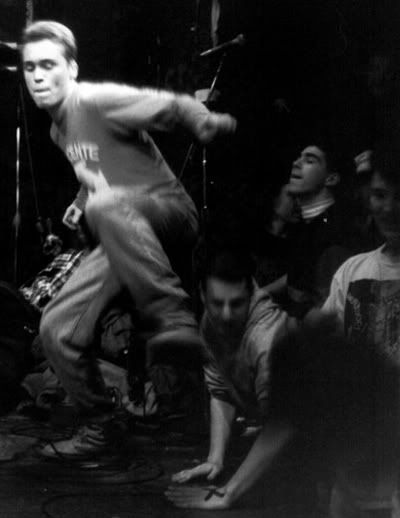 Bryant skanking across the CB's stage with Our Gang, 1989, Photo: Tracy S. Sham

What was your goal as a band when you first got together?

Lew: To be in tune, put out a demo we could sell at Some Records. Play CBGB's. Become part of the NYHC scene.

Who was in the band and what did they play? Were there many line up changes?

Lew: We recorded 4 demos at Don Fury's. Nothing from the first demo (late '87) appears on the record, as that demo was mostly out of tune. Hobi and I switched back and forth between bass and guitar on that recording. Bryant sang and Pat played drums.

Our second tape (June '88) was the re-recorded "Uprising" demo. Javier joined on bass for that demo so that both Hobi and I could play guitar.

We went to Don Fury's a third time (October '88) to record a new song, "No Motive." That song and "Penguin Romp," a NYC Mayhem cover, appear on the LP from that tape.

Hobi: It should be noted that we went to Don's that time solely to record for Freddy's New Breed Comp. Oddly, we chose not to submit it cause we thought it wasn't good enough. In retrospect it's one of the best things we ever did.

Lew: The last 3 songs on the record, our more melodic songs, are from the fourth Don Fury tape. I took over on bass for this tape, as it was not really Javier's style. We ended as a four piece band.

Hobi: That session at Don's was intended to be a demo for us to scrutinize before recording our record. We had gotten much more serious as a band - diligently rehearsing and thinking about the songs. It was really exciting to see what Bryant was doing lyrically and vocally while we were growing simultaneously as songwriters.



Lew with Our Gang at CBGB, NYC, 1989, Photo: Tracy S. Sham

I always loved the name Our Gang...because of growing up on the Rascals, and because it just sounded kinda mean & tough. Who came up with the name, and what did it mean to you guys?

Lew: Hobi came up with the name. That guy is a genius at names. He can say more about the name, but to me it represents our earliest days hanging out in the scene. It was just about our group of friends hanging out together and having fun. That's what hardcore was for us, great music and great friends. The name was not meant to suggest violence in any way. The hardcore scene had not yet been corrupted by violence.

Hobi: I loved the Rascals as well and that of course was the inspiration. I loved it as a hardcore band name however because it did suggest that this scene was our exclusive club. Anyone can join but ya better not bring all that bullshit in with you. Back then Hardcore music was pure noise to normal people and people still thought we were weirdos and I LOVED that.

What were your main musical influences back then?

Lew: Minor Threat, Bad Brains, Underdog, Token Entry, Warzone, NYC Mayhem, Straight Ahead. There's a lot more obviously.

Hobi: Cro-Mags, YOT, Ramones, Sabbath and Metallica deserve honorable mention.



Our Gang at The Anthrax, Photo: Joe Snow

What do you think it was that drew you into punk/hardcore back in the 80's?

Lew: In the early 80's Hobi and I discovered a lot of different records in his apartment. His father was a record collector. And a hardcore one! Not meaning that he collected hardcore music, but he just collected records, specifically colored vinyl and picture discs. We found tons of interesting things to listen to on what sounded to me like the best sound system in the world. We discovered the Sex Pistols, Dead Kennedys, Bad Brains, Crucifix. The RAT MUSIC FOR RAT PEOPLE comp was big.

In 1985 I ordered the NYC Mayhem demo from Mutilator fanzine, done by Tom Capone. We lived on that tape. When we met Duane we traded it to him, along with a copy of the interview from Mutilator, for the Straight Ahead demo and a soundboard of SA's first CB's show. We started going to CBs early in 1986. Straight Ahead's first show was our first show. Hobi went to an art high school in the city, and lots of people that went to that school became our hardcore gang. Some of those guys discovered Some Records and that is how we discovered Underdog, Token Entry, Youth Of Today, Crippled Youth. Coming across all those EPs for the first time was pretty mindblowing.

Hardcore was a perfect fit for us. We were never normal kids who wanted normal things, like going to keggers on the weekend. We had an attitude and viewpoint toward life that was similar to the attitude we found in hardcore music. We were attracted to the idea of people doing their own thing, away from the mainstream. We also loved really fast music, with distorted guitars. Hobi and I were pretty strict when we were young. If you weren't playing fast, you weren't hardcore.

Hobi: I'd like to talk about the HS of Art and Design for a second. Both Pat (drums) and Bryant (vox) went there with me. Bryant practically introduced me to my wife Caroll there whose sister had once dated Stigma for chrissake! Chuck True Colors, the spiritual leader of Our Gang and greatest hype man in HC went there as well as my great friend Rich All For One. It was such a unique experience going to school in Manhattan everyday back then. It really defined my hardcore experience.



Hobi takes flight with the Flying V at CBGB, NYC, 1989, Photo: Tracy S. Sham