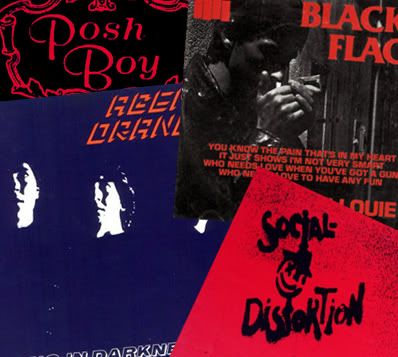 To wrap up our Posh Boy Records Poll, we went to California legend of all things Hardcore: Jon Roa. While Jon didn't actually vote for one of the bands we listed in the poll, we found his quick history lesson worth posting. As for Tim and me, we went with Agent Orange. When I think of Posh Boy, I immediately think of Agent Orange for "Living In Darkness" alone. Either way, lots of crucial punk records in that back catalog. Thanks to Roa and thanks for voting! -Gordo DCXX

First, I thank Double Cross for asking me to contribute anything.
Gordo has kindly asked me to list my favorite early Posh Boy band. I have seen all of the bands on the list (all with Ryan Hoffman of Chain of Strength I might add) and even though my vote choice goes to TSOL, my absolute favorite Posh Boy release is one not listed: The Stepmothers "All Systems Go EP" (12", EP) 1981.




The Stepmothers released a single, an EP and one LP "You Were Never My Age" on Posh Boy records as well as being on "Rodney on the Roq, Vol. 2." They are best described as a state-side Generation X.

The reasons I love this short five-song burst of energy of a record are many but here are a few of them: The band is from of my area of upbringing-the 909! They borrowed so many genre influences that they were never really accepted by any one group: too metal for the punk crowd and vice versa. I saw them in Chino, CA in 1980 at a hall that they rented and it was a great shock to see a local band that good. The members were totally cool and supportive of this fat, bald kid with braces who lied and said he had a band (me). But above all, their lyrics were great.

I think you all should seek out the CD and listen to the words to "Don't Kill The Beat" which are still strong today:

"So you have been into the scene for a month or two.
But that kid there, there is something wrong with you.
You spike his face so he fears for his life.
You forget pretty quick what your first night was like."

I hope all you Double Cross people track it down and listen to the song, "IF I WERE YOU" as it is a great one. Let the world know what you think.

I think it is fantastic. - ROA XXX