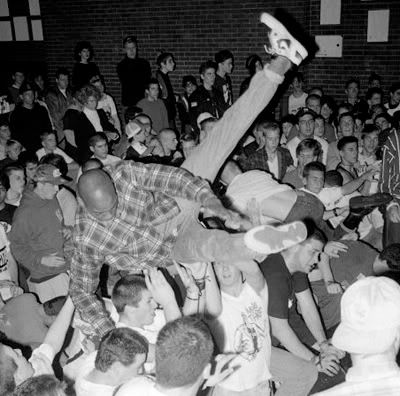 Ajay goes for a dive during Enuf's set at Scott Hall, Photo: Ken Salerno

Ajay James - Enuf

Kind of surprised that it wasn't on here yet, but I have to say for me it was the Bad Brains and their Bad Brains album. I remember when I first heard punk music back in '83, and then I started working at the skate surf shop Freestyle in Woodbridge mall. I heard it on the Rutgers University radio station, didn't even know what punk was. I used to listen to KRS One and Kool DJ Red Alert, but this was so dope.

I remember when I bought my first walkman type device, a Mura Hi Stepper, and I used to listen to punk through the late hours of the night. Then I remember the movie After Hours came out, and it was a wrap for me, because they used Pay to Cum in it. That basically cemented punk as my music of choice, although I was still heavy on the rap, ska and reggae as well.

Another major factor for me was that they were a strong influence for me as a West Indian growing up here, because of the reggae influence, and also, there weren't any other all black groups doing this genre of music at this time. Of course it was huge for me, and that I believe for me is what got me interested in doing Enuf with my bruddah Andy White.



Token Entry promo photo, Astoria Park, Astoria NY

Johnny Steigerwald - Token Entry

Out Of Step by Minor Threat never gets old. I listen to the album now and it seems to have such a natural flow to it. Ian still had the anger and passion that carried over from In My Eyes. Brian Baker jumped from bass over to guitar to team up with Lyle Preslar and Brian's influence came through, giving the band a new element. I love the fact that they experimented a little more with rhythm and tempo changes - even kicking back and getting a laugh with "Cashing In." Twenty seven years later I'm still blown away by the overall sound of the album. The production is clear and precise but it still has a lot of grit. I think it's one of the best hardcore albums ever made, and it still stands tall today.