How did The Abused come together? What was the song writing process and what were practices like?

Raf and Dave approached me at A7. They had a three piece with Raf on guitar/vocals, Dave on bass/vocals and Charlie (ex-Reagan Youth) on drums (he was eventually replaced by Brian). They were looking for a front man. So, I joined the band. Rehearsing and song writing was very serious business to us. The majority of our rehearsals were closed door sessions, no one other than band members allowed. We checked our egos at the door. This allowed us to develop a collaborative method to our songwriting. Typically, Raf or Dave would come up with some chord progressions, Bryan would stick a beat to it, I would bring my notebook with lyrics then we would collectively work on the arrangement.

I think the energy that our songs had was due in part to the stake that each one of us took in every song. We truly were a group. That's why, when we played the A7 reunion it had to be all four of us (Dave flew in from New Mexico to do the show). I don't think the energy would have been the same if we had done otherwise.

Memories from recording the "Loud and Clear" 7"?

It was a long time ago, but I'll try. For the recording, we borrowed a Marshall stack from a friend (Francis) who lived out on Long Island. On the drive back it started to snow and turned into a blizzard. We almost got stranded. When we did the vocal track, we made a "box" out of sound proof panels in the middle of the floor. I climbed in and they "sealed it shut". I don't think it made a qualitative difference, but it sure made us feel cool.



The Abused, CBGB's NYC 1982, Photo courtesy of: Kevin Crowley

What was a typical Abused gig like? Paint the picture for the younger crowd that never experienced it.

We always tried to put on an audience friendly show. By audience friendly I mean we liked to include the audience in the show as much as possible and encouraged a lot of back & forth banter. When most of your songs don't run longer than a minute, you need to have a certain amount of "set filler". Specific things like the "Blow Your Brains Out" sing along became a tradition at our shows. And of course, there was the rage. But, that's what a hardcore show is about. Isn't it?

Favorite memories from playing with The Abused?

The older you get, and the farther removed you become from a period of time, the more generalized your memories become. What I remember most from that time in my life is the camaraderie we had. Playing in the Abused was only part of the equation. The early scene was pretty tight. So for me it was really a combined experience of the band and the scene. As testosterone laden some of our lyrics may sound, it's the way we viewed things back then. Unity, loyalty, friendship and trust were our by-laws. These were all things that seemed to be lacking in mainstream society. It was the feeling of being part of something, of belonging to an underground society. Oh, I forgot to mention, it was a lot of fun. 




Anything you'd change or would have done differently if you had the option?

I'm happy with the choices we made. Although…It would have been a great experience to do some serious touring. It also would have been nice to record the rest of our songs.

What are you up to today?

I'm pretty settled. I'm married and have kids. I currently work in finance (although I'm not 100% certain what I want to be when I grow up). Band wise, we are trying to put together an LP of remasterd songs and some live songs from a CB's gig that have never been released before. Like most people I know, I'm trying to find that balance between work and play.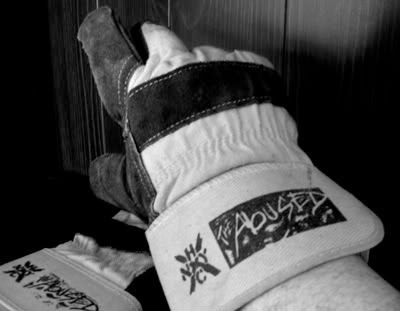 Abused construction gloves, Photo: Ben Alvie