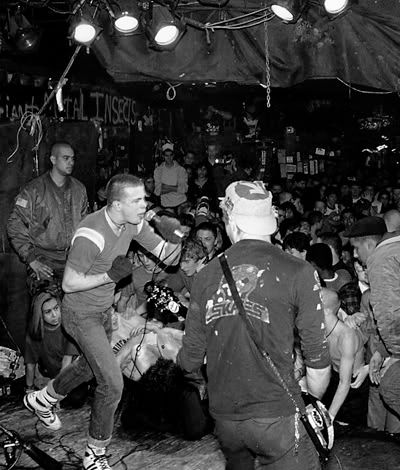 Krakdown at CBGB's, Photo: Boiling Point

Tracking down the ones that no one has heard from in decades was a definite goal for us when we started Double Cross. Although there are still plenty out there that we're in pursuit of, slowly but surely we're making progress. Occasionally we'll have a gem like this that pops out of the wood work and that we can't help but hit up. Right here is a character that has almost taken on a legendary type status when it comes to New York Hardcore, ladies and gentleman… Jay Krakdown.

This is part one of a multiple entry interview with the Krakdown frontman that seems to get better and better as the questions go on. "We need change"… -Tim DCXX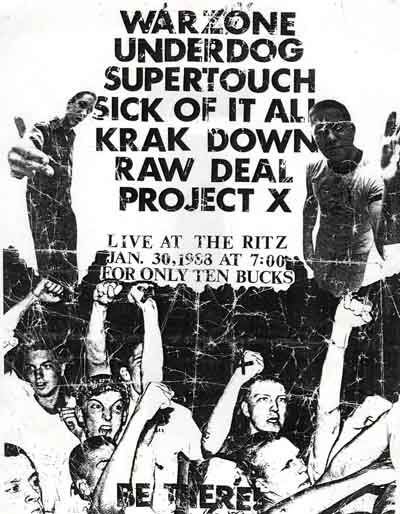 Where exactly did you grow up?

I grew up in Glen Cove, NY in Nassau County on Long Island. GC is sort of a wild place with everything from the wealthy to dirt poor and projects. The area had a number of gangs based on ethnicity and it's an area where people used to love to drink and fight. I grew up in a poor blue collar area close to the projects so I spent a lot of time hanging out with different races. My neighborhood though wasn't quite as tolerant, and some of my friends had issues with the Archie Bunker types of the neighborhood.

What was your introduction to punk/HC/metal/underground music and what's the backstory to this?

My first introduction to punk was in 1979. My mother is from England and I was fortunate enough to be able to go there a couple of times in my life. While there in 1979 I had a fight in a park in the town of Cambridge with a punk rocker. Well we hung out for the rest of my stay and he turned me onto the music. I even bought the 45 (that would be a one song 7" for all you youngsters out there) of the Ruts, Babylon is Burning. Anyway when I came back to the states I sort of forgot about punk and hardcore, with the exception of listening to NYU at times. It wasn't until a few years later that I started getting back into it, and in late '84 I made the complete transition from metal to hardcore and the NYC scene.

Who did you get into punk/HC with?

The bass player of Krakdown, Damon Tillman, is the one who really brought me full force into the scene. Damon and I grew up together but before HS kind of went our separate ways. I hung with him here and there through a couple of mutual friends (Danton, Marcello, and Mario, who were all in the scene at the time). So through him and those guys they kept me in tune with Hardcore and turned me on to AF, Cro Mags, CFA, Reagan Youth, Urban Waste, The Mob, etc. I went to shows here and there back then but didn't start going to shows regularly until 1985 so I guess I caught the tail end of the Golden years.



What are some stand out memories of going to early shows?

Stand out memories…hmm this is a hard one. I guess since you asked about early shows well let's see…CFA and Reagan Youth at Central Park…that was some show. Moshing on the concrete, Alexa with a bloody lip, and I can't remember who was in the cast but holy shit what a show! The Suicidal show at CB's when the Cro Mags trashed their van…that was a crazy show. 7Seconds at CBs…what can you say…pretty much any AF or Cro Mags show at CBs is filled with fond and crazy memories…or the Murphy's Law shows before the smoke machine, when actual bongs were smoked on stage.

Most of my memories aren't so much of particular shows but of the people I met and hung out with. I will never forget those days.

I guess my favorite shows were really all the bands I saw that were my close friends…Sick Of It All, Absolution, Raw Deal/Killing Time, GB, NY Hoods, Nausea, Token Entry, and on and on. I know I left some of you out but you all know who you are. I met some of my closest friends down there. I know it sounds stereotypical but that was the only place I really fit in. High School…fuck that! I had few friends and didn't get along with many people. The people I hung out with weren't friends but drinking and drugging buddies. That's why in 1985 I quit it all (alcohol, drugs, and even HS). Now I just have the occasional beer.

So all I did in HS was drink, fight and get arrested. But when I started hanging out on the scene I met people just like me and that is where I met my TRUE friends…so my stand out memories are really of all my brothers and sisters from the NYHC scene. I know that sounds cheesy but the NYHC scene had a profound effect on my life and truly shaped me into the man I am today. I am especially grateful for the closeness I had with some of those that are no longer with us but live now in my memories and I keep their spirit close to my heart!

TO BE CONTINUED...



Raw Deal's first show at CBGB's, Jay Krakdown with the stage antics, November 1987, Photo courtesy of: Anthony Comunale