Ryan Hoffman and Alex Pain with Chain at City Gardens, Trenton NJ, Photo: Ken Salerno

Which is your favorite Chain 7", "True Till Death" or "What Holds Us Apart" and why?

I like them both for different reasons, but overall, "What Holds Us Apart" is my favorite.

Any stand out memories from recording the "True Till Death" 7"?

Writing the songs was a great experience but the recording process sucked! You would have to clear it with Bratton, but from the best of my knowledge it was recorded for under $500. So it wasn't fun at all, we just rushed through our set and most of the music and vocals were first takes. That was the one really great thing about Curt, he would nail it on the first take.



More Ryan and Alex from City Gardens, Photo: Unknown

Any stand out memories from recording the "What Holds Us Apart" 7"?

It was right about the time when Dag Nasty's "Field Day" was released and Bratton and I really like the sound quality of the record, and heard from Brian Baker it was inexpensive to record. Again we were on a very strict budget and rushed through it but this experience seemed more relaxed. I can remember the recording engineer telling us stories about Dag Nasty bringing skanky girls to their sessions which was hilarious. Also, there were stories about the studio's claim to fame, the 80's metal band Dokken. But what really helped make it a fun experience was bringing everyone in for backing vocals: Trevor (Foundation Records), Porcell, Steve from Turning Point, Dennis Boiling Point, Randy Pushed Aside and many others. That helped make it super fun.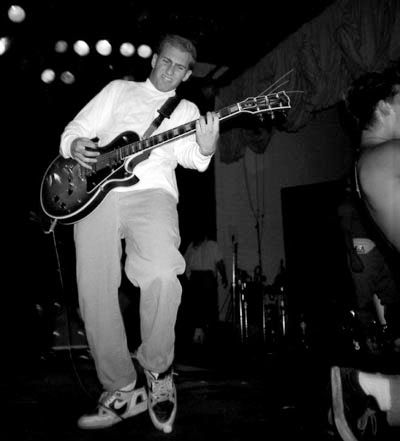 Ryan with Chain Of Strength at the Country Club, Reseda CA, Photo: Dave Sine