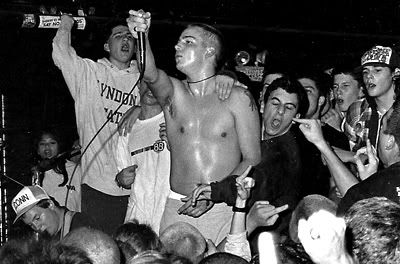 Rob and Tom taking on The Anthrax crowd with Wide Awake, Photo: Joe Snow

I have LOTS of great memories of going to shows and being around the scene. From going to the Anthrax every weekend, all of the early shows in VFW halls, the shows at UCONN, to the shows in NY. It seems like every one of those trips was the best.

One that definitely stands out right away was when a bunch of us went to the Living Room in Providence, RI to see the Bad Brains and Leeway. Tom Kennedy, Sean Marcus, John McLaughlin, Craig Colorusso, Mike Jelenffy, and some others all packed into cars. A buch of them went the night before and camped out somewhere in RI. Craig and I drove up with my girlfriend and we stopped at a water park then went to the beach. It was a pretty fun summer day. When we got to Providence, I remember hanging outside the Living Room talking with HR and we were talking about how their tour bus had a big picture of John Lennon on the back of it. I forgot how or why they had that bus, but I would know it if I ever saw it again!

Then we went inside and Leeway just killed it. I had heard them, but had never seen them before and it was awesome. Everyone was like "these guys are sick!" The 2 guitar attack was so tight. And Eddie had on a Celtics jersey and knee pads. I was an instant fan for life.

Then the Bad Brains just blew people away. I had seen them before, but this show seemed better than before. They opened with I Against I, Re-Ignition, House Of Suffering (not really sure about the order). It was cool because the whole night seemed to last for a long time.

That whole day seemed to capture the energy and the spirit of the music scene for me. We traveled, met up with kids from New York, Boston, and Rhode Island and watched some great bands put on a hell of a show.

All in all, nothing crazy happened, no one got hurt, no fights, etc. I guess it is probably pretty boring, but to me it was one of the best days ever.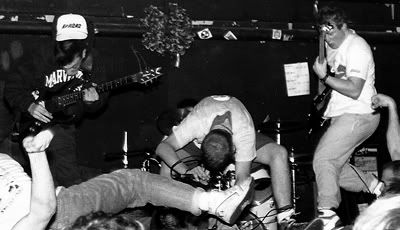 Classic Wide Awake at The Anthrax, Photo: BP