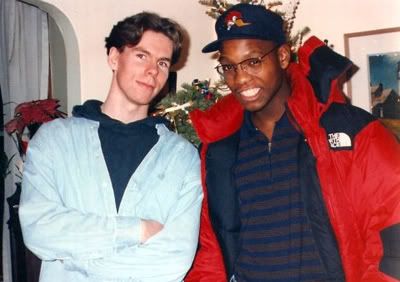 Andy White and Ajay James of ENUF, Photo courtesy of: Andy

Andy White who early on played guitar and later bass for New Jersey's ENUF fills us in on a couple of memorable shows, one he went to, one he played. Classic stuff, thanks Andy! -Tim DCXX

1. First CBGB's show ever. Youth Of Today, Gorilla Biscuits, Side By Side and Pagan Babies. This show changed my life in many ways just because it was my first show at CB's and then from then on I was hooked for quite a while after. I have a couple photos from that show. Taken from the p.a. monitor that we happened to be sitting on top of above the stage. We could watch all the craziness with a perfect view and then we would take turns and be a part of it all too. That was the show that caused Youth Of Today to be banned from playing there again. CBGB's was such a great time in my life and it's sad to see it's gone but change is good. Just like how that show changed me forever.



Ajay goes for a dive at Scott Hall with ENUF, Photo: Ken Salerno

2. The other great memory has to be ENUF (our old band) with Vision, Bold and Life's Blood at Scott Hall in New Brunswick on the Rutgers Campus. We were the local band and we played our hearts out that night. The place was filled when we played and the crowd went crazy! I remember at one point my friend R.J. Vail came on stage to put up a stiff arm in front of me so people wouldn't crash into me while I was playing. So many of our friends and locals were there that night and I am so grateful for that memory. It's a great feeling when you have that kind of bond and impact on people through your music. One of the best ENUF shows ever.



The Scott Hall crowd during ENUF, Photo: Ken Salerno