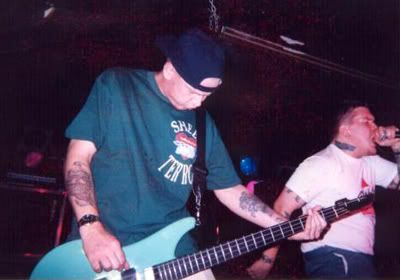 Chickie with Sheer Terror in Europe, Photo courtesy of: Sheer Terror

My most memorable show would have to be Celtic Frost, DOA, MDC, Samhain, Nuclear Assault, at the Ritz in 1986. I played a lot of great shows, but this show was insane. This, to me, was the type of show that made that era what it was - the best in history. A close second would be Agnostic Front, Sheer Terror, Life Of Agony, and Vision at the Airport Club in Allentown, PA in 1992.

This club was closing after this show, and it turned out to be a nazi club. Vision & Life Of Agony got to play and in between songs some 600 nazis would "sieg-hail" all together waving swastika flags - it was a bit scary to be there, and there was a full blown riot before Sheer Terror or AF got to play, including cop cars getting their windows smashed and even flipped over. I guess we were all lucky to get out of there in one piece.