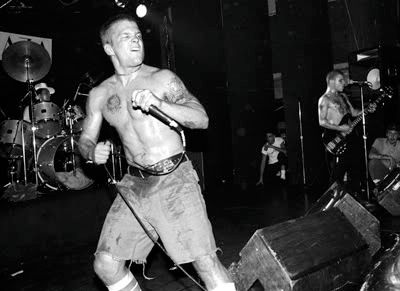 John Joseph fronting the mighty Cro-Mags at Irving Plaza in NYC, Summer 1985, Photo: Joseph Henderson

As usual my vote went with the underdog, the "Age Of Quarrel" demo, but with that being said, by no means am I implying that picking the "Age Of Quarrel" Rock Hotel recording was a wrong move. Both recordings are perfect in their own way.

Personally I sort of prefer the raw violent energy, intensity, and urgency of the demo. JJ's vocals on the demo version of "Malfunction" alone, seriously blow my mind and give me goose bumps every time I listen to it. Although for some reason or another I probably listen to the LP on a much more regular basis, the demo is unquestionably hardcore personified.

Where the Rock Hotel "Age Of Quarrel" LP version can easily win you over is with it's power. There's been many times that I've been pounding this record at full blast in my car and feeling like I could drive 100 mph into a brick wall and keep on moving as if I had merely hit a fly. This album is just heavy in so many ways.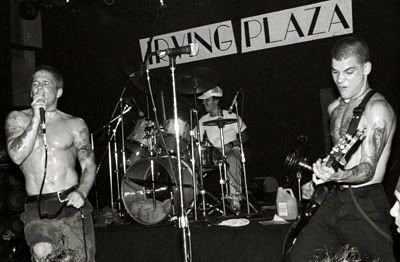 JJ, Mackie and Harley with the Cro-Mags at Irving Plaza, NYC, Summer 1985, Photo: Joseph Henderson

As I wrap this up, I wanted to give everyone a heads up to expect some DCXX content from one of the original Cro-Magnon men, Mr. Harley Flanagan. Thanks to Todd Youth for turning Harley on to the site, Harley and I have been going back and forth for a couple of weeks now and the jaw dropping material has been flowing in like mad. So stay tuned, you won't be disappointed.

Also, big thanks to Joseph Henderson from Flipside and Ink Disease for hooking us up with the killer Cro-Mags Irving Plaza pics. There's more where these came from, so again, stay locked in. Living in an Age Of Quarrel... -Tim DCXX

Cro-Mags - "Age Of Quarrel" - 224

Cro-Mags - "Age Of Quarrel" Demo / "Before The Quarrel" - 97



Kevin "Parris" Mayhew supplying that patented Cro-Mags power at Irving Plaza, NYC, Summer 1985, Photo: Joseph Henderson