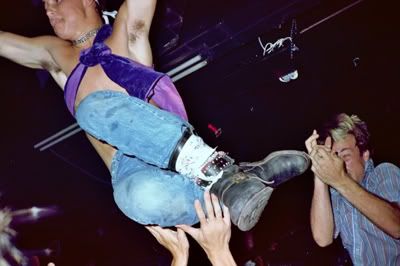 Pat Longrie stage diving for T.S.O.L., Photo courtesy of: Pat Longrie

We bring you more of Billy Rubin's tell-all with Pat Longrie. Top drawer material here, I think we can further pencil him in as one of the pioneers in the "positive" Straight Edge scene... -Gordo DCXX

Where did you draw influence from? What came first in your universe, punk rock or straight edge? Did you realize at the time that you were a part of a movement (punk or straight edge) or was it something else?

My Father had the most profound impact on my life. He was/is a charismatic, larger than life character that taught me to be strong and humble. His anthem was pretty simplistic: turn and face the storm. So it wasn't a far stretch for me as I entered high school to be able to brush aside peer pressure and all its pitfalls. Being a parent now myself, I am thankful to my Father for instilling this gift in me as I pass it along to my kids. It isn't how others view you that really matters, it's how you view yourself. Everything else should then take care of itself.

Punk Rock and all its wonderful angst captivated me first but it was the positive promise of the straight edge moniker that strangled me and made the music truly my own. It instantly made sense to me. Minor Threat's first single spoke directly to me. I didn't drink or do drugs and frankly was never interested in being accepted for my beliefs before the D.C. push, so hearing like-thinking lyrics just reinforced my stance. Between Unity, Uniform Choice, and Wishingwell I was able to channel my natural adolescent confusions in a clear, focused, positive direction. I wrote lyrics that meant something to me. I wrote and received hundreds of letters from all types of people who were feeling the same sorts of feelings that I was.



Pat Longrie overlooking Parliament from Chain Bridge, Budapest 2009, Photo courtesy of: Pat Longrie

I wrote to Maximum R&R stating that I wouldn't jump on the band wagon of those ripping on their families and perpetuating the stereotypical "Punk" mentality of destruction and chaos. I loved my Mother and Father and I wanted people to know that I wasn't afraid to print it. So that lead to the Unity songs "Love" and "You Are One". The summer between my junior and senior year in high school my buddy Pete Ross and I drove to Reno, Nevada to hang with my friends Kevin and Steve from the legendary band 7 Seconds. Follow me because this story hits it right on the button. I had corresponded with Kevin for a bit and we had exchanged a couple letters. When we arrived basically unannounced to visit, they not only let us stay in their home (incidentally Ma Seconds also lived there because we were all still kids), but insisted we stay in their room while they slept on the couches. Great people. In fact, Pete and I roadied for them a couple of days later at their show in Salt Lake City, Utah with Pushead's band Septic Death. Solid people with solid foundations.

Like so many other people, I embraced the responsibilities that came with being a part of a growing audience. For me it was a very humbling circumstance. Believing in something and watching it grow was overwhelming. The things I thought about and were troubled by as a kid (school, parental control issues, girls, drinking and drug use) were being talked about by thousands of others. I was a bit player, but it sure helped with my "personal" problems of teenage life to know others were experiencing the same kinds of pressures. I can't emphasize enough how the punk forum was instrumental in my life choices…period. It was never about notoriety or money for me, ever. It was about fellowship. It may sound corny to some but I really don't care. I carry the same conclusions I drew as a 16 year old, shaved headed straight edged punk with me today and no amount of revisionary rhetoric will ever take that from me.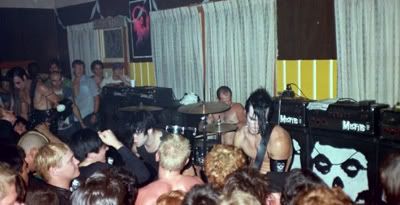 Misfits at Bob's place, Compton CA, Photo: Pat Longrie

Were there certain bands or events (shows) that really stand out to you as pivotal experiences?

I was very fortunate to be able to meet and watch bands that had an impact on my life. 1982 tough to top Social Distortion, the Misfits and the Necros at "Bob's Place" in downtown Compton…the hood of hoods! No stage, no problem. I was 5 feet away from Jerry Only in all his gothic glory when he got so pissed off at a kid that kept bumping into his bass while he was playing (remember, no stage or security) that he grabbed his skull decorated bass guitar in mid-song and two hand smashed it over the kids head! Blood everywhere, and as I was walking out after the show, basking in the glory of having seen such great bands in such a small, bizarre setting I noticed that all along the street EVERY single car had their window smashed and their stereo stolen, including mine.

The Dead Kennedys, Minor Threat, MDC and the Zero Boys played a show at "Old Town" in Westminster, California in 1983…the most powerful, electric, eclectic bill I ever saw. Old Town was where the Oktoberfest festival occurred each year so it was, to say the least, an odd partnership to begin with. The Zero Boys from Indiana were smoking. I had never heard of them before but they ripped. MDC was fantastic. Minor Threat was it. It was the first time that I saw them live and they were untouchable. Clean, smooth, raw and aware. Four pretty good words to describe something that was pretty much indescribable. Tough to follow that but Jello Biafra and the DK's were captivating. Alexander Haig this and Ronald Reagan that…Jerry Brown, Vietnam, the Moral Majority…and that was in Jello's opening dialogue! It was the show of shows for me. I have so many more memories like these. Like I said earlier, I consider myself very fortunate, indeed.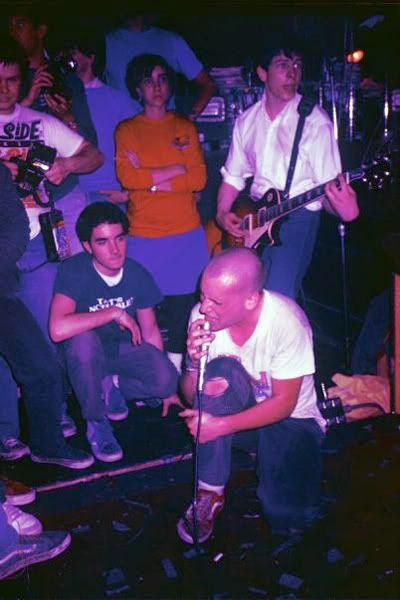 Minor Threat at the Cathay de Grande, Photo: Pat Longrie