Outburst sing along at CBGB, NYC, Photo courtesy of Miles To Joe

Joe Outburst occasionally hits me up with some great little tidbits and funny stories, most of which will turn into full blown entries here eventually. Not that we haven't already had some Outburst coverage, but we're always down for some more stories from the Queens boys. Joe linked me to a piece on the Blackout! Records site he wrote about the backstory of the Queens hardcore scene of the 1980s (www.blackoutrecords.com/blog). Though I had seen this before, I thought it was worth posting up here for those who may not have checked it out. NYHC. -Gordo DCXX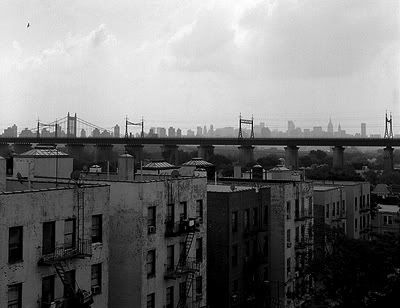 A roof top view from Astoria, Queens NYC, Photo: MDPNY

"Yeah that's right, you can tell by the way this song is…Astoria, Queens rules!" Jimmy Gestapo - "A Day In The Life" by Murphy's Law

During the golden ages of "New York Hardcore", you could paint the term NYHC with a broad brush. The bands, friends & fans that made up that unforgettable scene could always claim representation from somewhere within New York City's five boroughs (Manhattan, Brooklyn, Queens, The Bronx and Staten Island) as well as Westchester, Connecticut and New Jersey. And there was plenty of neighborhood and crew representation to go around: "Lower East Side", "Youth Crew", "Alleyway Crew"…just to name a few.

But today, I'd like to take a few minutes to reminisce fondly about my hometown - the little neighborhood in Queens that spawned her share of NYHC bands - Astoria.

When you take a roll call of the bands that had members who either lived in Astoria, went to school in Astoria or just came to Astoria to hang out, the list is pretty remarkable: Kraut, Major Conflict, Murphy's Law, New York Hoods, Abombanation, Token Entry (originally Gilligan's Revenge), Leeway (originally The Unruled), Outburst, Breakdown, Show of Force, Fit Of Anger, Cold Front, Everybody Gets Hurt. (Please comment if I've inadvertently forgotten any other band(s)….)

If you took a census of the blocks on the south side of Astoria Park from 12th street to 18th street, on any given night in the mid to late 80's, you'd have an Astoria Park bench where A.J.(Leeway), Saso (original Leeway drummer), Mike Dijan (Show Of Force, Breakdown, plenty of other bands), Tony (Show Of Force), Nick (Cold Front), Chris (Fit of Anger, EGH), George and myself (Outburst) would all be hanging out for hours on end. I remember one night, Eddie (Leeway) brought Doug (Kraut, Cro-Mags) to hang out at the park and we heard a few rough cuts from what was to be The Age Of Quarrel record.



Outburst at CB's with Gavin Van Vlack on guest vocals, Photo courtesy of Miles To Joe

Anthony (Token Entry, Raw Deal/Killing Time), A.J. and all five original members of Outburst attended St. John's Preparatory, Astoria's Catholic high school. Just a few blocks away on Ditmars Boulevard was Pizza Palace, where the hardcore kids (the few that there were in the early days) would congregate after school. A few more blocks from there, you had the Pyramids, a public area by the Con Edison plant on 20th Avenue that doubled as a skateboard park. Kraut memorialized the park fondly in the song "Pyramids" on their Wetting The Scythe record.

You could've ventured a couple of miles east to neighboring Jackson Heights, where Anthony, Civ, Walter, Arthur (Gorilla Biscuits) and Dylan Schrifels & Gus Pena hung out. Or, you could've went back to Astoria Park South and hung out at the apartment/studio of B.J. Papas - NYHC's resident and loyal photographer. On any given night, you could've been hanging out there, shooting the breeze with Pete from Sick Of It All or Mackie from the Cro-Mags, or even a certain founder of Blackout! Records. Since B.J. was (and still is) one of the coolest girls you'll ever meet, and she only lived a mere two blocks from me, I found myself hanging out there quite often.

For a great period piece on Astoria and what it was like in 1986, check out the film A Guide To Recognizing Your Saints, starring Robert Downey, Jr., Rosario Dawson & Shia LeBeouf. The film was written & directed by Astoria native Dito Montiel (Major Conflict, Gutterboy). Coincidentally, Dito's dad was George's little league baseball coach and one Halloween night, during an Astoria Park/Ditmars Blvd egging rivalry, some of my friends and I were fire-extinguished in an alley somewhere near 21st street by Dito. All in good (and retrospectively dangerous) fun, of course.

Whenever I hear "A Day In The Life" I still get a kick out of Jimmy's line, comically bragging about his hometown that ruled beer & herb. He may have been singing tongue-in-cheek, but he was definitely onto something. Thank you, Astoria, Queens.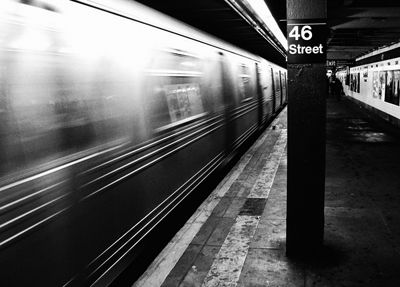 R Train departing 46th street station, Astoria, Queens NYC, Photo: Olm