Zack in the face of the Trenton crowd, Photo: Ken Salerno

Gordo picks up where he left off yesterday with his dissection of the Inside Out EP. As always, a HUGE thank you goes out to Ken Salerno who pulled through in a pinch with more incredible Inside Out shots to go along with this entry. Big thanks also need to go out to Dave Sine for his Inside Out photo and all the great photos that he has been flowing our way. Keep your eyes open for a big Dave Sine entry that should be finding it's way to DCXX any day now. Ok, this is the point where I hand it back over to Gordo... -Tim DCXX

The closer track is the insanely serious "No Spiritual Surrender." The song opens up and makes all promises of being perhaps the greatest song ever written. Dark guitar echoes and squeals, a bass that sounds like it has half functioning pick-ups, Zack's breathing and off-the-charts intro scream, and a tribal floor drum beat combine to sound like something that would start playing the second you get into a small cage with a tiger at midnight with only a flickering oil lamp allowing you to see anything. From there the song goes into the verse, Zack again continuing with a lyrical theme he would end up somehow making a career (and a buttload of cash) out of: being silenced and having his identity suppressed by what appears to sound like friends, parents, teachers, bosses, the government, the military, the white man, a young Tony Blair, mavericks, clowns, cowboys, astronauts, cricket players, deep sea fishermen...jeez, pretty much everyone really.

But yeah, things seem to be progressing in the song to the point where it will absolutely just explode to the moon. Unfortunately, it seems to take a step backwards with the chorus, which is just Zack screaming, "No Spiritual Surrender," in a sort of mail-it-in fashion. This isn't bad by any means, and maybe at this point in the listen you just expect more, but it just seems to come up a little short with where the energy seemed to be going. Maybe they had already blown their load by this point (or maybe I had), I don't know...but I think it could have been done better. They repeat this again, and just like that, it's basically over. Bratton's repeated drum rolls signal closure and Zack's final lament of "NO" fades out...probably the single word which can summarize this record's and his life's lyrical topics.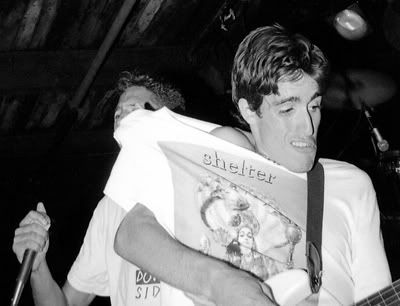 Vic and Zack at City Gardens, Photo: Ken Salerno

I won't go too much into the two other songs from this session, "Sacrifice" and "Redemption," mostly because I have always viewed them as "bonus" tracks more than actual EP songs, even though both are of the same caliber as the others and every bit as much real songs. "Sacrifice" is a start to finish rager where Bratton and Vic seem to go back and forth, trading roll for lick, each's power constantly outdoing the other in a song that is the equivalent of a steam roller doing 30 mph on a small suburban street. The song has a great stop/start feel with a lot of quick pauses and changes, but again never really goes through the roof or changes a ton in dynamic. But it is what it is, and it is great.

"Redemption" is much more my favorite of the two, kicking off with Vic's fast crunching which is again more proof of just how awesome he sounds on this. This song ends up going exactly where you hope it will: calming down in the middle and quieting out for a couple seconds, only before building back up with a great bass line and guitar picking, and exploding back out and into the final vocal crescendo of "sometimes I just don't know, I guess we lost our way to go (x4)...REDEMPTION!" Just a great part...it is the type of part you sing in your room when you are pretending you are Zack, the TV remote is the mic, and your startled dog is the crowd at Spanky's. Umm, well, I do anyways.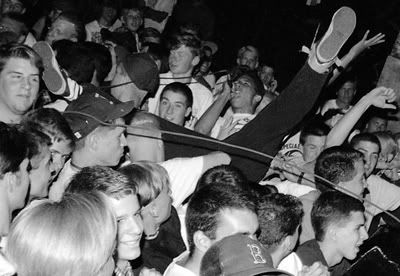 Zack hits the crowd with Inside Out at City Gardens, Photo: Ken Salerno

I can see why some people find the vibe of Inside Out so overbearing, since Zack and Vic seemed to take everything so seriously. It's also a fact, no...wait...theory, that Zack has never smiled in his life. In HC, you kinda get a pass with this type of thing if you have neck tattoos or are in the Pagans. But, in HC, when the brutally-critical HC superfan type knows or at least thinks you grew up comfortably in Irvine/Long Island, were a SE kid in Hard Stance/Beyond, and are hilariously non-intimidating physically, it's a little tougher to sell the seriousness that they tried to sell in Inside Out.

When I think about it, Zack or Vic come off as the the type of friends you could have had stay at your house for dinner when you were 16, and when you are sitting at the table and your Dad asks your Mom if she can grab the butter for him, one of them tells your Mom, "Mrs. Jordan, you don't have to do that. You don't have to bow down to this society's gender expecations of you. You can break out of this machine and not buy into their dogmatic confines, YOU CAN FIGHT THIS SYSTEM!!!" Umm, it's a stick of butter.

I'm not saying Zack (or Vic) haven't made music that hits on a lot of important topics, because they have, and they have spent their lives spreading their personal messages. Unfortunately, a lot of the bad stereotypes about the forward thinking, ultra PC bend of the early 90's HC scene somehow can get traced to this whole vibe. Personally, it doesn't phase me, because I still think Inside Out is a true rager of a unit, but I understand others not being able to hang based on the above.



The No Spiritual Surrender sing along at City Gardens, Photo: Ken Salerno

Oh, the EP layout. I've always thought it's cool and that it works. Vic has said it wasn't the band's design idea and they didn't dig it. I've always thought the whole thing matched the music and vibe perfectly - a semi-Western mantra feel to it (right down to the blue - get it?), vague spiritual-vibe artwork, and just a straight on live shot of Zack raging on the mic for the cover (some great info on it here: http://www.radiosilencebook.com/2008/09/redemption/). It's never been a mind-blowing EP package to me, but I've always thought it was super cool and fit them perfectly.

Ultimately, the Inside Out story is nice and neat and confined to about a two year period, void of weird reunions (aside from the '93 thing), bad second records, or any weird off-shoots. Unless you get hung up on tracking down all the various live sets and radio sets (which is definitely worth doing for the dozen or so great unreleased tunes - find the KXLU set), your level of fandom can simply boil down to these six songs. It definitely is a significant part of the Revelation catalog, and it is a record that bridges the 80s with the 90s, both for HC in general and for each individual all-star musician (all band members going on to do many significant things later). It's also one of the best social connectors we as HC folks have to mainstream music, as we have all at one time or another told the dude at school or work who likes RATM about Zack's "first band."

For me, it epitomizes heavy, raging introspective hardcore that borrows from metal and DC in some the best possible ways, and showcases a lot of talent that really combines to form a hell of a unit. It is still the HC record that most makes me want to get a white BC Rich, stop shaving, wear cut off jean shorts and slip-on Vans, emulate Vic (which strangely means somehow ending up physically resembling John Walker Lindh), and destroy my living room...in hopes of maybe one day being able to take the power back. -Gordo DCXX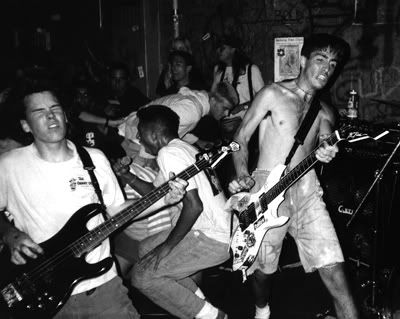 A classic shot of Inside Out at Gilman Street, Photo: Dave Sine