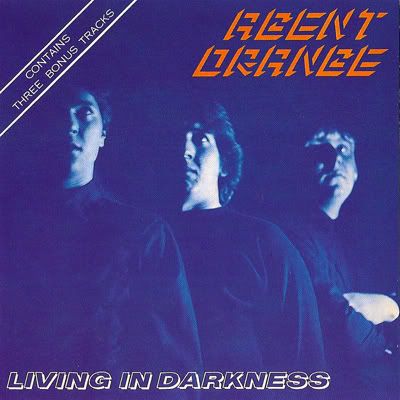 I think I caught a few people off guard with this poll. For some reason or another a poll pertaining to a California surf punk band wasn't something a lot of people expected to see. Truth of the matter is, Agent Orange were one of the the very first punk bands I paid legitimate attention to.

Coming up as a skater in 1985, it was nearly impossible to not of heard of Agent Orange. They had their own deck on Vision and they appeared in Vision's classic "Skate Visions" video, plus they were constantly being covered in Thrasher Magazine. Once I saw their footage in Skate Visions and heard "Bloodstains" during some ramp jam footage, I was hooked.

The first Agent Orange record I bought was "When You Least Expect It" sometime around 1986. I had a paper route at that time and I would listen to a tape of that record every single day while I was out delivering those papers. Considering "When You Least Expect It" was only an EP, those songs went by super fast and I'd just end flipping the tape and listening to it all over again. As familiar as I was with the Jefferson Airplane song, "Somebody To Love", Agent Orange turned that song completely into their own and I've always loved their version. As a matter of fact, I've always loved this entire record. Every time I hear "Bite The Hand That Feeds (part 2)", I want to grab my board and skate as fast as I can down a long, smooth hill.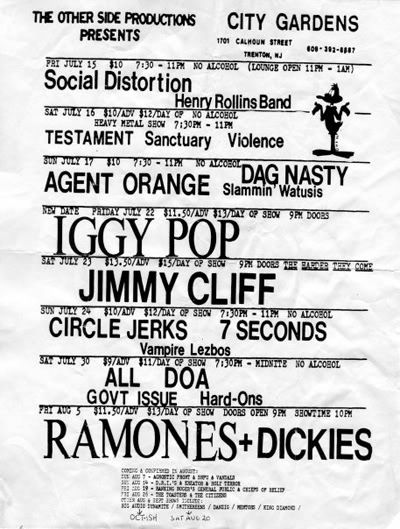 As much as I love "When You Least Expect It", I equally love "Living In Darkness", which made this a very tough poll for me to vote on. Every song on "Living In Darkness" is great and 23 years after first hearing it, I still listen to it regularly and it's still just as good as it was all those years ago. Apparently the majority agreed and "Living In Darkness" won this poll by a landslide.

When Ken Salerno saw this poll, he sent me over a pile of Agent Orange photos from one of their shows at Trenton's City Gardens. Funny coincidence... the photos he sent happened to be from the first show I saw Agent Orange , July 17th 1988 with Dag Nasty. Agent Orange and Dag Nasty were both great that night, but I'll never forget the pompadour on Agent Orange's bass player. My friend Tony and I were referring to the guy as "Slim Jim Phantom" from the Stray Cats, all night long. I probably spent a good deal of their set cracking up, but honestly, they were great and I'll never forget that show. -Tim DCXX

Living In Darkness LP - 131
Bloodstains EP - 56
When You Least Expect It EP- 12
This Is The Voice LP - 10
Bitchin' Summer EP - 7
Virtually Indestructible - 7



Mike Palm of Agent Orange, City Gardens, July 17th 1988, Photo: Ken Salerno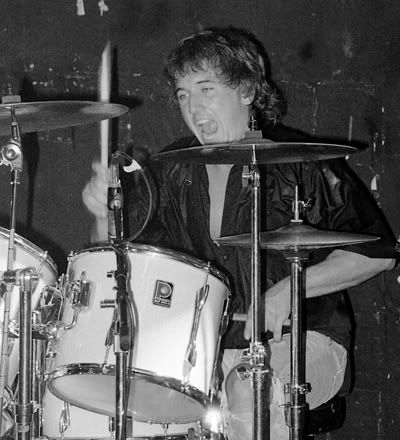 Agent Orange at City Gardens, July 17th 1988, Photo: Ken Salerno



Mike Palm and said "Slim Jim Phantom" character, City Gardens, July 17th 1988, Photo: Ken Salerno