McGill with Vision at CBGB, NYC, Photo: Ken Salerno

Here's the continuation of our interview with former Vision bassist, Chris McGill. -Tim DCXX

When did you start playing bass? When did you meet up with the rest of the Vision guys and how did you end up in the band?

My desire to play bass stems from my favorite bass player, John Entwistle of the Who. He was Phenomenal! For the longest time I wanted to play but never had the opportunity.

It was about 1 year prior to joining Vision and I was singing in my band Sinn Fein but wanted to play bass instead. I was coming to grips with the fact that I sucked at singing. I sang in 2 other bands, but it never seemed to get better. It's a shame because I enjoyed fronting the band. One day, back in September 1987, I ran into Dave Franklin in the streets of Somerville (sounds scary, huh?) and we started chatting about our bands. He told me the other 3 guys in Vision left. I told him that Sinn Fein was idle. He asked me if I wanted to play bass. He already spoke with Pete Tabbot and Derek Rinaldi and they were on board. I didn't know either one of them at the time but that didn't bother me. So we agreed I would be over to give it a try.

So we started practicing and it all seemed to work until December rolled around, and Derek had to bail because of skateboarding commitments. I think we even played a show/practice in the basement of Dave's house before he left the band. He went Pro on us. So someone, probably Dave, found Matt Riga. I sort of knew Matt from school. I think I played soccer with his cousin. Dave, Matt, and I all went to the same High School, but at different times. We had 3 weeks to practice with him to play Scott Hall and City Gardens. We practiced hard and pulled it together. We played them and we thought they were both great shows, and the rest is history. We worked hard for the years I played with them. We played as much as possible, and we wrote as much as we could. I was there from 1987-1993. We recorded the "Undiscovered" 7", "In the Blink of an Eye", and "Just Short of Living".



McGill with Vision at Scott Hall, Rutgers, Photo: Ted Liscinski

Favorite Vision memories, best shows?

It was the night before a tour and we were at Dave's house packing the Van and getting everything ready. We were on the front porch and we noticed fire come out of Pete's classic Monte Carlo. We called the fire department and they came and destroyed the car with sledgehammers and crowbars. They were trying to get in the trunk. Poor Pete was trying to hand them the keys so they could just pop the trunk. They wouldn't listen to him. That memory stays with me, thanks Pete!

We played a great show in Miami and it was one of my favorites. We had never been there, or even close to there before. It was in 1993 and we were on tour with Dandelion. The crowd was insane and I remember calls for songs off the first 7" that was out before our "Undiscovered" 7". Well we played a couple of those tunes with the understanding that we had not played them since 1988...they didn't seem to care! They ate it up.

Buffalo, NY was one of my favorite cities to play. It was always fun and we usually had a good crowd there. I can't remember the name of the club or the guy that ran those shows. We were inside the club and the show had started. We were headlining so we had time on our hands. We noticed a few guys with long hair, mustaches, and flannel shirts that were a bit older. Confused the hell out of us. Finally we went over to talk to them to find out which band they were there to see. They were there to see Vision. Apparently there was an article in the newspaper about the surviving drummer from Lynard Skynard and his new band Vision. And the article listed our show. We gave them the bad news and they were good sports about it. They even stuck around to see us play. Pete played them the riff to Sweet Home Alabama.

Do I need to mention the Vision, Sheer Terror, and Murphy's Law show in Allentown, PA? If you have not heard about this show, look it up. Reference the Sheer Terror DVD.

East Meets West – Vision / Killing Time / Sick of it All / Carry Nation / Point Blank / Chorus of Disapproval. This show was awesome and probably my favorite. That was our first trip west. We had a lot of fun together. Vision, SOIA and Killing Time all flew out together and pretty much stayed together at the Cockatoo Inn 1 block from Compton, complete with barred windows and barbed wire. That was a great show, a great concept around the show and eventually, the 7". It was really more than a show. Like I said, the show itself was awesome and probably my favorite. Afterwards we had a big after party with the bands and photo shoots. It was all good and didn't last long enough.

Trivia: what members from the NYC bands were afraid to fly?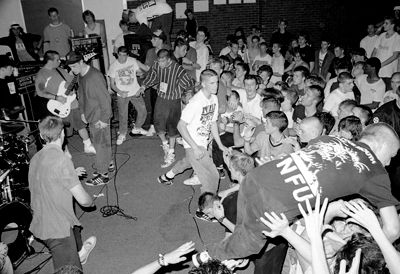 Vision at Scott Hall, Rutgers, In The Blink Of An Eye cover shot show, Photo: Ken Salerno

Any memories regarding any of the recording sessions (the first two 7"s, "In The Blink Of An Eye", ...etc?)

The first 7" was with the old members from Neurotic Impulse. Undiscovered was the first 7" with what was to be the line-up. It was fairly new to all of us, so it was a learning experience. I think the Undiscovered recording came out very good for time and budget. We did learn enough the first time around to know what we wanted when we went back to record "In the Blink of an Eye". It was a great experience and the one thing we wanted to do is was to capture the live effect: only do in the recording studio what you could do on stage, and nothing will be lost live. It worked well for us..

By the late 80's, who were some of your favorite hardcore bands both locally in NJ and elsewhere?

Verbal Assault was one of my favorite bands because I thought the "Trial" album was great. To this day, it has to be one of my top 5 albums. SNFU was one of my favorite bands because of the talent, the dedication, and pure energy they presented. The touring was non-stop and the shows were NEVER a disappointment. We spent a little time on the road with them and they were the nicest guys you could meet. (I would like to say hello to Mr. Pig. I miss you brother) There were a bunch of great bands in that time period, too many to mention. But I do remember there were so many that almost every show had a few bands where any one of them could have headlined. Times were good.



McGill aka Ivo hitting the dance floor at City Gardens, Photo: Ken Salerno