Sometime around 1990, while skimming through the pages of Good & Plenty fanzine, I noticed some particularly great photos of bands like Youth Of Today, Gorilla Biscuits and Beyond. Upon further research, I discovered that these particular photos were all taken by a guy named Brian Boog. At the time I was doing my own fanzine, Common Sense, so I thought I'd ask Gabe, the guy who did Good & Plenty, if he'd be able to hook me up with contact info for Brian. For whatever reason Gabe wasn't into passing the info on, so that was the end of that.

18 or so years later, while skimming through Facebook, I come across the very same Youth Of Today photos that I had seen in Good & Plenty. Turns out Brian is on Facebook and had been posting a ton of his photos. Although Common Sense has been dead for 19 years, I thought it was worth checking in with Brian to see if he'd be down to contribute some of his photos to Double Cross. Thankfully Brian obliged. For the past few weeks we've been trying to put something together with Brian and finally we've got our first entry from him. This one is his story on the SWASIDE tour (Swiz, American Standard, Soul Side tour) and in true Brian Boog fashion, it's accompanined by a collection of great photos documenting his story. Hopefully this will be the first of many contributions from Brian. -Tim DCXX



L to R J American Standard, Shawn Swiz, Scott and Johnny Soul Side, Photo: Nicole DiGiorgi Chavez

Hello Everybody! Brian Boog from Rhode Island here. Let me start by saying that one of the only reasons our tiny state of Rhode Island had Punk/Hardcore shows in the 80s and 90s was because of Brian Simmons at Crossroad Productions. We also had Doug Carron who ran Pied Piper Productions in Providence, but that's another story for another day. Back to Crossroad Production shows. What was really great about Crossroad shows was that they were at a club that was a 2 minute skateboard ride away from my house called The Blue Pelican. Brian put on a bunch of shows at The Blue Pelican, almost all those classic Sunday matinees. Going to every show, I became friends with Brian Simmons and ended up going to many, many shows in many different states together. Most of the shows following around our home town heroes, Verbal Assault.



Shawn Brown with Swiz, Photo: Nicole DiGiorgi Chavez

This is one of those shows that I remember. It was July 17th, 1988, the middle of summer! Being a big fan of Soul Side, I remember being super psyched to see them, but the band that I and everybody that I knew was freaking out about was Swiz. We were going to see Swiz in Newport, RI! Shawn Brown, Dag Nasty's first singer in our town!! So the day of the show is here and we go, hang out outside, American Standard plays their set, cool. Swiz sets up, and we are about to pee our pants because of the excitement of seeing Shawn Brown play. They play the first song and then the sound guy shuts the PA off. Story goes that Livingston Taylor, brother of James, is playing later that night and doesn't like the look of the people in the club and tells the sound guy to cut the PA off. Well, people were not happy. Swiz played their set, refusing to get off the stage, with Shawn Brown screaming his vocals over the band without a PA. As dissapointing and lame as it was, it was kind of cool to see this.

Soul Side never played.



J Colangelo, Jason Farell, Bill Dolan, Bobby Sullivan, Scott McCloud and Pete Verbal Assault, Photo: Nicole DiGiorgi Chavez

After the show we all went to Brian Simmons's parents house/farm (where Brian took over and made it into a gigantic, amazing, Organic farm), played volleyball and had pizza. Being a 17 year old kid in the same room/yard as these guys was pretty freaking cool! Twenty years later and I'm still in contact with them! - Brian Boog



American Standard, Photo: Nicole DiGiorgi Chavez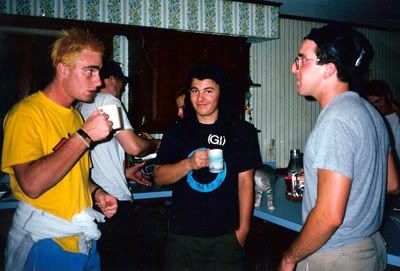 Jon Troutman, AS Roadie, Nathan Swiz, Jay A Toaste longtime Verbal Assault roadie, Photo: Nicole DiGiorgi Chavez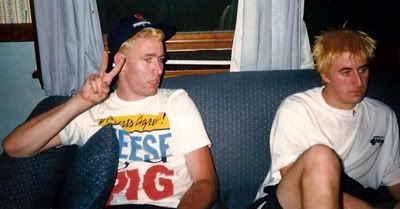 Bill Dolan American Standard, Alex Daniels Swiz, Photo: Nicole DiGiorgi Chavez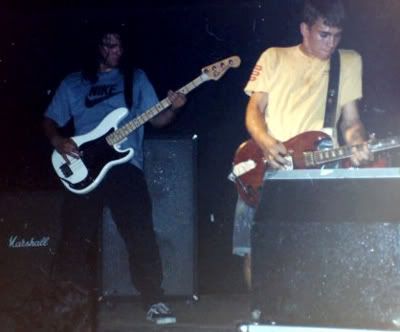 Nathan and Jason from Swiz, Photo: Nicole DiGiorgi Chavez



Nathan Larson of Swiz with the Germs shirt and some Tropicana, Photo: Nicole DiGiorgi Chavez