I've had this footage saved as a favorite of mine on YouTube and have planned to post it here on DCXX for quite awhile now. Tonight seemed like as good a time as any considering most of this weeks posts have been a bit text heavy.

Most of you are probably wondering, "Who the hell is Intensity?", well I'll try to fill you in. Intensity were from Princeton New Jersey, which is a town over from where I grew up. My friends and I all picked up their demo at a BOLD, Up Front show in Sayreville, New Jersey. At the time, which I believe was 1989, picking up a new demo by a band from Jersey that had a huge X on the cover seemed kinda cool. Jersey had bands like Turning Point, Release, Enuf and of course Vision, who at the time were pretty much making the most waves. To find a brand new band was exciting because you never knew if they were going to be the next big thing.

On the way home from that BOLD, Up Front show I remember us all listening to the Intensity demo. Then once we got home we listened to it again and again. Although lyrically it was pretty damn goofy (the lyrics to "Jersey Shore" are priceless), musically it wasn't that bad, total mosh fest type of stuff, like a straight edge version of Maximum Penalty or maybe even Breakdown. Soon after we ended up meeting the guys in the band, hanging out and getting to know them. Eventually I even had a hand in getting their 7" released on a new D.C. label done by Ken Olden, called Common Sense Records, which was an off shoot from the fanzine that myself and my friend Tony were doing at the time.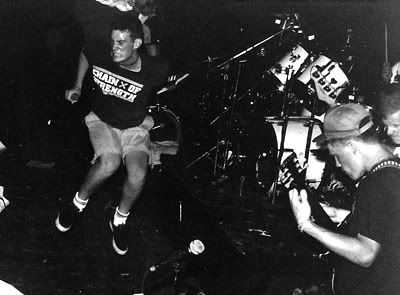 Intensity at City Gardens, check out their guitarist Jordan with the drum riser jump, right behind Chris their singer

Some how or another Intensity actually had a lot of hook ups. I know their drummer Kevin was friends with Drew from BOLD, so they would get show hook ups through them. They also got some sort of hook up with Judge and ended up playing with them quite a few times (Unisound, The Anthrax, City Gardens, etc.).

This particular video is from the Judge "Where It Went" video shoot show at City Gardens in Trenton, New Jersey. It was Sunday March 11th 1990. Intensity opened, followed by Outburst and then last but not least, Judge. I've talked about this show countless times and I'm not going to bore you all again with how great it was, but I will say, having Intensity open was a really fun way to start the show. For me and a lot of my friends, since we knew the band, it was cool having this "down with the band" that's playing vibe that was going on. Keep in mind, I was 16 at the time, so being "down with a band" that was playing City Gardens with Outburst and Judge seemed really cool. You can even see me (blue Nike hat) and some friends up front singing along. I'm pretty sure this was the same night Intensity threw lollipos out into the crowd when they played their song "Lollipop" of course.

That's pretty much it for now, I really intended to keep this a "text light" post, but evidently that is easier said than done. Have a good weekend, thanks for tuning into another week of DCXX and remember, "What a mess, what a mess, I don't want to get a needle stuck in my chest !". -Tim DCXX