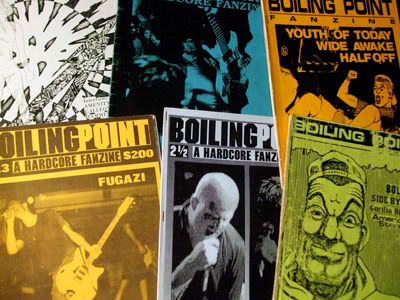 The complete Boiling Point collection

It's been awhile since we've done one of these Fanzine Spotlights, so why not kick it off again with one of the best fanzines ever... Boiling Point. Done by Dennis Cheng, Tim Singer and Tom Rockafeller and generally based out of New Jersey, Boiling Point was THE hardcore fanzine of the late 80's.

From it's first issue with Bold, Side By Side, Gorilla Biscuits and American Standard, these guys blew the doors off the art of fanzine making. Layout and design that was second to none, excellent photography and all telling, indepth, well done interviews with the best bands of the day. There's no question that Boiling Point set the mark high and although many tried to replicate the formula (myself included with Common Sense), very few could ever come close.

Some how or another I ended up with a copy of the first issue early 1988. Right from the minute I saw the cover I knew I was in for something special. A clean reversed white on black Boiling Point logo across the top of the cover with a hand drawn classic looking straight edge guy, complete with the backwards hat and Champion hooded sweatshirt, a city skyline / brick background and clean, bold band logos. Then as you start paging through you find great features like the Boiling Point playlists, "Boiling Over" which was B.P.'s faves, "Quittin' Time" which were bands B.P. thought should hang it up and "Up And Coming", which were bands the B.P. crew thought you should check out... and you better believe I did. Then on to the interviews, starting with Bold, just a great interview, awesome photos, cool flyers, nice layout, which is pretty much the same story for each interview. By the time you're finished reading issue one, you really find yourself enthralled with the bands and that late 80's New York City Hardcore.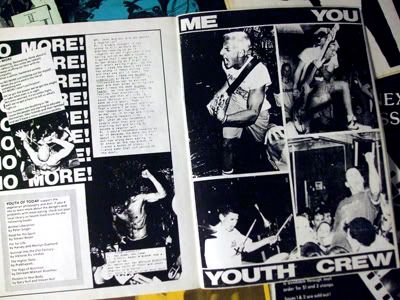 Me You Youth Crew, a spread out of the YOT interview in issue two

As if after reading issue one you didn't think the Boiling Point crew could out do themselves, they went ahead and did just that with issue two. Picked my copy up directly from Tom Rock at the Bold, Rutgers Scott Hall show. Ever so slightly streamlined, issue two picks you up and drowns you in what I believe might be their best issue ever. More great, powerful, bold, layouts, more flawless photography and some of the most memorable interviews you'll ever read with classic bands like Youth Of Today, Wide Awake and Half Off. If you happen to be as big a YOT fan as myself, this interview simply can't be missed. It goes down right after YOT bounced back from their break up and it's just one of the best you'll read. Total "Flame Still Burns" vibe in interview format. Here's a great quote from Ray: "For everyone that hates you, there's always more that love you, I think you try to do something good in a hardcore scene that's generally full of drugs, dorks and people that are into chaos and stuff like that. If you try to say something decent and humane you're gonna get cut down. I've already accepted it as my job to be criticized". So fuckin' good, the kind of stuff that really gets my blood pumping. And how can leave out this classic quote from Porcell: "Me and Ray saw DK's and beat fuckin' Jello Biafra up. I ripped a cigarette out of Klaus Flouride's mouth and stepped on it. We were obnoxious kids. Ray had a "straight edge in your face" banner on the back of his jacket". They Ray says, "On the back of my jacket I had a picture of this straight edge guy punching the cigarette out of the mouth of this guy with a mohawk. It said, "Violent Children: Straight Edge In Your Face". Wow, so good.



The back covers of Boiling Point, take notice to the cut and paste film strip layout

I could honestly go on and on about every single issue (with the exception of issue five which takes a bit of an over all dip). But I'll just mention a few highlights. Issue two and a half, with Choke of Slapshot and Dave Smalley of DYS / Dag Nasty, again great interviews and then once again, layout wise, even more strides from the earlier issues. To this day, my jaw still drops looking at that back cover with the slanted film strip and incredible photos promoting the interviews for the next issue. Then issue three, which many might argue to be the best issue ( I know this is Gordo's favorite), with the Chain Of Strength, Beyond, Sick Of It All, Raw Deal and Fugazi interviews. More mind blowing layouts, more sick photos, more impressive interviews, always stepping it up a notch. Issue four, although slightly lighter in content, has two heavy interviews with Judge and Inside Out. The Judge interview in particular has a typically great B.P. style layout. Although as I had mentioned, issue five, the last and final issue of Boiling Point, takes a stumble in overall quality, it's still well worth checking out. It's just that interviews with the Treepeople, Soundgarden and Hammerbox, I could do without. But I will say, the Amentiy interview is pretty good and there are some great photos included in there.

So there it is, Boiling Point, if you've never seen it, by all means, track it down. If you have some of these issues, you already know the deal. Hardcore fanzine greatness personified. -Tim DCXX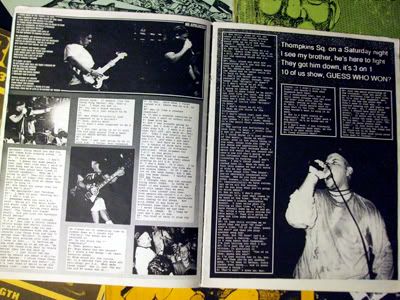 A heavy band, a heavy interview, a heavy layout