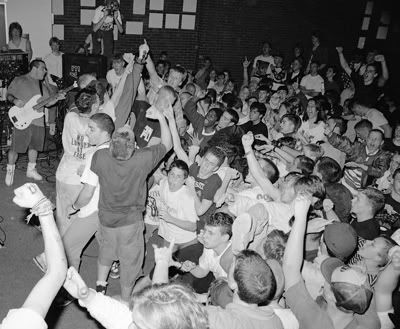 Vision at Rutgers Scott Hall, New Brunswick NJ, 10/29/1988, Photo: Ken Salerno

I've posted about this show time and time again, easily one of the best shows I have ever seen. In my opinion, Vision were in their prime and at the top of their game at this point. The "Undiscovered" 7" had recently been released and let me tell you, what a great slab of vinyl. To this day, that "Undiscovered" 7" remains my favorite Vision release and one of my favorite hardcore 7"s ever. The crowd at this show on this cold October night in 1988 seemed to share the same sentiments as myself. I remember people singing along to what seemed like every word and the energy was at an all time high.

Following the "Undiscovered" 7" was the "In The Blink Of An Eye" LP on Nemisis Records. Most definitely a more than worthy follow up to a flawless 7". Ken Salerno, who was a friend of the band and shot them countless times captured what was to be the cover shot for the "In The Blink Of An Eye" LP. Going with what I would assume to be the "artsy" route, Vision decided to slice up the photo with big, thick black bars. Although for the time it was different and definitely interesting, it did leave a lot of people yearning to see the original photo in its entirety. With the exception of the 1989 Vision tour shirts, I'm pretty sure this is the first place you can really see what was going on in this classic photo... pure New Jersey Hardcore at its finest.

Hopefully at some point we here at DCXX can push this site into some sort of printed format. When that does happen, we can assure you we'll have this photo printed large and in all its glory. For now hopefully you can at least appreciate it a little more seeing it here, as small as it might be. Of course a huge thank you goes out to Ken Salerno once again for supplying us with the best HC photography anyone could ask for. -Tim DCXX

PS: If anyone happens to have an original Vision 1989 tour shirt and wouldn't mind parting ways with it, get in touch, I've been without one for far too long.