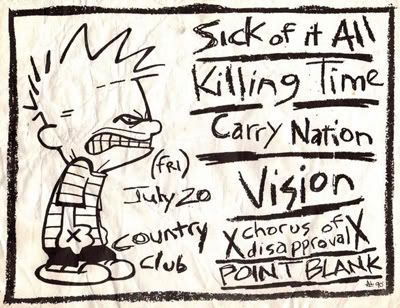 Isaac Golub returns and this time brings the ugly stick with him, CHORUS style... -Gordo DCXX

How did CHORUS come together for those who don't know, what were the main inspirations and influences for the band?

Somewhere around summer of 1987 or 1988 Banks and I were new in our friendship, but were increasingly becoming great friends. I would travel the 15 miles or so to his work at Cerritos Park East where he worked as an afternoon activities manager. We would get Del Taco and just talk hardcore all day and all night. "Dude check out this Madball 7inch!" "Did you hear the Head First demo?" Banks was still in Visual Discrimination and it was great hanging out with him because I was a fan, so I felt really lucky. We wrote a song together for the V.D. In Vain Lp. And he asked me to draw something for the cover, it didn't get used but I was honored to say the least in even being asked.

We talked about doing a band all the time, something sounding a little like Judge but with that West Coast feel, it was mostly talk and a dream until one day we decided we WERE a band. Out of the blue, just me and him. We thought, "Fuck it, who's gonna say we're not?" We brought some ideas to the table, lyrics, band names, attitudes, etc. We did a demo under the name Boiling Point, but quickly changed it and made A Chorus of Disapproval our new home.

We were sick of complacency and stale attitudes in punk rock and hardcore, and the West Coast did not have a real in your face Straight Edge band. Sure we had Insted and No For An Answer, but nothing in that vein to me screamed, "Fuck you, fuck your ideals, and fuck your idea of society!' We recruited Regis shortly thereafter by eerily whispering to him at a Hard Stance show, "We got our eye on you Regis." He was our one and only choice for bass, he is all heart and both fists on The Chorus body.

Although there are really only 4 blatant Straight Edge songs out of all our songs, I think the point was very much taken in most circles at the time.

What was the California hardcore landscape like when CHORUS got going? What to you had changed, for the worse...and how would things change as the band progressed? Where did you see CHORUS fitting into the new landscape of HC in the 90s?

At the time Chorus got going it was almost a changing of the guard feeling for me. California hardcore was in a sort of low valley, a lot of the great clubs had closed and a lot of the great bands were gone or had gone straight pussy core. The days of seeing Youth of Today, Cro-Mags, or Uniform Choice at Fender's were over. We still had The Country Club but it was a huge venue and you would be hard pressed to have a hardcore show there that made enough money for the owner to keep letting it go on. Hartsfield and some other dudes started putting on shows at Spanky's and Toe Jam and suddenly there was new life.

When it came to hardcore in California at that time Posi-Core seemed to reign. Everybody wanted to be Insted, or 7 Seconds, or rock like the second UC record. Taking nothing from Insted, they were a great band and great guys, but I wanted something tougher, something borderline threatening along the Carry Nation lines. Times were definitely getting exciting, we played shows with Outspoken, Insted, Carry Nation, Infest, and a lot of great bands and gained tremendous momentum with our 'style.'

There was a crop of newer bands that came in our wake and it was nice to see that metal influenced hardcore feeling we brought to the table take flight. Although Banks was at Cal State Berkeley I thought we managed to stay a band relevant to the new aggressive hardcore times coming.



Isaac fronting early Chorus

What are your best memories and biggest accomplishments from playing in CHORUS? I'm sure there must be some stand out memories.

The time in that band will always stand out as the greatest time in my life, and I can probably go on for hours. What can be better than hitting the road with your best friends and causing mayhem?

The biggest emotional turning point for me was the last Insted show at Spanky's. We played right under them and it felt like an unspoken transfer of power. They were HUGE, we were getting big, and there was this thick excitement in the air for everyone involved. I think Steve Insted may have even verbally passed the torch to me or Banks but I could be mistaken. It was the greatest show ever. Sad, but great.

Our first out of state show was a great memory as well. It was in the middle of summer 1990 or '91, we packed up in two pick up trucks and headed for Arizona. Three in the cab of each truck, equipment in the back of one, and me and Sabatini in the back of the other. At one point it got to be around 112 degrees so Sabatini and I rocked it naked in the back of the pick up for most of the drive there.

We got to some kid's house and him and his friends seemed to be in awe of us. They sorta sized us up as if to be thinking "Ok… That's Banks…That's Isaac, and there's Regis…" They looked at RD our drummer and said, "What do you do?" He responded, "I'm the drummer…. Is it cool if I smoke outside?" It was hilarious to us. The kids were crushed, they recovered quickly once we let them in on the joke.

We seemed to get into shit whereever we went and we didn't care. One time the Strife roadie called me and Regis fat in New York and Banks slapped him and spit right in the guys face and told him to stand the fuck up, that dude looked at the ground and didn't move or say a word.

We went to Europe in the summer of 1994, of course none of us had ever been there and were very excited for the opportunity. It was still a semi-new concept and there were only a handful of bands that had gone there at that time. That was an amazing accomplishment for us, and for me personally because I really wanted to see the world and almost joined the Navy 3 years prior solely for that reason.

We got off the plane in Germany with an attitude of coarse, loud, pushy, and over excited. Within the first 3 hours we had told our driver and host that he needed to get a new attitude and find us a fucking shower. His name was Ma and deserves a lot of credit because he put up with our shit, drove all night most nights, got us everywhere safe and I don't remember him complaining once. One night a drunk German stepped to Banks with beer in hand and in broken English was asking, "Why this Straight Edge? What is this Straight Edge? Who you think is this Straight Edge?" Banks paused about half a tic and slapped the beer out of the dude's hand, it broke on a rock and soaked the guys shoe and sock. Banks replied, "That's my Straight Edge, do you get it now?"

With all these stories and memories, above all else the biggest accomplishment for me is the love. Friends learning and creating, making new friends along the way, getting sweaty for the core and getting bloody for the cause. Making music and inspiring, hearing music and being inspired. I never went to college but I can say I learned serious love and life lessons beyond anything any school could teach me being in this band.



Isaac, Regis and Jeff Banks on 1994 Chorus Euro tour