Geoff, Tim, Espen and Ed (where's Dan?) with the HT merch in Euro

In January of 1998, nearly 11 years ago, I hopped on a plane with my band Hands Tied and two other bands, Ten Yard Fight and One King Down for a European tour. In all honesty, I could write a book on that whole tour. It was a great time and an experience I will never forget.

Now is not the time for that story, now is the time to discuss the following video. This was our second show on the European tour. Our first show was in Leipzig, Germany on January 2, 1998. Although the Leipzig show wasn't particularly bad for us, the crowd was definitely more into the heavier more metal sound of One King Down. After that first show I remember looking at the rest of the band and the guys in Ten Yard Fight and saying, "Man I sure hope this entire tour is not like this!". Again, not that it was bad, kids liked both us and Ten Yard Fight, but they REALLY like One King Down.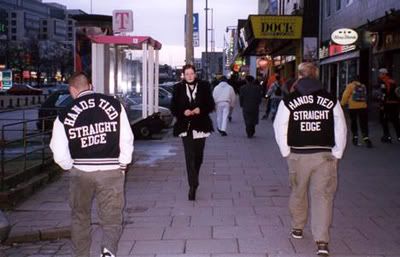 Ed and Espen walk the streets of Germany two strong

The second show we played was in Bochum, Germany on January 3rd 1998. I remember rolling up early to the club in our tour bus. Eventually all of us started making our way out of the bus and into the club to get a look around. After hanging out for awhile, sound checking and setting up our merch, word inside the club started circulating that a crowd was forming outside. Considering it was only our second show of the tour, we were all kind of excited to hear that a crowd was coming together nearly two hours before the doors were even supposed to open. A few of us ran over to a window and took a peek. What we saw was a sight I will never forget, it was like a virtual army of straight edge kids plucked straight out of a line at the Anthrax in Norwalk, Connecticut circa 1988. As far as the eyes could see, it was an ocean of varsity jackets, champion hooded sweatshirts, bleached tops, X Swatches, BOLD and Schism shirts... the whole deal. The Hands Tied and Ten Yard Fight guys all looked at each other and agreed, tonight was our night.

As for the actual set, for the most part it was a blur of stage dives and sing alongs. I remember the club being pretty long and what seemed to be 600 to 800 people packed in there. It was a big stage with lots of room for us to move around. The energy, excitement and intensity was thick in the air. As you will see in the video, Ed, our bass player, dives with his bass. If I remember correctly, that dive took out a few teeth from one exuberant German fan.

This particular show in Bochum, Germany remains in my memories as one of the best shows I've ever played. Of course there were other incredible shows that we went on to play on this 98 Euro tour and I can think back to a lot of great shows that I played with Mouthpiece, but this one here with HT was definitely one that rates high. I know the video quality isn't so hot and I'm not so sure this video completely captures the full feeling that was in the air, but this is the first time I've seen a video from this show turn up on YouTube. -Tim DCXX


Hands Tied - "Rearrange" Bochum, Germany, 1/3/1998