Chorus axeman and California HC legend Jeff Banks IDs Billy Rubin and recalls his time in and around Half-Off. Expect more of these great artifacts in the future from Banks! -Gordo DCXX

I have more perspective as I age. From time to time I have some regrets. My association as guitarist for Half-Off is one of those things.

My punk rock mentor Tim Sawyer (Visual Discrimination singer), had a Half-Off demo. "Punk band from Long Beach," he says. I was unimpressed and found it unlistenable. "If it ain't Dissension, and if Matt Vargas is not writing the riffs, I'm not interested. I can't (won't) get with a single-coil strat copy with amp distortion." (As a general rule, I hate single-coil guitars making any kind of appearance in Hardcore, with BGK being the only possible exception at that time).

Then it came to pass that Billy Rubin was the new singer. Billy worked at Zed Records in Long Beach, and I got to know him through Big Frank. Great guy. Funny. A wit almost as quick as mine. (He coughed up this ID gem in a hurry, and actually got the humor when I explained the collection to him. Another trivia bit—his now-wife Jay and I were on the Cerritos High School Math Team, Trigonometry Division, 1985-86). He's telling Sawyer and me that Half-Off has just recorded their "new stuff" and I cringe. Then he plays the track "On Your Own" over the Zed system and I shit myself. I think I may have had an erection when I heard the opening riff on that song.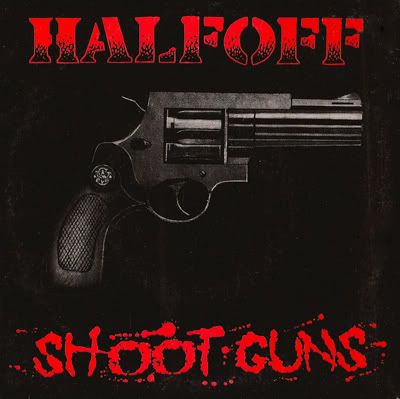 They had a fella from Princeton named Krishna from Crucial Youth playing second guitar. I never got that, but my gut told me that he was a friend of Billy's who was just in the band to hang out. When it became clear that Krishna was not going to be able to tour in the Summer of 1987, somehow my name gets thrown into the mix.

It was great in theory, since I would get to now play that opening riff on "On Your Own." Another plus was a lot of face time with the very dry John Bruce, who taught me the songs. Played the song once with them at an outdoor show at Heritage Park in Irvine (Side note: almost missed this show as Helmet, the Cardon brothers and I were schooling locals at some random basketball court in Irvine). Billy, Vadim, Jim Burke and John Bruce were all the greatest guys in the world, and I begin to mesh into the Half-Off fold.

"John can't go on tour because he's concerned that his insulin routine might get all twisted up and he doesn't want to be 2000 miles away if shit goes south," is my best recollection what Vadim said on the eve of tour. "Banks can play bass," was about what everyone said. The problem was solved.

For no real reason at all this was my position: "I'm a guitar player. I play BC Rich Mockingbirds exclusively with Ernie Ball Extra Slinkys to get my harmonics on. Not sure why anyone would think that I would ever in any scenario want to play a bass."

God bless those guys, because they are cool about it. "We know that. But between John's health, the dates booked, the late notice, it would really be hard to find a replacement. And you know the songs already…"

I told them, "If you wanted a bass player, then you should have found a bass player." What? Classic contrarian idiocy. Next thing I know, the tour was off.

Boy, I sure would handle that situation a lot differently if I had it to do over again.