Shelter at City Gardens, Trenton, NJ, Photo: Ken Salerno

Big surprise with these results, at least as far as I'm concerned. I had no idea that there was such an appreciation for Shelter's "In Defense of Reality" 7". Not that I don't like that 7", but in my opinion it was the 3rd best early Shelter recording. As usual, I apparently was in the minority.

For me, the number one early Shelter record has to be the first LP, "Perfection of Desire". How can you deny a track like, "Turn It Around"? I hear that song and all I can think about is stage diving. Of course hearing that LP brings me right back to the early days of Shelter and the band being based out of the Philly temple and playing locally on the regular. All those great early shows at City Gardens in Trenton, Revival Club in Philly and the Unisound in Reading, PA. Not to mention, some of those those tracks off "Perfection of Desire" almost sounding like they could have been later era Youth Of Today, "Enough" for example… awesome stuff. To me, every song on "Perfection of Desire" is great and captures a very raw, honest, socially conscience lick of righteousness, that really didn't matter if you were interested in the religious aspect or not. It was new and original without being so strange and hard to digest like many of the other bands at that time. Most definitely a record that has stood the test of time for me.




My second choice was the "No Compromise" 7", but quite honestly, it just as easily could have been my first. From the moment I heard those two tracks, "Freewill" and "Saranagati", I was sold. Great, catchy, powerful song writing with intense, emotional, sincere lyrics to complete the package. As a matter of fact, "Freewill" might be my favorite Shelter track ever. Again, hearing this 7" reminds me of that early 1990 time period and I've got nothing but good memories about Shelter at this time. I can picture the massive "Saranagati" sing-along, pile-ons at just about each and every show back then. Good times for sure.

In the end, the most votes went to the "In Defense of Reality" 7", all 104 of them. Like I said earlier, it's not like I don't like these tracks, it's just never been my favorite of the early Shelter material. I will say though, "The News" is a pretty damn good track and by far my favorite off this 7". I always thought Vic's riffage in "The News" was great and I can understand with that song alone why people really dig this 7".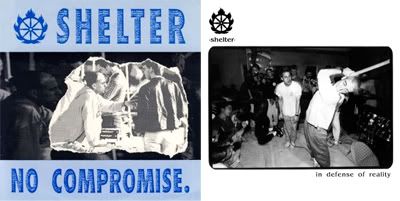 Oh and "Attaining The Supreme"… definitely my least favorite. I remember talking to Ray before this album was released and him telling me that the new album was going to have a heavy R.E.M. sound. I like a little early R.E.M. here and there, but I really wasn't interested in hearing that kind of sound mixed into my Shelter. The production on this album has always left me feeling a bit empty as well. The only bright spots on the album for me were the tracks, "Better Way" and the re-done version of "Shelter". That being said, it doesn't kill me to give this album a spin now and again. -Tim DCXX

Shelter - "In Defense of Reality" 7" - 104
Shelter - "Perfection of Desire" LP - 87
Shelter - "Attaining The Supreme" LP - 56
Shelter - "No Compromise" 7" - 42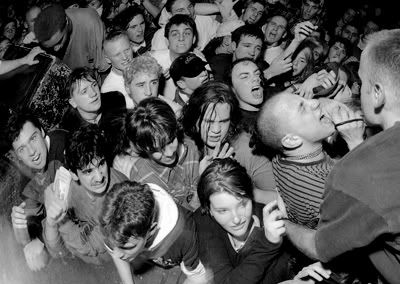 Ray falls into the arms of the City Gardens crowd, Photo: Ken Salerno