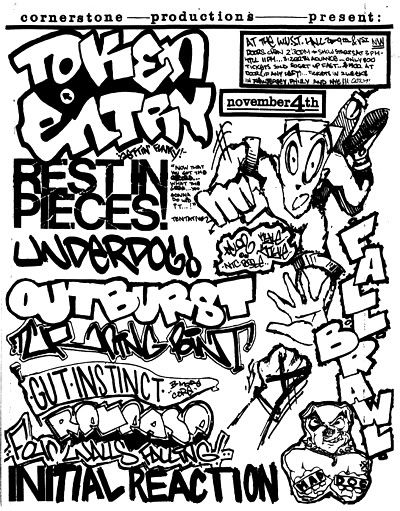 (Fall Brawl 1989 flyer)

Of the many versions of this flyer - I don't think any of them ended up being 100% accurate. Rest In Pieces & Underdog did not play - but everyone else did. One of the other variations had Judge listed, who also didn't play. Token Entry headlining was cut a bit short due to some police problems outside - if I remember correctly. This was the 1st hardcore fest I ever went to & still one of my favorites after all these years.



(Killing Time/Vision flyer)

Another great WUST Radio Hall event... with a newly renamed Killing Time headlining the stacked bill, I was finally really getting comfortable taking pictures at shows because of this big show. Ken Salerno was on the other side of the stage that night taking pictures too.



(Killing Time at Safari flyer)

This show was actually recorded in it's entirety to be released as a LP featuring all 4 bands... until In-Effect stepped in & squashed Killing Time's involvement, and from what I heard after that the release was scrapped. I had so much fun during Killing Time that I didn't bother taking any pictures of them (and still regret it).



(Killing Time/Sheer Terror flyer)

This show is special for a few reasons... the main one being that my wife was at this show too - though we didn't actually meet until many years later. It was also my 1st time seeing Sheer Terror live & they blew away every expectation I had. I have a soundboard tape of this show that will eventually see the light on youthcrimes.blogspot.com too.



(Mouthpiece flyer)

I think this was my 1st time seeing Mouthpiece, with the main memory I have is of their bass player jumping & accidentally cracking me in the forehead with the headstock. I was a sweaty bloody mess. I have held onto this flyer because it has a young Ken Olden on it in his Domino's Pizza uniform at work... and is still hilarious!



(Shelter flyer)

Me & my friends were outside smoking some crazy weed during Desiderata, and also missed most of Worlds Collide too. I was asked to help keep kids off the stage during Shelter, and accepted, even though I was high as a kite. As Shelter started, things got really blurry in my brain... and I remember looking up at Ray as he stood next to me singing... and in my stoned state I thought to myself "Ray totally knows I'm high & is SO disappointed in me right now". Ray neither noticed, nor cared either way... though I am guessing he thought I was the laziest bouncer with my half-assed effort keeping kids off of the stage that night. It's funny to tell this story now, since it is the only thing I remember about the show. This show memory is a reminder why I love being SE now too.



(Supertouch flyer)

This was probably the worst place I have seen a hardcore show, since it was a tiny bar that was smaller than an average living room. They had plywood stacked on the actual bar area so the bands could stand on it, leaving the audience a tiny area to watch them play. Release opened the show with Supertouch headlining. I have no idea if any other shows happened here, since I never went there again.



(Uppercut/Outburst show flyer)

I can't remember if Strength In Numbers played or not... Outburst & Gut Instinct were solid as usual. Uppercut covering AC/DC's "Dirty Deeds Done Dirt Cheap" was an added bonus. I don't recall this being a packed Safari Show... but it was still a fun one!