Sick Of It All at The Anthrax, Photo: Cara Longo

I gotta admit, I'm pretty damn surprised with the results of this latest poll. From the looks of it early on, it appeared that Straight Ahead was going to take home the trophy. I mean hell… everyone loves Straight Ahead, they are a serious fan favorite and well deserved, but somehow or another, it didn't happen. I guess as great as that Straight Ahead album is, Sick Of It All are still the NYC heavyweights, as they should be.

As often as I've blasted that Straight Ahead album, I've probably blasted Sick Of It All 150 times more, and that's no knock on Straight Ahead in the least. With Sick Of It All though, you've got a killer demo, a destructive 7" and a demolishing LP in "Blood, Sweat and No Tears". I practically grew up on those first three Sick Of It All releases. Got the demo in 7th grade from my math teacher (Mr. Koller, a cousin of Pete and Lou), ordered the 7" directly from Revelation when it was released, did my first City Gardens stage dive during Sick Of It All's set with Exodus, worshiped the "Injustice System" video when it popped up on MTV's Headbanger's Ball, danced, jumped on heads and sang along to Sick Of It All so many times between 1989 and now. For those reasons alone, I had no choice but to vote for Sick Of It All. Too many memories and too many personal attachments to vote otherwise.



Classic Tommy Carroll with Straight Ahead

As for Rest In Pieces, I've honestly never been much of a fan. I can put on "My Rage" once in awhile and get a good laugh off some of those lyrics (insert the lyrics to "Balls N All" here), maybe feel the urge to hit the dance floor, but generally speaking, Rest In Pieces just doesn't carry the same weight as Straight Ahead or Sick Of It All.

So in the end, Sick Of It All came out where they should have and all is right with the world because of it. Now go do some serious G.I. Joe head stomping. -Tim DCXX

Sick Of It All - 256
Straight Ahead - 215
Rest In Pieces - 36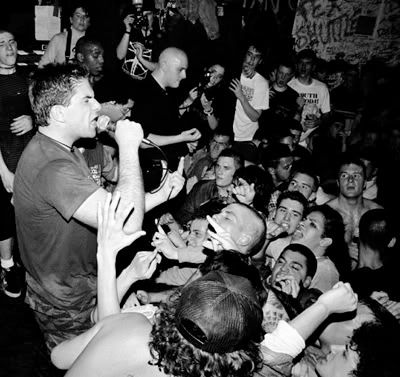 Armand Majidi with Rest In Pieces at CBGB, Photo: Ken Salerno