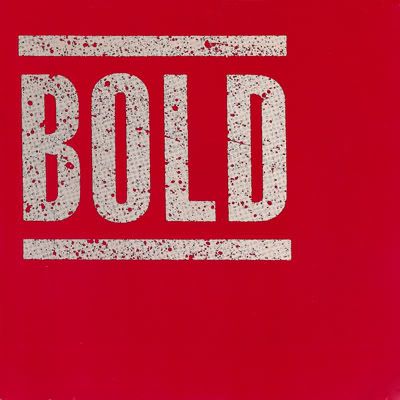 This time around I dissect BOLD's swansong release... -Gordo DCXX

I know I know...we love BOLD too much, talk about them too much, worship them too much, and DCXX doesn't need any more of it. Well I'm gonna disagree with you. While we definitely love BOLD and have made our opinions on them clear, there really hasn't been any excessive coverage of them here, believe it or not. Ok, there have been some minor Drew snippets and photos, but nothing too crazy. So if you dig BOLD and wanna read about them, hang with me here. If you are of the crowd that despises this band, thinks they wrote terrible hardcore songs, were a boy band, or whatever the common slam is, then by all means, please skip this post. Ultimately what this piece will boil down to is me doing excessive worshipping of the last BOLD ep and talking about it in disgusting detail and you agreeing, or you thinking that I must be masturbating while I write this and and that I'm a total moron with terrible taste in hardcore and way too much time on my hands.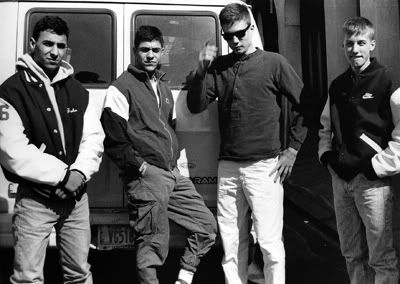 BOLD Revelation promo photo

The BOLD backstory is pretty straightforward leading up to the writing and recording of this ep, but I'll include it here for totality purposes. Four super young kids from Katonah, NY start thrashing in their basement, become heavily influenced by early U.S. hardcore, play under the name Crippled Youth, become the little bros of YOT, enter puberty, become Connecticut and NYC scene upcoming staples alongside Underdog, Straight Ahead, and GB, change name to BOLD, release matured LP on Revelation, and start to plot their next move. That next move would basically develop with the addition of Beyond's Tom Capone being asked to join the band on guitar after their summer 1988 west coast tour. A Long Island shredder whose brilliance in Beyond and beyond has been well documented, it's no shocker that BOLD's sound would develop dramatically with him in the band. The story goes that Tom started practicing and playing with the band, the writing core being him, Drew, and Matt. Instantly, old songs were made heavier and bigger, with Jackson whammy bends, tasteful soloing, and all sorts of feedback and high notes sprinkled about, breathing new life into the band. But what about new songs?

Prior to the recording of the last BOLD ep, one track was penned and played live, titled "Start Again." Diehards will recognize that this ended up actually being the music for the song "Looking Back" but with different lyrics (interesting for us to again note the odd similarity between the music of this jam and Alone In A Crowd's "Who You Know"). Other than that, it doesn't seem to appear that any songs were played live before BOLD went to record that final ep in the spring of '89.

Which brings us to the actual ep. The story again goes that time was booked at Baby Monster in NYC for February '89 despite the fact that Tim Brooks and John Zulu wouldn't be able to record due to plans to go on spring break for their senior year of high school. Some minor tensions developed, and BOLD kept the date despite the absence of Brooks and Zulu. Capone has recalled practicing the songs in Katonah leading up to that recording...unfortunately no rehearsal tapes have ever surfaced of the ep tunes in raw format, something I would love to hear. Whatever they did or didn't do, the actual ep recording makes it apparent that these guys (or kids, actually), went into the studio very much with their A game.



Matt with BOLD at the Safari Club, Washington DC, 1989, Photo: Thunderlizard

Running Like Thieves could be considered the ep "single" and crowd favorite. Five seconds into this song, it is made abundantly clear that this is not the same band that wrote the song "United We Stand." Capone's chorus-soaked power chords ring out underneath his Maiden-esque soloing right off the bat, Drew's snare assault marching everything forward. And let me get this out of the way right now: Drew absolutely kills on this whole record - tons of sick fills, tasteful yet skilled double bass usage, and all sorts of style. Please email me if you find any faults in his drumming here, I really would like to know what I'm missing. To me it is some of the best hardcore drumming ever, and the improvement he made between Speak Out and this is nothing less than dramatic (it also doesn't hurt that this time around he got a great drum recording).

Back to the song...as it kicks into the verse, it's not anything super bizarre, but the hints of double bass kicking, guitar harmonics and leads, and Matt's much matured and somewhat pissed yet "singy" voice again confirm that this isn't paint by numbers hardcore. Throughout this song and the entire record, there are definitely touches of harDCore, Verbal Assault, Cro-Mags, Metallica, Maiden, and of course just the straight forward BOLD hardcore sound (which is basically just a slowed down reincarnation of early DYS and early NYHC).

Matt belts out Drew-penned lyrics about a relationship with Richie Birkenhead's sister Alison, and his vocals seem to build stronger up to the break/mosh, with TC3's crunching and Drew's tribal pounding providing the perfect segway to perhaps the stand out lyric of the entire record, "We never know who to blame...why wouldn't things stay the same?" That line has always just seemed heavy and real as hell to me. You just get the feeling these are guys headed in different directions after this and being kinda bummed about it, growing up and having to actually grow up...I don't know, that's just what I hear.



BOLD alternate photo from final 7" photo shoot, Photo courtesy of: Matt Warnke

That's a hell of an opener to follow, but You're The Friend I Don't Need comes in and crushes. The longest song on the record (of four songs all ranging from three to four minutes), it opens with the hardest part on the record...a legitimate mosh part, and I don't care what anyone says, shit is hard (which is interesting considering that on the original ep it is unmixed). The only time this song can sound better is when it is played directly out of Accept The Blame, as done live. What you have here is a great intro part that either makes you want to mosh, stage dive, or just bang your head, then kind of a slower funky-ish part ("Try to pretend, that you don't see"...), and then boom, a great verse/chorus combo that has Drew speeding all over the place and you singing along. They easily could have extended that, then maybe came back to the intro and closed it out in a basic textbook style...but no.

What do they do? They let the song ring out, go completely silent, and all of a sudden you are hearing Capone on his clean channel with an almost bluesy type thing that could have been lifted from the first Danzig record. Drew keeps a Bonham-esque beat that you know is gonna start building. And then boom...the whole song explodes out of the weird type of trippy mellow blues bridge and into Capone laying down the best whammy bend to ever exist, and then just destroying it at 100 mph. Easily my favorite part of the whole record, it's the perfect hybrid of rock, metal, and hardcore ever done by straight edge dudes. I won't even comment on the rest of the song other than to say it's awesome until the end. And oh...the lyrics. Yeah, Matt wrote them about Drew. Weird right?

Side B opens up with what many consider the weaker track of the four - Hateful (not by The Clash). I think Hateful is a great song, it feels a little softer and more daring than Side A without being as explosive. Don't get me wrong, this song is a strong A- on a record of As, but to me it doesn't pack the punch the others do. Earlier I wrote that no songs on this record were played live prior to its recording, but now I am starting to remember an early incarnation of Hateful being played at some point. If not then, then soon after it was recorded. The big standout in Hateful is just the full out jamming that seems to occur when the song opens up...it feels like Capone goes back and forth with Drew for a little before he just solos the shit out of it...like you know when you see a guitarist standing on a drum riser having that weird sexual look on his face as he locks eyes with his drummer and they just enter that zone? That seems to be what is going on here (Neil Young did this a lot when he played some of his more aggressive tunes if you need a reference).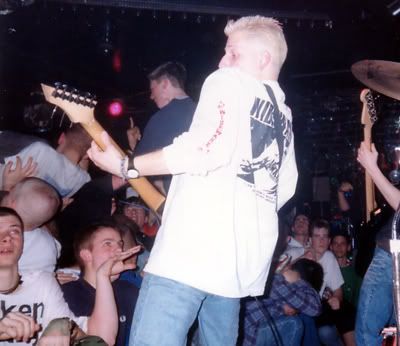 Tom Capone with BOLD at the Safari Club, Washington DC, 1989, Photo: Thunderlizard

One thing I gotta say is that even though Capone opens it up on this record, I think he actually shows really tasteful restraint. I'm sure these dudes had to have thought at times, "yo let's just go bonkers on this record, you know we're capable." Considering some of the wild stuff Capone pulled out live, too, he really kept things under wraps on this whole record. Might I add that he and Matt shared the bass duties and the bass lines are great on this? But yeah, Hateful, great song, maybe the weaker one here, but that still means it's better than 98.4% of all other hardcore songs ever.

Today We Live closes things out, and I guess you could say this is BOLD at their creative peak musically, vocally, and lyrically. Pretty much the darkest song on the record, the whole feel of this tune is just brooding, uncertain, and eerie ("We don't know what it means...to die!"), while still retaining that uplifting BOLD feel ("I just gotta live..."). Even going back to Speak Out, Matt seemed to have a theme of searching, growing, changing, and questioning that ran through a lot of his lyrics. With that as a unifying lyrical theme of sorts, Today We Live seems to be the perfectly written final chapter on the topic and also the most introspective one (along with the song Looking Back which would appear on the later 1993 release, which I'll get to in a second). Look...I'm not trying to make it sound like the dude was writing the new testament here, but I think these are great lyrics, especially considering typical straight edge lyrics of the time and the fact that he was barely 18 when this was written. Aside from maybe the Pressure Release ep, I can't think of many contemporaries who pulled this off. RESPECT (in Ali G voice).

Vocally, I think this is also his shining moment. I've never really found out exactly what he was going for, but in the acoustic part towards the end of Today We Live, the Jim Morrison/Danzig comparisons have always been pretty evident. The final outro of the song, with Drew countering Tom's solos and squeals with the appropriate double bass, is a nice nod to anything on Ride The Lightening and yet seems to perfectly characterize that later BOLD sound. Throw in the final quip of the strange backwards soundclip of Capone saying, "What are you guys, a bunch of saps," and somehow everything comes together.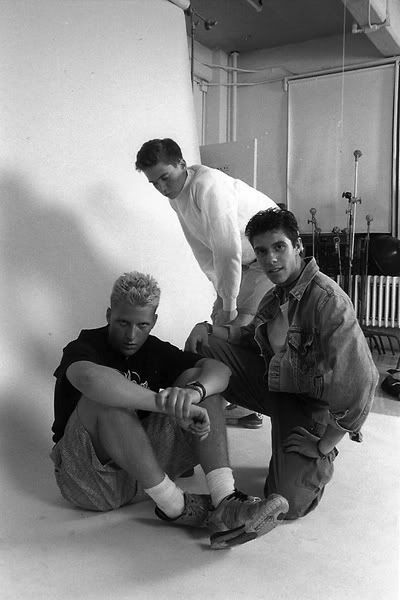 Another alternate shot from final 7" photo shoot, Photo courtesy of: Matt Warnke

I think the actual record layout and design has been documented enough, but I still think the off center "drug splatter" logo, just standing on its own without any longer being surrounded by live action shots or strong slogans is just absolutely brilliant. It's like these guys were saying, "we're BOLD...and umm, yeah, that's enough." And the back cover...classic. While it's never been exactly revealed what they were going for with this, to me it doesn't matter...it's incredible. No instruments, no action, staged white backdrop, no indication of straight edge or hardcore, flat, bored looks on their faces and basically just being cool...genius! I just showed this to my fiance as I was writing this, and I said, "What do you see when you look at that?" Her, not being into hardcore, said, "They look like New Kids On The Block." I can't be the only one who thinks that's awesome.

The whole thing just adds up perfectly. To me, it is the record of the era that bridges the gap between 1988 SEHC and everything that came afterwards that was connected but yet so much different and sometimes so fucking weird. If you play Break Down The Walls for a normal dude who is into music but isn't familiar with hardcore, and then play them the first Into Another record, they won't think they come from even the same galaxy. But I bet that if you played them the BOLD ep next, they could start to connect the dots and see the transition between 1987-era Drew who was wearing army pants, Jordans, and a reverse weave Champion, and the 1991-era Drew who was wearing pirates blouses, 17th century jewelery, and a cape. It's all there.



Drew with the Josh Says Mosh shirt at the Safari Club, Washington DC, Photo: Thunderlizard

These days there are young straight edge kids all over who are dangerously good at their instruments really trying to push hardcore, but from the entire late 80s SE scene, this record to me always stands out as being the first to do that type of pushing. And look, I'm not trying to make it sound like this record was totally next level or that this was the first time a hardcore band progressed, but I am saying that for the Revelation scene, and the band's own course, it's a pretty big step up creatively, and to me best exemplifies hardcore that goes a little out of the box and succeeds.

Technically, the 1993 "Looking Back" release is even better than this ep, since it nicely remixes some things (notably "You're The Friend" which was unmixed on the ep), and adds three other stand outs - the re-done and more dynamic "Always Try", "Speak Out" (an older yet unreleased tune done properly here, maybe the most underrated BOLD song), and "Looking Back," which has probably the best break down in any BOLD song ever. But since that record is a posthumous re-issue of this ep with some bonus stuff, I never have viewed it as a real release from during the band's existence. Still, because of the extra killer tunes, it trumps the ep.

So that's that. Back in 1989 I'm sure this four song slab of vinyl certainly caused a ton of head scratching, but looking at all the influences today, it seems to have made perfect sense. And I still put it damn near the top of my list of favorite records ever.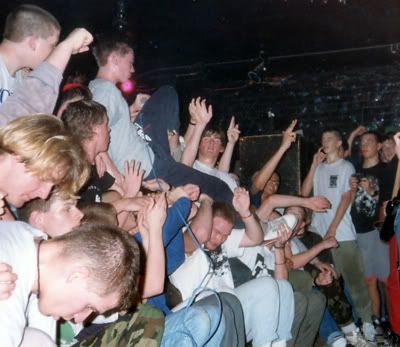 Matt conquers the Safari Club crowd, Photo: Thuunderlizard