Isaac and Jeff Banks in Europe with A18

Ike returns after some time off, and gives a funny tale from the Chorus days - enjoy. -Gordo DCXX

Recruiting for your band can be a daunting process. How bad do you want to play shows? How good does he or she have to be? Should all the members share the same views? Do they have good gear? I think most bands start with a guy who wants to sing who is friends with a guitar player, at least that's been the case with every band I have done. Hardest member to come by is the ever-elusive kick ass drummer. I think most band nerds will agree that the drummer MUST shred. Or, well...SHOULD shred. Ok… It would be nice if they were sorta good but had heart.

In the early days of The Chorus me and Banks thought that we might pull the 'mysterious project band' card, do a pissed off record and be semi elusive just to cause controversy. We realized very soon that there was just no way we could do that. Banks' time in Visual Discrimination was at an end, Chorus songs were recorded, we needed dudes…. Fast! There was never a doubt about Regis. He was our one and only choice, we knew he was going to be an important element even as Banks and I recorded the LP. He was in this band before he even agreed, period. But we were at a loss regarding a drummer, we had no clue.

We both adhered to the one band at a time creed so finding a guy already doing something was simply out of the question. We tossed some names around just the same thinking we could steal them outright, or is that 'kidnap' them outright? Neal from Hard Stance? No, not a very good fit. Casey Jones from No For An Answer? No, the hand-cuff drum style would not satisfy Banks. We even thought we might heist Bratton and Frosty from Chain of Strength to round out our powerhouse. But to no avail, we were just talking out loud and needed to get serious, then Banks suggested someone I couldn't believe. He says, "I know this kid in my class, that might do it. His name is Jerry." I thought nothing of the name, until he told me what he had done previous. "He was in Grudge," he says dryly. I paused so as not to upset an already stressful drummerless situation. "You mean the joke band, make fun of straight edge, we pull someone out of the crowd to do a milk bong instead of a beer bong at our live shows Grudge?" I asked. Banks looked me in the eye without a blink and gave me the patented side smirk-bite his bottom lip-with two nods. I smiled knowing EXACTLY what that meant and said, "Slammy?" He said, "We'll claim it as a victory if anyone asks." I said, "Word is born, I'm in!!!"



Jerry Hohman supplying the Chorus beat

So Banks set it up. I was to come up to Cerritos right before his class and accompany him to his afternoon class, then scoop up Jerry and head to Carl's Jr. I met Jerry. Very unassuming, skinny, sorta shy dude, no attitude whatsoever. We are about to pull a 3 in the cab trip to Carl's, but before we even pull out of the parking spot Banks slides in The Chorus tape, pulls his ever present drum sticks from between the seats, and begins to kick beats along to the tape. Steering wheel: high hat. Horn cover: snare. Light tap on the brake pedal: bass drum. Cerritos parking pass hanging from the rearview: crash cymbal. Jerry is coyly sitting bitch while Banks pounds away, and at 100% volume, I sing along to my voice, while the stock speakers try their best to not crumble. It's quite a scene.

Just as quick as Banks began, he stopped, calmly turned the volume down, looked at Hohman and inquired, "Well, what do you think?" Jerry, still unphased by our antics paused and lifted his head eerily slow and said, "Yea, I can beef that up." FUCK!!! That was a perfect answer and EXACTLY what I wanted to hear. As far as I was concerned Jerry Hohman was in, and I think Jerry thought the same thing. But Banks has a way of bringing you back down to Earth and then cutting you down to size as soon as you land, it's a talent. And in that moment Banks takes off his glasses for a quick clean, puts the drum sticks back, checks his blind spots and slowly backs out and onto the road. At the first stop light Banks turns to Hohman, looks him accusingly in the eye and says, "Just remember...no rolls are better than shitty rolls."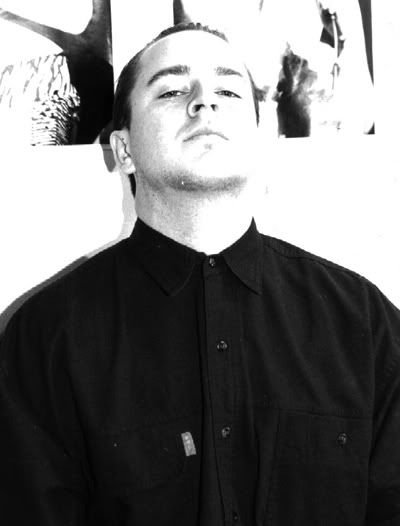 Jeff Banks doing the Suicidal