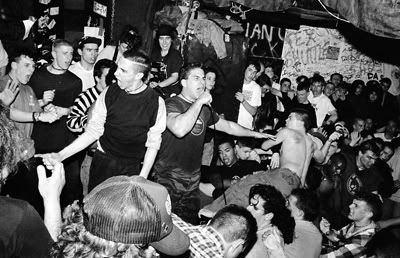 Rest In Pieces at CBGB's, check out Lou Of It All, Photo: Ken Salerno

In light of some recent comments, I felt motivated to post this "out of the ordinary" weekend entry. Over the past few days it seems like some of the readers felt it was necessary to go out of their way to insult me and or make negative comments about some of the recent entries. Now don't get me wrong, I'm not thin skinned, I've been through shit like this a million times and I can surely handle criticism. As a matter of fact, I'm all for constructive criticism and I know it comes with the territory, so because of that fact, I wanted to make a few things clear.

First off, it's no secret that for the most part, things here at DCXX have been going a little slow lately. Yeah, I've been trying my best to keep up with the five day a week updates, but truth of the matter is that it hasn't been easy. For one thing, Gordo has been tied up with some things outside of DCXX, so there has been zero input from him in at least a month. That all should be changing soon, so that's a good thing. What I will say though, is with Gordo's absence, aside from a couple guys like Billy Rubin, Big Frank and RJ Vail, I've had to create a lot of the recent content from scratch. Throw work, family and every day responsibilities into the mix and it's honestly a miracle that I've even been able to keep it going.

Second, we've got about eight interviews out that we're waiting on to come back. Most of these interviews have been out for the past two months, so we're crossing our fingers that they'll be coming back soon. As soon as some of these interviews find their way back into our inbox, you can be assured that they will quickly find their way onto DCXX. I've also got to get back on the transcribing of the RJ Vail (YOT roadie) interview and get some photos from him for that. Trust me though, things are in the works, so be patient.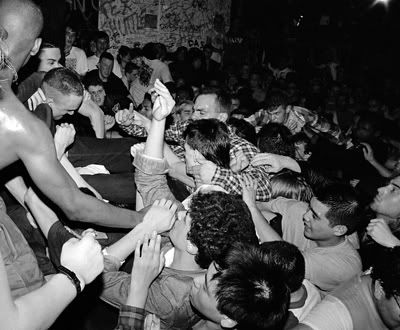 CB's crowd, Comunale with a flannel shirt and finger point, Photo: Ken Salerno

Third, I thought I was clear about the Mouthpiece content, but I suppose if you missed the first post or didn't care to read the first post, you'd be out of the loop. Basically, I'm generally not one to push my own bands in people faces. I certainly don't expect everyone to love Mouthpiece and I don't try to make Mouthpiece out to be more than we were. At best, we were probably a third generation straight edge hardcore band that wanted to sound like Chain Of Strength. I make no bones about it. We weren't great musicians, we didn't write groundbreaking music, I didn't write profound, mind blowing lyrics and I certainly didn't have Mike Judge quality chords. What we were, was a band of five kids that loved hardcore as fans first and foremost, were sincere about what we said and did what we did because we thoroughly lived it and enjoyed it. We never set out to be some touring machine to conquer the world and line our pockets from the scene. As cliche' as it sounds, Mouthpiece existed out of our love for the bands that inspired us and the experiences that pushed us. Somehow or another, some people actually ended up liking us. For those that liked Mouthpiece, I hope the entries were interesting. For those that could care less about Mouthpiece, again, I hope you could at least appreciate the stories to some extent.

Like I said, I thought I made it clear that there was a purpose behind all the Mouthpiece entries. We had the discography coming out on Revelation, it was a project that we put a great deal of time and effort into and considering the fact that anywhere between 650 to 1,500 people are reading this blog daily, I thought I'd help promote the discography in a fun and interesting way on my blog. I never tried to come off as a bragger or a gloater and quite honestly, at first, felt a little uncomfortable putting content of my own band out there. I clearly stated from the first cover story entry that I was going to tell the story of each cover over the span of a couple of months, building up to the release of the discography. The first three entries went well, I received a lot of positive feedback, so I went forward with a little more confidence for a couple more entries. That's pretty much that and for the most part, winds down those entires.

Now moving forward, at this point if you've been following this site for a little while, you should generally know what to expect when you come here. If you don't like what you see, are not into the style of bands that we cover and do not like the people that are delivering it, please, by all means, do yourself a favor and don't come here. We're not making any money off of this, nor are we trying to. We do not need your subscription fee, so we could care less if you visit the page. We simply do this because we enjoy it. It's like doing a fanzine, but with instant gratification. We get to talk to people, hear stories and document things that interest us personally. Apparently a good amount of people enjoy a lot of the same things we do, so we've acquired a pretty impressive following. So for the people that enjoy this and appreciate what we do, thank you and definitely stay tuned because there is plenty more to come.

Trust me, I know the negative comments are greatly out numbered by the positive. I've got a boat load of incredibly cool emails that I still need to respond to and I will try to respond to everyone as soon as I can. But, like anyone that's put themselves out there can attest, it's hard to let the negative comments just roll off your back. Especially with something like this where you put so much time and effort into it and expect nothing in return. To have anonymous people slag your efforts that you are giving away to them, it's hard to not say "what the fuck?". But whatever, I'll keep pushing forward like I've always done. Thanks for reading this, thanks for the constructive criticism, thanks for the support and enjoy the rest of your weekend. See ya back here on Monday. -Tim DCXX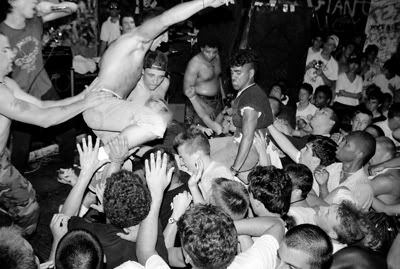 Porcell goes for a dive at CB's during Breakdown, Photo: Ken Salerno