Bad Brains in Santa Barbara. Mouse is in this picture too. You can see the other half of her. This might be the single best hardcore show I have ever been to. Photo: Billy Rubin

Billy Rubin drops a bomb on us with BL'AST! and the Bad Brains. This is heavy... -Gordo DCXX

Way back in November of '86 or '87 Vadim Rubin and Jim Burke got wind of a show that was going on at the Westside Community Center in Santa Barbara. The Bad Brains were going to be in town and better yet, BL'AST was going to open for them. I am not going to type that apostrophe for the rest of this story...forgive me. Santa Barbara is a long way from Long Beach and you have to drive through terrible traffic to get there on a weekday, but the three of us decided to go up there in my Toyota Tercel.

We had all seen both bands before, but lets face it, nothing compares to seeing the Bad Brains. I still remember the first time I saw the Bad Brains. They came on stage and played "Coptic Times," "Attitude" and "We Will Not" back to back without so much as a pause between each song and then HR did a backflip like he was in the Matrix or something. He made it look that easy. I was about 16 at the time and I knew right then (3 songs into their set) that this was something I needed more of. I also remember seeing BLAST a zillion times. To this day, when I listen to "The Power of Expression" (which I actually have on CD from when it got re-released on SST) I go absolutely nuts during the drum break/bridge between "Time to Think" and "Surf and Destroy." That is what hardcore is all about.

As we drove up to Santa Barbara we listened to the Bad Brains ROIR tape on my piece of crap car stereo and got ourselves pumped up for the show. When we arrived, we realized this was going to be a unique show. Santa Barbara is one of the prettiest cities in all of California and the Westside Community Center was a beautiful building. It didn't seem possible that a dirty, gritty punk rock show could happen here. When we got inside the place it was weird...The bouncers and security that you found at a typical show were all missing. Even stranger was the stage. It didn't have a big drop off down to the floor. It had three or four steps. We started to get excited at the prospects of getting up on stage.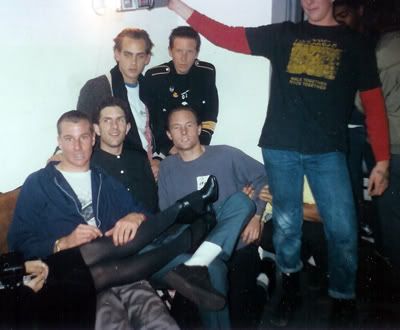 Me and BLAST. Notice I am wearing intentionally randomly bleached jeans, a Walk Together Rock Together shirt and combat boots. I think it is from backstage at Fender's. I am holding up an ancient tape recorder (to block the light). I had just interviewed them. There is a pair of sexy lady legs going across Clifford's lap. Those legs belong to a woman named "Mouse". She was a photographer from back then. She used to follow BLAST around because she also took skateboarding pics.

There were some differences with BLAST that we noticed as they started to set up. They had a new guitar player in the band. It was Kip from NEON CHRIST. NEON CHRIST was one of those bands that put out a 7" that was on every record collector's want list. Kip was different from the rest of the band...he is black! We thought it was a trip that we were seeing a hardcore show with so many black people in the bands in such a white city. The other difference was that Bill from BLAST had a new drum kit. It was this big silver Ludwig kit with a massive bass drum. His snare was huge too. It was as deep as most toms. As BLAST was warming up, when he hit that snare, it scared me. Like when a car backfires! His kit was really similar to Bill Stevenson's (Black Flag) in the Live '84 video.

When BLAST started playing I knew right away that before the night was over I was going to be hoarse and my ears would be ringing for days. I really didn't care. BLAST played an absolutely incredible set that was highlighted by an awesome version of "Our Explanation."

There was another band that played that night but I can't remember who it was. During that "other" band's set Vadim, Jim and I recovered and got ready for the Bad Brains. Over the years I had met the Bad Brains a few times. I met Darryl about a year earlier at a place called Camel Records in Huntington Beach (Beach Blvd and Adams). This is a strange side story, but this guy Matt that was friends with Casey Jones called me and told me that the Bad Brains were going to make an appearance at Camel Records. Matt was into cycling and he rode his bicycle over there and I drove to meet Matt. As it turned out, Darryl was into cycling and he spent the whole time out in front checking out Matt's bike and talking about a ride Matt had done across the country.

Not long after that, the Bad Brains played at Fender's and I used my previous intro to Darryl to get back stage and hang out with them at Fender's. Anyone that remembers Fender's will remember that there was no backstage accept for a little room to the left of the stage (as you're facing it). I was the first straight edge kid to get a massive contact high from being in that teeny room with the Bad Brains from all the dope they were smoking. I really couldn't understand most of what they said and I suppose I lost my edge (heh heh) but it was worth it.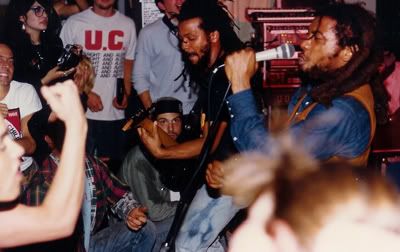 Bad Brains in Santa Barbara, Photo: Billy Rubin

Back to the show in Santa Barbara...I brought my camera to this show and used my rapport with the Bad Brains (and the fact that there were a few little steps up to the stage) to land a spot on the side of the stage to take pics. By the time the Bad Brains started playing, this pretty little Westside Community Center was full of dirty punks. The Bad Brains played an incredible set that included some "I Against I" material way before "I Against I" came out. About half way through their set, the cops busted into the place and were hanging around in the back. I was up on stage, and I could see that more and more cops kept coming in. Finally one of the cops (I guess he was in charge) came up on stage to shut the show down. This is when something totally strange happened.

When the cop started telling HR that they had to stop, HR spoke to the cop in a completely normal voice. He didn't sound like a rastafarian...he sounded like me...or for that matter, my Dad. HR told the cop (in a perfectly normal voice) that if they didn't keep playing there would probably be a riot. He reasoned with the cop and finally persuaded him to let the Bad Brains finish their set. The next song the Bad Brains played was "Riot Squad." We went completely nuts!

That night, on the three hour drive home in my shitty Toyota Tercel, we couldn't stop talking about what an incredible show it was. Years later, when "I Against I" came out I was going ape shit listening to it in that same Toyota Tercel and I ran a red light and totaled the car. I remember that even after the crash, "I Against I" was still playing on the cassette deck.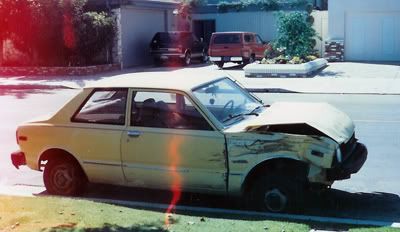 The infamous Toyota Tercel, Photo: Billy Rubin