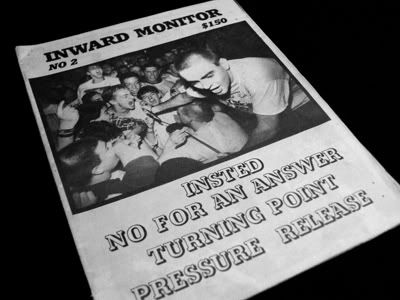 Back in early May I did a spotlight on Alex Brown's pre-Schism, Loveseat Fanzine and planned to bring more of my favorite fanzines into the light for future entries. This time around it's Inward Monitor.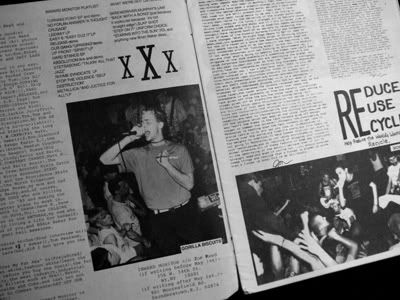 Inward Monitor, done by Jon Reed from Rhode Island and with help from Sue Gendler of New Jersey, was a fanzine that definitely rose to the top of my collection. Issue two, was a combined effort by Jon and Sue when both were going to school in NYC. Packed into issue two were interviews with: Insted, No For An Answer, Turning Point and Pressure Release. Not only were some of the best bands of the time period interviewed, but every interview came complete with some of the best photography you'd find in a fanzine at that time. Nearly all the photos were large, perfectly halftoned, crystal clear and simply captured hardcore greatness. The layouts were clean and fairly professional looking, but still maintained a fun cut a paste look to them.


One particular photo which appeared in the pages of the Turning Point interview always stuck out to me. It was a photo of the band hanging out around a pool table, with the words, "Pool Hall Justice" around it. For some reason I just always thought that was a cool photo and nice change of pace from all the usual live shots. It also gave you a different look at the band outside of the standard hardcore setting.


Next time you see this issue of Inward Monitor on eBay or come across it on someones list for sale, do yourself a favor and snatch it up, you won't be disapointed. -Tim DCXX