Fu Manchu is one of my favorite present day bands, and their backstory is filled with tons of ties to the 80's California HC/punk scene (something I'm not sure is that well known, but I could be wrong). Singer/Guitarist Scott Hill is a long time major HC/punk fan, and it's evident in his answers. Check out their new LP, "Signs Of Infinite Power," on Century Media if you want to hear some Dan Armstrong fuzz riffs that will BL'AST! your brains out. Much more to come from Scott! -Gordo DCXX

What was your first punk/HC show and how did you end up there? What type of an impact did it have and what are the specifics you can recall?

My first punk show was seeing the Circle Jerks / Shattered Faith in February 1981 at a club in Riverside, CA. A friend of mine had played me some Black Flag, Circle Jerks (live), and The Weirdos. I remember we had a "punk" day in elementary school. This must of been 1979. Some kid had a homemade shirt with "punk is bunk" written on it. I would love to have that shirt now. I had been listening to Kiss / Deep Purple / Ted Nugent up until that point.

When I heard Black Flag / Circle Jerks I was hooked. I tried to get my hands on everything punk/hardcore that I could. Me and my friend took all his Judas Priest, Maiden, Sabbath, Kiss records and skipped them down the street. I was a little smarter and put my rock records in the back of my closet.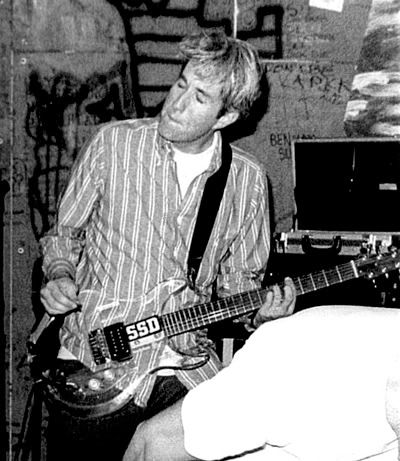 Scott with Virulence, 1987

Anyway, I was a young kid and I wanted to go see the Circle Jerks so I got a ride with some older friends and snuck out of the house. Thought I was going to get my ass kicked at some point that night but I didn't really care. I was on my way. Seeing the Circle Jerks was insane. They were sooooo fast and the crowd was going crazy. Picked up my first flyer at that show and started collecting them every week at the local record stores.

Seeing Greg Hetson from the Circle Jerks play guitar was amazing. Their set was over in about 30 minutes. He was jumping around playing fast. I wanted to buy a guitar and start a band the next day. Shaved my head a few weeks later. My parents made a deal with me that if I got good grades I could go see shows during the week. I didn't care about school, but I got almost straight As just so I could go to shows. That was my first live show ever.

Here is another major show for me: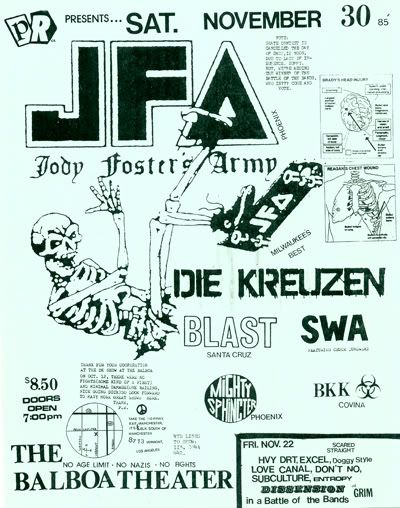 The Faction were supposed to play instead of BL'AST!. We had picked up the original flyer with the faction on it. I really liked The Faction so I was looking forward to the show. I dug JFA and Die Kreuzen as well! We would go to a record store called Toxic Shock out in Pomona, CA to buy records every few weeks and we picked up this flyer with BL'AST! on it instead of The Faction. We were bummed. Bill Tuck (Pillsbury Hardcore) tells us that if we like SSD and Black Flag we should check out BL'AST!. Well, those are two of my favorite bands so hell yes we will check them out!

We are at the show and we see two full stacks being set up, a big drum set and both guitarist have clear Dan Armstrong guitars. Cool. Then we hear them make some noise and...BOOM, they start their set. Holy shit!!!!! We were floored. LOUD, fast, slow, tweaked breaks in the songs and everyone in the band moving around. I believe Pat Dubar from Uniform Choice sang "12XU" with them that night. This was at a point when the band I was in, Virulence, was starting to play at early Gang Green / Jerry's Kids / early DRI speed. Well, that changed after that night. UNREAL show. Still have the set on cassette and Steve, one of the original BL'AST! guitar players, said he would hook me up with a video of the show. This was in 1985 and I still listen to and reference BL'AST! all the time!!!!!!!!

Another huge show was seeing Government Issue in a small room with about 70 other people there. "Joyride" by Government Issue is a top ten record for me and they played almost all of it that night. They wouldn't stop playing that night thank God. Sound was perfect.




Here's another. Huge fan of the first Suicidal Tendencies record and Discharge was the heaviest!



Circle Jerks and Dead Kennedys...two of the best.



CH3 / Fear / The Stains...that Stains record is sooooo good. FEAR!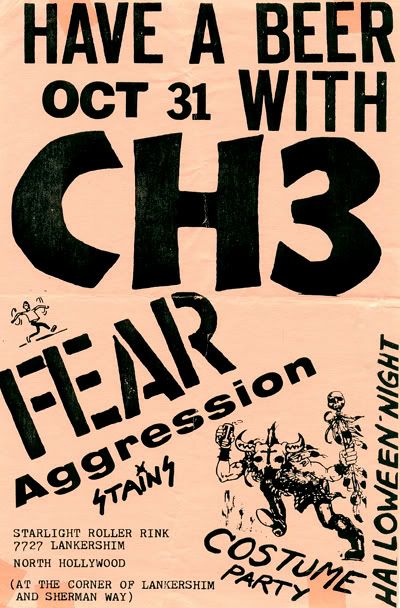 The list of shows could go on and on and on...everyone of them contributed to me starting a band.

Fu Manchu is clearly a California band. Tell us about where you grew up and how California shaped you as a person and within the realm of music. How did the landscaping of California (sun, cars, motorcycles, surfing, skating) play into being into punk at an early age?

I have lived by the beach in Southern California all my life. Surfing/skateboarding is still a huge part of my life. Kind of something you did living at the beach. Still surf everyday.

Hanging out at the beach as a young kid, I got to see some gnarly stuff. Got to hear cool music at a young age. Blue Cheer, Sabbath, Zeppelin when I was waaay young. Saw every cool muscle car you can think of. The cover to our "California Crossing" record is something I remember seeing from when I was a young kid. I remember seeing a 1968 Chevy El Camino with surfboards hanging out the back and two girls talking to the guy driving it. I wanted an El Camino from then on. Might have been too young to bother with the girls at that point but...we did our cover art with that exact scene that I saw.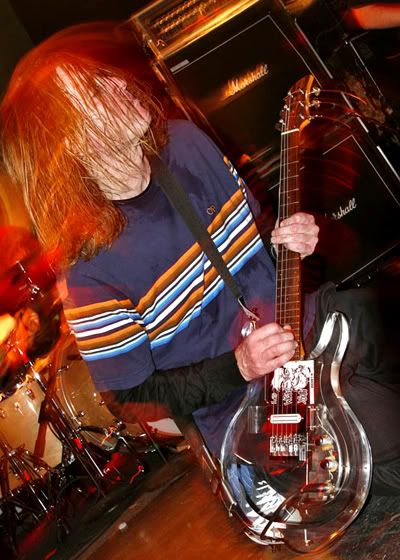 Ok, back to punk rock. Then in 1980 I started to see punks hanging out surfing, skating, getting into fights with the hippies. Things just got more aggressive. That faster music just fit in with skateboarding/surfing. Got you very amped up to go skate or surf. I think growing up in Southern California by the beach I was exposed to soooo much good local music.

Seemed like there were 2 or 3 great shows every week. When I noticed punk rock happening in 1980 there were a lot of great local bands. TSOL / Circle Jerks / Black Flag / Germs / Shattered Faith / Descendents / Adolescents / Hated. I would buy any record from a band that I saw on a flyer that was playing a show. Then I started buying zines and would read about bands from other parts of the country. So I would buy Minor Threat / SSD / DYS / FU's / GI / AOF / DRI / Gang Green / Agnostic Front / Poison Idea...a lot of great record stores that would carry everything.

Now with Fu Manchu I think we combine early 80's punk/hardcore with raw 70's fucked up rock.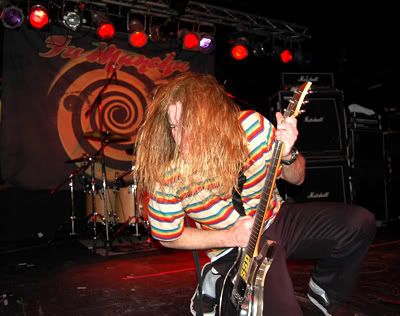 When did you decide you wanted to play music and who were your main influences for wanting to pick up a guitar? Who continue to be your top influences? As a gearhead, tell us about your set-up and love for Dan Armstrongs.

Seeing Greg Hetson from the Circle Jerks play guitar at my first show and hearing what Greg Ginn from Black Flag was doing were the two major reasons why I picked up a guitar. I didn't see Black Flag until 1983 so I only saw pictures of Flag and they looked heavy!!!

Going to shows and watching the bands play is a main reason why I started a band. It just looked like so much fun. Get 3 or 4 of your friends to make noise together. Black Flag's "Damaged" is the heaviest record that I've ever heard and they remain a major influence! I learned to play guitar by watching the guitarist play at the shows. I would watch how they would tune their guitar, how they made chords with their hands how they set up their gear.

As far as my gear. Well, Greg Ginn is my favorite guitar player so I wanted a clear Dan Armstrong guitar. Then seeing the guitar player from Wasted Youth play one and finally BL'AST! use them...fuck, I wanted one. I finally saved up enough dough and bought one. They are fun as hell to play. Got lucky enough to be sponsored by Ampeg / Dan Armstrong so I have enough back-ups now.

Here's what I'm playing: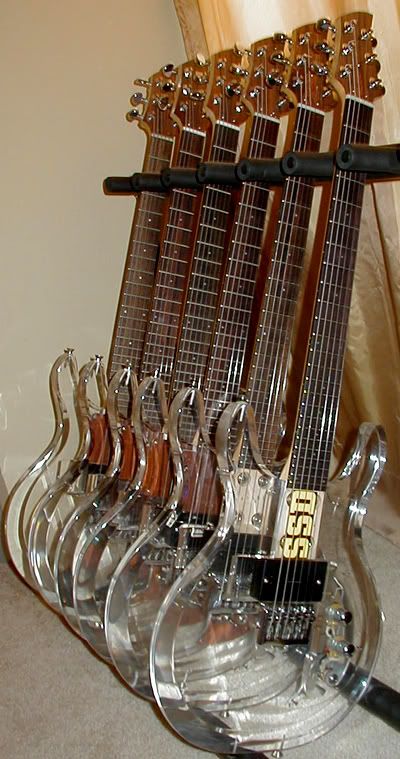 Amp wise, I plug into a Superfuzz pedal and run that into a splitter then into a Peavey P.A. head and Marshall TSL 2000. One head goes into each cab. I like a very fuzzy, fucked up tone.

Here's my amp setup: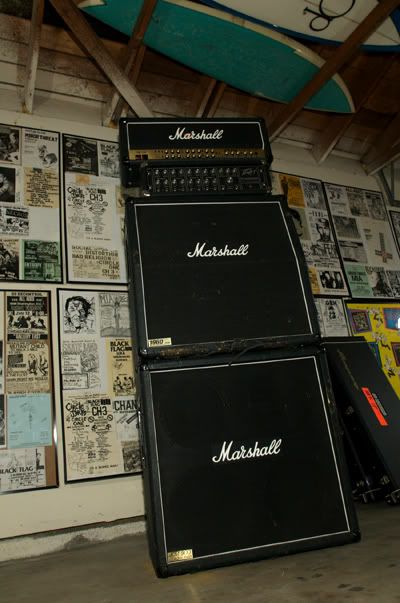 There are so many great guitar tones / sounds form all those early punk / hardcore records. Black Flag / SSD / VOID / Minor Threat / Circle Jerks / DRI. I always thought each band had their own sound and didn't understand when people would say that all punk sounded the same. CRAZY.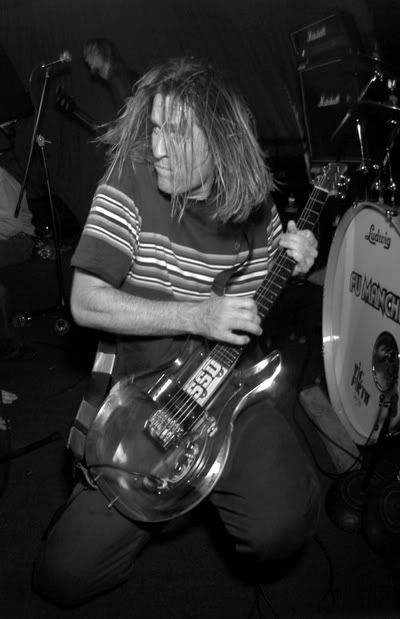 Scott with Fu Manchu, 2007