Chain "Has The Edge Gone Dull?" athletic gray shirt, two color front with X

Another dip into the collection and this time I pull out one of my personal favorites, the rarely seen, athletic gray, Chain Of Strength "Has The Edge Gone Dull?" shirt.

Back in the mid 90's, I started going back and forth with a kid who was heavy on the trail of filling out his New Age Records shirt collection. The dude was big time into all the New Age band shirts, Unbroken, Mean Season, Strife, Mouthpiece, Outspoken, etc. and since I was in Mouthpiece and on New Age, I had plenty of that kinda stuff laying around.

The trading started with me sending off an Unbroken tour shirt and an early Mean Season shirt, in return he sent me one of those classic navy blue Revelation BOLD shirts with the gold ink front and Matt finger point photo back and a white Schism Judge "New York Crew" shirt.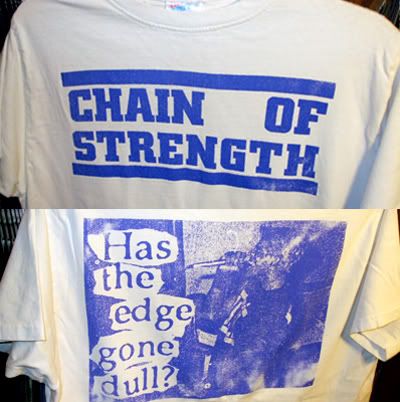 The standard white Chain "Has The Edge Gone Dull?" shirt

Eventually we worked out another trade that brought me this Chain Of Strength shirt. Most of the time when you see this design, it's on a white shirt with the royal blue ink Chain Of Strength front minus the X and the royal blue or navy blue ink "Has The Edge Gone Dull?" back photo. This one here though is an earlier and limited version of that design with the classic Chain X Of Strength green and black ink front, navy blue ink "Has The Edge Gone Dull?" back and on an athletic gray shirt.

Ultimately this is one of my favorites, if not my favorite Chain shirt. For me, this is right up there with the original navy blue Chain puff ink "True Till Death", which we'll get into for another entry. We'll pick up where you left off… -Tim DCXX



Chain "Has The Edge Gone Dull?" athletic gray shirt, back design