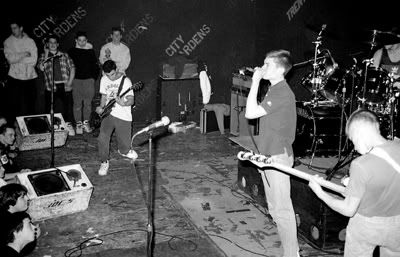 BOLD at City Gardens, Trenton NJ, 1988, Photo: Ken Salerno

Tim's post last week on Murphy's Law and BOLD at the Black 'N Blue bowl reminded me of a story involving the two that came up in an interview Tim and I did with Matt and Drew a few years back. Here it is, along with some great photos Ken Salerno took of BOLD at City Gardens in early 1988...-Gordo DCXX

Drew: Around 1986, Crippled Youth was still kind of a novelty. And even though we were kinda loud about straight edge, we kinda got a pass because we were so young. Especially in New York, nobody really gave us a hard time because of our age.

Matt: But I do remember one time we kind of dug ourselves a hole. Maximum Rock 'N Roll wanted to do this little feature interview on us, so they sent us the questions. And one of the questions was about straight edge, and if we got a hard time for it or if we got heat for speaking our minds about it. So Drew and I were doing the answers and taking time to formulate our answers...

Drew: And I made the mistake of saying like, "If Murphy's Law can sing about drinking their beer, why can't we sing about being straight edge?" We really thought we were making a valid and righteous point, but in retrospect, we were 14, and it's just not the type of rational thing you say, especially pulling Murphy's Law into it. And I loved Murphy's Law, but the context was terrible.



Matt with BOLD at City Gardens, Photo: Ken Salerno

Matt: So yeah, and soon after that, I was at The Ritz and Murphy's Law is playing. And Jimmy goes to introduce the song "Care Bear," and he says in a very direct and not so friendly way, "THAT'S FOR YOU CRIPPLED YOUTH!!!" Like right at that moment, the whole club parted and like the spotlight went on me. It wasn't a lot of fun. It felt very tense.

Drew: Yeah, big mistake. But I think it smoothed over.

Matt: Yeah, the next day, Mark Ryan, who was close with us but also close with Jimmy and those guys, he went to them and smoothed it over, basically explaining we didn't mean anything by it and that we were ok kids. But I think that may have been a wake up call. After that, we were cool with them.