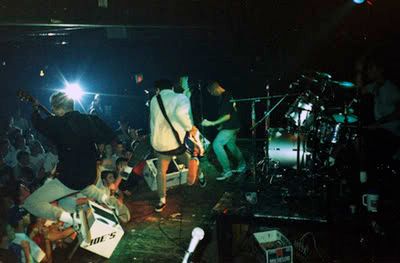 Chain of Strength at City Gardens, Photo: Jason Jammer

I actually had a completely different post lined up for tonight, but at the last minute, decided to change it up. I figured if the inspiration was there, I had to run with it... literally.

So I decided to go for a run tonight. I'm far from a runner, as a matter of fact, tonight was really the first time I've ever even gone running, but I'm trying to get into the habit. So I threw on my New Balance 801's, my Livewire TFS Champion mesh shorts, grabbed my old late 80's Vision hip sack (I know... a hip sack, but with no pockets, the thing comes in handy!), tossed my iPod in it and hit the streets. My 6 year old son Trevor also tagged along.

We ran from my house, down the street to the high school and up to the track. We stretched for a couple of minutes, then I started scrolling through my iPod... "what should I listen to, what will pump me up and keep me motivated?" Easy answer, Chain Of Strength. I knew I had to get in a zone if there was any way I was going to actually be able to get around this track for as long as I wanted to.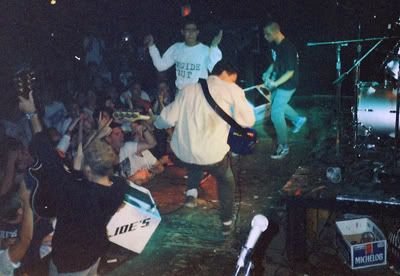 Hoffman with Les Paul in air, Alex Pain brings it down , Photo: Jason Jammer

The Chain Of Strength "True Till Death" 7" has motivated me through many lawn mowing sessions, so I knew it would get me through a run. I put on my head phones, turned up the volume and off we went. As soon as the pick scrape came in for "Just How Much", I felt this extra lift in my step. Although Trevor had a slight head start on me, I burned right by him and proceeded to tear through the first lap with no problem. Trevor stuck with me for the first 3 laps, but as I was heading into the 4th, he took a seat. By the 5th lap into the 6th, I had to slow it down. It was starting to get dark, so I paused my iPod (after listening to the "True Till Death" 7" twice, straight all the way through), grabbed Trevor and started to head back home.

On the walk back home I was still all jacked up on Chain, so I listened to a great sound board live set of theirs from the first time they played City Gardens. The bill was Up Front, Insight, Chain of Strength and Social Distortion. I started thinking of the photos that my friend (Mouthpiece drummer) Jason Jammer had taken during their first song, which coincidently was, "Just How Much". Jason stood up in the balcony / band room for Chain's first song and shot an entire roll of film during that single song. After that song he hopped into the crowd, but the results from that 2 minute photo session blew my mind. There must have been at least 10 shots where the band was airborne and when they weren't airborne, they were stomping all over the stage or being showered with sing-alongs. Technically the photos weren't the best / highest quality, but the energy that was captured for that single song was impressive.



Hoffman, Canales and Barretto with Chain of Strength at City Gardens, Photo: Jason Jammer

So here are a handful of those shots that were taken by Jason during "Just How Much". Again, the photos are a bit dark, some are grainy and some aren't particularly clear and in focus, but Chain fan or not, you can't deny the energy that these guys brought to the stage that night.

Am I the only one left? My friends tell me I should just let it ride, I feel stronger inside... - Tim DCXX



Chain of Strength with a sing-along at City Gardens, Photo: Jason Jammer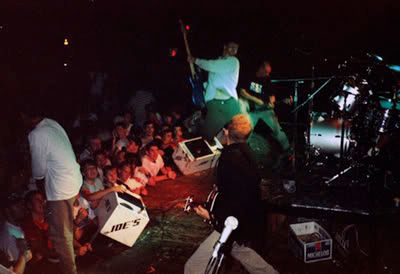 Alex goes for it, Photo: Jason Jammer



Another Chain of Strength sing-along at City Gardens, Photo: Jason Jammer



Hoffman goes airborne, Photo: Jason Jammer



Chain energy , Photo: Jason Jammer



Chain of Strength at City Gardens, Photo: Jason Jammer