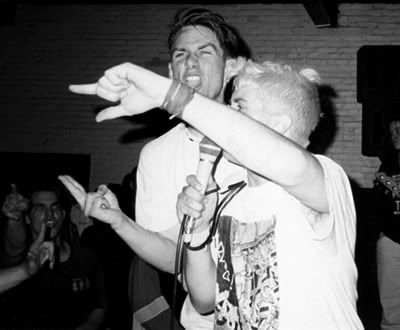 Erba fronting Face Value at the Uni Sound Club in Reading PA, yours truly (Tim DCXX) with the fingerpoint sing along, Photo: Traci McMahon

Tony Erba delivers the goods again and dishes out more on the notorious Clevo hardcore scene of which he has been a long time staple. Hope you are digging this like we are...

-Gordo DCXX

Confront and Outface really started the SXE scene in this town. The first SXE band was YOUTH INC. which featured the Kuebler Bros.,later of Confront, Bob Zeiger (drums, later played with Domestic Crisis, Ringworm, Integrity and now I play with him in the DARVOCETS) and Jerry Beck on vox (who became a famous comic book artist, he did ICP's comic). Youth Inc. played out of town and in Kent a lot. They became tight with a great band that became a Clevo favorite, Canada's SONS OF ISHMAEL. That's how I met the great Stephen Perry, who sang for M.S.I., they played the Smurf House (Sockeye and Hyper As Hell kids house in Kent) with CRUCIAL YOUTH!! Stephen went on to sing for One Blood and does the awesome EQUALIZING DISTORT zine and radio show in Toronto. A great man.

After Youth Inc. folded, it was Confront and Outface and False Hope that built the second-wave scene. They found halls and booked some great shows at this deli on Coventry called Irv's, and at the old Ritz, and of course Diversion's. Outface's crew was called the Positive Posse and Confront's was the One-Life Crew. The old guard (Guns, Offbeats, Starvation Army) were dying out, and even though Knifedance were going strong, Tom Dark (Knifedance, The Dark) had a rep as a dick, even back then, and wasn't helpful to newer bands. I later lived with Tom for three years and played with him in the popular version of STEPSISTER and let me tell you, besides Dwid, I think he may be the worst person I've ever been involved with in punk. Anyhow, Steve, Tom, Charlie, the Kueblers, Scum and Spike really built this thing. They blazed the trail and left breadcrumbs for me to follow.



Erba with Face Value, Photo jacked from Good & Plenty issue 7

As far as who the best bands were that I saw come through and play Cleveland, that's a wide-ranging question. I mean I could go on and on about James Brown @ the Front Row, the World Series Of Rock in '78 @ Cleveland Municipal Stadium (my first show, my Dad took me, lineup was AC/DC, Lizzy, Scorps, Nugent, Aerosmith, Journey, and Ace), Toxic Reasons @ the Variety, BGK @ the Lakefront with Raw Power(!!!), Hawkwind @ the Empire, Motorhead, Mercyful Fate and Exciter @ the Variety, but I assume you mean shows geared to the readership of DCXX. So I'd have to say GORILLA BISCUITS, PROJECT X, BEYOND, JUDGE, LIFE'S BLOOD and CONFRONT @ Irv's was certainly an all-time classic. $5. All those bands ON ONE BILL. No one had ever heard of Life's Blood...but HOLY FUUUCCCKKK!!! Man they were fucking AMAZING!! PROJECT X were fucking HARD!!! Judge with Jimmy Yu on bass going berserk! What an unbelievable gig...everyone going insane and having a blast. Confront were at their peak and fucking absolutely destroyed. We all hung out all night, went to Kelly's house, it seemed like summer would never end and the world was wide open and hardcore would always rule and we'd all be friends forever...I can't tell you how much I miss it. Those were truly the best days of my life.

Other all-time classic gigs were DEAD KENNEDYS with The Dark @ the Variety, DRI and COC @ JB's Down in Kent, DISCHARGE with the Plague @ Shadow's (this was the gig where Discharge was touring for 'Grave New World' with their new glam-rock style that everyone hated and they opened with 'Grave New World' and crazy-ass Bob Sablack from the Plague was like 'fuck THIS shit!!' and ran onto the stage and decked Cal! And Discharge headed for the hills and that was the end of the show!), D.O.A, KNIFEDANCE and CONFRONT at the Cleveland Public Theatre (fatass Chubby Flesh steamrolled me and broke my ankle at that gig, summer of '87), YOUTH OF TODAY, OUTFACE and CONFRONT at a rich girl's party in Orange (her parents paid YOT to play their house, that's where the pic of the YOT van with all the Clevo graffiti that's on the 'Disengage' 7" was taken, there's some Erba tags there too!).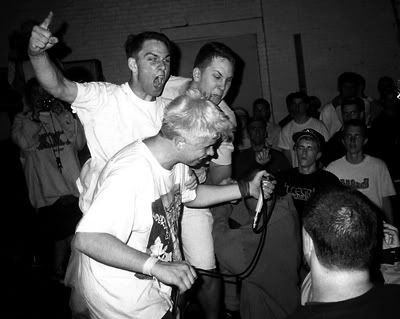 Face Value at the Uni Sound again, this time with both Tim DCXX and Rettman in for the sing along, Photo: Justin Moulder

As far as who I really hung with in the early Clevo HC days...I rolled with the Confront, False Hope and Outface guys when I moved to Coventry. I lived with Chris Smith AKA Scum who went on to Knifedance, Keelhaul and Inmates; Blaine Berr who's sister Gretchen was hooking up with Porcell, then Dwid and Derrick (Outface and Sepultura) moved in. I mainly hung with the Kueblers (and still roll with Brian to this day, he's bitter as hell and a great guy), Dwid, Chunky Flesh, Charlie (Outface and CIV), Steve Murad and David Evey (Spike from False Hope). We went to stupid-ass clubs downtown like 9 Of Clubs and The Lift for 'progressive' night and macked on Cure chicks and occasionally straight-edged our way into their pants. Ate a lot of pizza at CBP and started a lot of harmless trouble. Booked a million shows, went to Buffalo to see the NYC bands a LOT. Although with Dwid, there was always unneeded drama.

Confront, now that was a fucking fantastic, brutal, amazing, ass-kicking band. A huge influence on me. They were enthusiastic, nerdy yet hard, and a GREAT FUCKING BAND. They had earlier songs that should've been their first 7" - they were asked to be on Schism, but I was told that Tom Brose felt they weren't ready to record, or their songs were too cheesy, but I'm tellin you, "Macho Man", "Together Forever", "Stand Your Ground", and particulary "X Marks The Spot" (man that song DESTROYED) were fast as fuck and catchier than crabs in Dwid's bed (trust me I got them from rooming with him, or sleeping with the same girl). Confront taught me about DIY booking, networking, touring, how a hardcore song is SUPPOSED to sound, how a guitar in a hardcore band is SUPPOSED to sound (Brian Kuebler with his massive Marshalls and Les Pauls - best guitar tone (besides Gauze) I've heard in hardcore TO THIS DAY - he was greatly influenced by Tom Lyle of Government Issue, as was I).

Confront, before they became a joke, were an amazing band made up of great friends that were my bros. They were NEVER a tough-guy band, they were chubby posi-Jews from the Heights that just played loud as fuck and fast as hell and were all about the pizza, chicks and punk rock. Later, Dwid pulled his svengali act and got into Steve's head and got him thinking he was all 'hard' and became 'Mean Steve'. The Kueblers said 'fuck this shit' and quit in disgust. Actually what broke that band apart was that Steve started banging Kelly Ulrich who was Brian's longtime girlfriend...she was an extremely wealthy girl from Mentor that had this amazing house and drove a BMW with plates that said 'Kelly's Beemer'...Steve has always wanted to be rich and drive fancy cars and bikes and he was entranced by her. She really fucked Brian over. It tore best friends apart and ruined a great band and shattered our circle of friends. I always though she was a plastic skank who bought her popularity, I mean, who wouldn't hang around a (somewhat) hot SXE chick that had kickass pool parties every weekend and had Youth Of Today and Beyond play her parties? It was like 90210 or some shit. Hey, I was just glad to be included. Free food was always a plus! Brian told me he finally talked to Steve just this past summer. And this is 20 YEARS LATER!! So you can see how shitty this was. The latter-day versions of Confront were pretty bogus, Dave Lucas and co. were our pals but it wasn't the same at all.



Another Face Value shot snagged from Good & Plenty issue 7, check out those snazzy Rev shorts on Erba