Hard Stance (not Hardstance) was the easy winner for me in the Workshed poll.

I've always had a soft spot for this band, I think mostly because they are a perfect combo of a lot of things that I love about California Hardcore circa 1988. For whatever reason, I figure that in the world of Hard Stance, it was always summer time, and a typical day for these guys would be skating, driving around and throwing things at pedestrians, going to band practice, practicing stage dives into some girl's pool, stealing food, going to a show, and then smashing mailboxes on the way home or something. Maybe it's just the Sloth Crew ties, but that's what I envision. It can't go without mentioning that this obviously featured Zack De La Rocha before he was a zapatista. Oh, this was also Alex Pain's debut, going wild on the drums nonetheless at age 14, and the Hayworth brothers on guitar and bass.

Musically, I've always appreciated the thrashier break-neck paddle-beat element that feels much more 1987 than it does 1989 - you know, a little less formulaic, a little more circle-pitish, etc. I don't know if you can call it "hard," but Eric Ernst's vocals aren't soft, and the music doesn't make me want to hug anybody. The bass line to "Face Reality" is still one of my all time favorites, and when I hear the twinge of feedback that kicks off "Horizons", I have to smash something. The lyrics are good, the recording is raw but cool...it's just a solid record, 8 songs that rip by before you know it.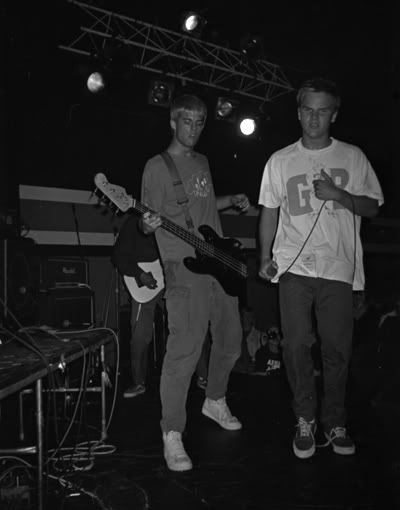 Mark and Eric with Hard Stance at The Country Club, Photo: Mikey Fastbreak

They weren't a big touring band, but almost everyone in the group went on to bigger things. This was the first record to kick off Dan O's Workshed discography, and even though there's some stuff in there that doesn't do a whole lot for me, I'd have to say that Carry Nation wasn't too far behind on that list, and the Workshed vibe is pretty cool.

When I think of SoCal Hardcore that would be blasting out of somebody's car in the summer of 1988, Hard Stance is one of the first bands I think of, and it's mostly because of this record.

"WELCOME TO HARD STANCE!"

-Gordo DCXX

Hard Stance - Face Reality 7" - 113
411 - This Isn't Me LP - 92
Carry Nation - Face The Nation 7" - 70
Headfirst - Back In Control 7" - 37
Triggerman - Dead Like Me LP - 8
Blackspot - Check Out The Helmet 7" - 6
Mission Impossible - 7" - 3
Shocking Truth - Acquaintance 7" - 1
Headfirst - The Enemy LP - 1
Voicebox - Silence Lies 7" - 0



Rob Hayworth with Hard Stance, Photo: Mikey Fastbreak