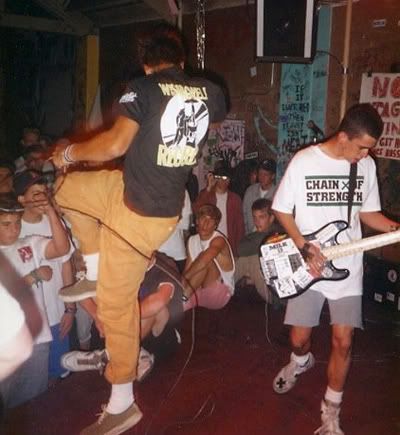 Mike on bass with Freewill on their first trip to Gilman St., Berkeley, CA, 1988

New Age Records guru and California HC staple Mike Hartsfield has finally made his way to the pages of DCXX, and here's part 1 of our interview with him. Thanks Mike. -Gordo DCXX

What was the first punk/hardcore record you remember hearing? What type of an impact did it have on you? Were you instantly into it?

The love was instant. I came from the metal scene and in the mid 80's I was hit with an overload of DC stuff (Minor Threat/Dag Nasty) and SoCal punk/hardcore, mostly nardcore (Stalag 13/RKL/Agression). I just remember how genuine it all seemed. The impact was lifelong. I had friends that were constantly making mix tapes for each other. Plus we had KXLU radio and Zed Records. Theere was the community feeling that helped us seek and find new bands/venues/record labels/etc.



Mike again on bass with Freewill, this time their 2nd trip to Gilman St. to open for Uniform Choice, Insted and The Dwarves in 1988

Where exactly were you growing up at the time, and what type of scene was there for punk and hardcore? Bands/venues/zines/clubs?

I grew up in a suburb of LA. About 40 minutes north. I wasn't close to anything and any ideas to get to shows, record stores, etc. required bumming rides or getting creative with methods of travel. Venues I went to consisted of Fenders Ballroom in Long Beach, the Olympic Auditorium plus miscellaneous halls. I met some great people at the Skate Palace in Oxnard, Dan Dittmer and Fred Hammer. I saw Uniform Choice a lot. Bl'ast!, Dag Nasty, Verbal Assault, 7 Seconds... the first zines I came in contact with were Maximum Rock and Roll and Flipside.

When did you start messing around with music and what was your first real band?

I started trying to play bass at 10. My brother had one my parents got him out of the Sears catalog. I stuck with the bass because it was easiest. I took some guitar lessons but was disinterested in learning "Mary Had A Little Lamb" when the majority of my record collection consisted of Kiss, Judas Priest and AC/DC.

When I met guys like Gary & Justin Balsz, Matt Crane and Paul Cranston, that's when I figured out how to start playing the music I wanted. Paul was the best guitarist I'd ever known. He had kicked around doing a band before I met him called A.O.R. (Absence of Reality). When we finally started putting riffs together the band had become Absent Reality (A.R.). It was Nardcore influenced skate rock. The lyrics were all improv'd and never the same. It was really, really fun.



Mike's first show on guitar with Against The Wall at The Country Club, Reseda, CA 1989