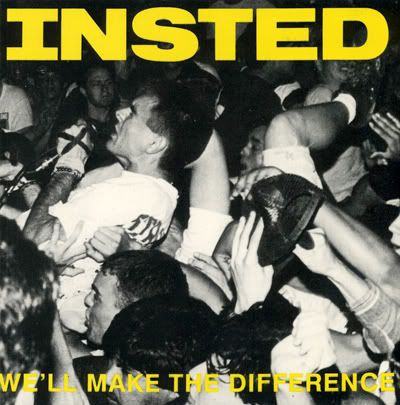 To recap our most recent poll in which we asked you what Insted record was your favorite, bassist Rich Labbate chimed in with some thoughts on "We'll Make The Difference," which squeaked by with the win. Tim and I both voted for the sophomore EP effort, and I can say it's easily my favorite Insted release while not knocking the other records by any means. Not only is Insted a great band, but they are some of the nicest, coolest dudes I have ever met, period. Take it away, Rich. O.C. Hardcore. -Gordo DCXX



Kevin bringin' the O.C. Straight Edge with Insted, Photo: Mikey Fastbreak

I joined Insted in the spring of 1988 (a few months before the 'Bonds Of Friendship' record was released). The demo had gotten a lot of attention locally and everyone was kind of waiting to see what would happen next. With the release of 'Bonds' and the line up solidified, we were ready to hit the ground running. You now had 4 guys who were totally on the same page. ALL straight edge, ALL vegetarian, and ALL really deeply rooted in Hardcore. There wasn't a local show that went by that you couldn't find at least one Insted member at. We ate, slept and breathed Hardcore.

Now the early material was compared to Stalag 13 and 7 Seconds. With me coming into the mix, I brought a wider range of influences other than Southern California Hardcore. I had been a record collector and preferred more rowdy sounding bands like Anitdote, Negative Approach, and Minor Threat - so that's what you start hearing on 'We'll Make The Difference.' Plus the whole Youth Crew era was at its height and we were representing the west coast.



A young Rich Labbate and some Age Of Quarrel, Photo courtesy of: Rich

I remember recording that record a couple months after coming home from a tour and we were pumped up about getting something new out so we could get back out there. I think the energy came across on that recording. It was harder sounding and more focused. I would have to say looking back that it is my personal favorite recording. Even though some of my favorite Insted songs are on 'Bonds Of Friendship' and Insted was most popular during the 'What We Believe' era, with 'We'll Make The Difference' we were just firing on all cylinders. - Rich Insted

From across the land to the zines and the bands
There's a network of people who show what they feel
Take a look, you will find this movement is one of a kind
There's nothing like it - it's here today
There's nothing like it - make it stay
I see it at all the shows
The togetherness flows
Music from the heart is what sets us apart
Move aside, give them clearance
The kids will make the difference
There's nothing like it - it's here today
There's nothing like it - make it stay
Get involved
Nothing like it

Insted - "We'll Make The Difference" 7" - 83
Insted - "Bonds Of Friendship" LP - 79
Insted - "What We Believe" LP - 59



Kevin and Rich with Insted and an adrenalized crowd, Photo: Mikey Fastbreak