In our most recent poll, which may have been our most nerd-friendly yet (considering it discussed 3 longsleeve t-shirts done by a small record label with 4 releases in 1988), JUDGE took the win as the majority's favorite Schism longsleeve.

Let me say there is nothing wrong with that answer and that I expected it to win. My second favorite longsleeve shirt of all time is either the red or navy Judge Schism longsleeve (I can never decide which I like more). I think both colors belong in the Guggenheim. Porcell and Alex Brown should receive monthly checks from the government for their creations, as this longsleeve design has simply made America a better place for the past 22 years. I'd like to one day stage a photoshoot with a voluptuous supermodel who is wearing nothing but an original JUDGE longsleeve (feel free to email any submissions). I think you understand my enthusiasm.




The only shirt to supercede such a ridiculous level of excitement is the PROJECT X Schism longsleeve. I've detailed my reasons in a long-winded diatribe on the TeeTillDeath site a few months back if you'd care to understand my reasoning.

http://teetilldeath.com/2010/05/19/favorite-shirt-of-all-time-gordo-dcxx

So yeah, I gotta go with PROJECT X.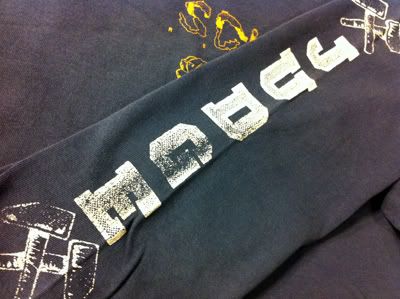 Let me also add that the Wide Awake longsleeve is no slouch either. I would never put it above JUDGE or PX, but it's still in my upper ranks as far as this sort of thing goes.

Schism knew how to do it. From the fanzine to the record layouts to the shirts...sheer perfection. -Gordo DCXX

Judge - 164
Project X - 131
Wide Awake - 46