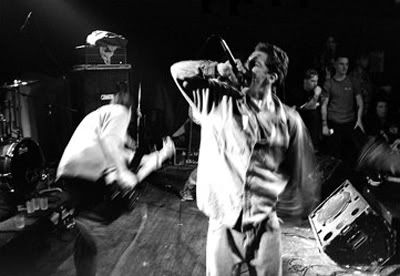 Supertouch at the Marquee, NYC, Gorilla Biscuits Last Show, 1992, Photo: Adam Tanner

Supertouch are one of those bands that I've always had a lot of great memories of seeing at their live shows. Going all the way back to the first time I saw them, which was either late '89 or early '90 at Rutgers University, to their first show at Middlesex County College in 1990 with Burn and Gridlock. Those pre-"The Earth Is Flat" days, when all they had out was "Searching For The Light" and the "What Did We Learn" 7" were great. The shows were smaller, but the crowd response was always strong and you would have 50 die-hards singing along to every word. Of course the set would always finish with "Searching" and pile-ons seemed to happen on cue. Good times for sure.

After those few 1989-1990 Supertouch shows that I caught, the band went on a hiatus and nothing was heard from them for quite awhile. Eventually studio tapes started leaking out from "The Earth Is Flat." I remember hearing it for the first time and being pretty damn confused. Not that the "What Did We Learn" 7" was traditional hardcore, but it was in the ballpark. On the other hand, this "Earth Is Flat" material was like nothing I had heard before. It's hard to put into words exactly what I was thinking at the time because it's been so long, but like I said, I was confused to say the least. As confused as I was, I did not give up on it and kept that tape in rotation that entire summer. Within a couple of weeks I bought "The Earth Is Flat" hook, line and sinker and never looked back. It might have taken me two weeks to "get it", but I did and it's forever stuck with me.



Supertouch at the Safari Club, Washington DC, Photo courtesy of: John White

Once "The Earth Is Flat" was actually released by Revelation, the band got back together and started playing again. The first show back that I remember was at the Marquee in NYC, it was the last Gorilla Biscuits show in 1992 if I remember correctly. I'm pretty sure "The Earth Is Flat" had been out for about a year or so and at that point it had really sunk in for everyone, it did for me at least. I was so psyched to see Supertouch on a big stage, with a huge crowd and all this great material behind them. I can assure you, they shredded the Marquee that night. I was a little burnt on GB at that point and to me, Supertouch stole the show. They were tight and on the money and delivered to a manic crowd that had waited patiently for a year or two to see them hit the stage again. I remember doing a ton of stage dives that night and trying my damnedest to avoid getting clobbered by the menacing NYC dance floor. Somehow I made it out alive and had the time of my life doing it. When all was said and done, that Supertouch set would be one of my favorite show memories ever.

Over the next couple of years I saw Supertouch quite a few more times. Two that stick out would be another Middlesex show, and the last show I remember seeing them at was a garage show in New Brunswick at the Bouncing Souls house. No matter if it was 50 people or 900, Supertouch always brought it. Luckily, over the past few years Supertouch have played a few surprise shows and I've managed to get myself to two of them. Sounds like Europe will now get their chance to "Get Down" and that's a good thing.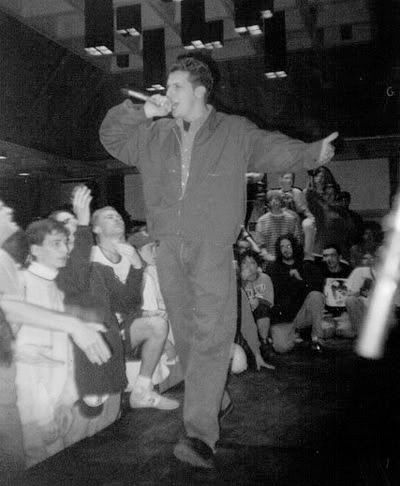 Supertouch at Middlesex County College, Photo: Pete Reilly

As for the poll, I could have gone either way. I really love both the 7" and LP equally and to be completely honest, I'm not even sure which I actually voted for. Both represent different eras of the band to me, but both bring about positives from each side. Obviously "The Earth Is Flat" went home with the win and I can understand that, it is a full LP's worth of material, but in the end, there are no losers here. -Tim DCXX

Supertouch - "The Earth Is Flat" LP - 148
Supertouch - "What Did We Learn" 7" - 85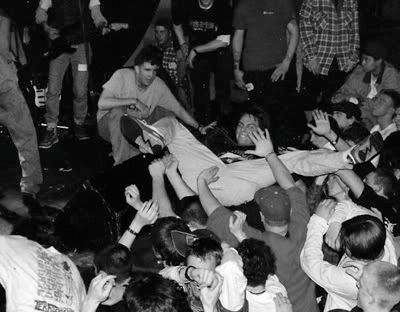 Supertouch at the Marquee, NYC, yours truly with some stage dive action, 1992, Photo: Traci McMahon