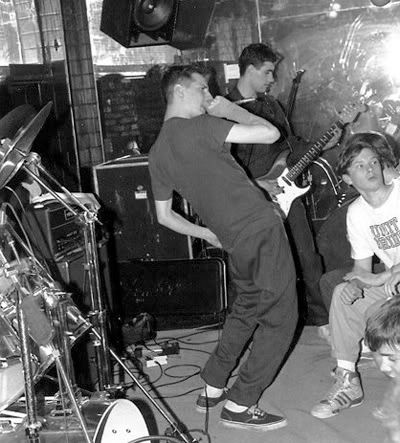 Supertouch at The Safari Club, Washington DC, Photo courtesy of: John White

Coming off of last night's Supertouch poll wrap up, Tom Farkas dropped us a line with a cool thing he had written about Supertouch, and specifically their WNYU recording. Pretty cool stuff, and a fitting time for it as well, as this legendary recording is apparently coming out sometime soon on vinyl. Thanks Tom. "Climbin' Aboard!!!" -Gordo DCXX

In the late 1980's New York hardcore scene very few bands commanded more respect than Supertouch. Mark Ryan, Supertouch's singer, was an old school legend and had been the singer for Death Before Dishonor in the last great era of NYHC. This gave them a pedigree right out of the gate. Supertouch's rhythm section was as tight as they come - they weren't some kids trying to keep it together, they were a rock solid machine. Jon Bivano's guitar playing was powerful, creative and reminiscent of classic rock greats, and yet, still as aggressive as any other CBGB matinee regulars.

If there was ONE problem with Supertouch, it was that they didn't have any recordings. Serious devotees of the scene knew all of their songs from going to countless shows but, aside from the occasional blown out crowd recording, no one had access to their music. Most NYHC bands progressed from demo tape, to a compilation track, to a seven inch, and maybe, if they were top notch, a full length. Supertouch could have gone straight to the full-length and pleased the whole scene.



Joe and Mark with Supertouch, Photo: Eric Fennell

When the first Revelation Records compilation 'Together' came out, Supertouch had the track 'Searching For The Light' on the B-side and it was an instant classic. The recording was weak, but the track shined right through. Hopes were high, if Supertouch had gone into a recording studio, maybe we would be hearing some more from them soon. But all we had was that one track, and a head full of memories of all of their other great songs.

So when the second Revelation Records compilation, 'The Way It Is', hit the shelves, there was a chance that we might get some more Supertouch material to devour. And we did, sort of. It was yet another version of 'Searching For The Light'. True fans needed more than this to satisfy them.

That satisfaction came in the form of radio waves. Supertouch played a live set on WNYU. Every NYHC kid had this tape. This was as close as we would get to a full length Supertouch record for quite some time. That live radio set got played countless times, traded, dubbed, lost and found. It was the definitive recording of those songs, at that time.

When Supertouch finally did release a full length LP, 'The Earth Is Flat', it had all different, newer songs on it, leaving that WNYU tape as the time capsule for a bygone era. All of us who saw Supertouch live back when they were doing those earlier songs will always hold onto that radio recording near and dear. The audio may be rough and live and the vocals may waiver, but it's Supertouch LIVE, which is how we remember them. Maybe that's for the best after all.



Joe with Supertouch, Photo: Eric Fennell