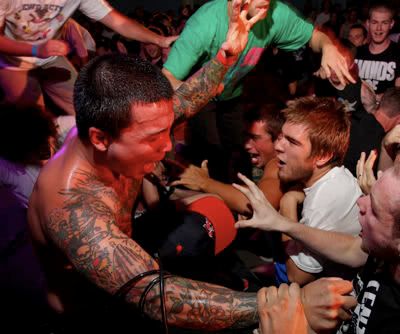 Jay Pepito with Reign Supreme in Santa Barbara, CA, 7/25/08, Photo: Zac Wolf

Jay Pepito - Reign Supreme

This is a difficult question to answer, because it's such a broad one. If I had to pick one, it would probably actually be "Start Today", and I'll explain why. While one could almost certainly make the case that records like "We're Not in This Alone", "Bringin' It Down", and "Age of Quarrel" are more 'classic', or 'timeless', (and I'd probably agree, after all, the latter of the three is unparalleled in my opinion as the finest musical accomplishment of the human race, period), "Start Today" has a brilliant sense of both understated hardcore/punk aggression and angst, mixed with a melodic approach that was revolutionary for it's time and place.

"Start Today" is the record that fueled a hundred drives to the Manville Elks Lodge and Casino Skate Park and CBGB's and Deja One in high school, and it was that record in a lot of ways because it's less intense and less serious than so many of it's brethren. I think that simplicity is what makes it stand out, and though I'd wager that "Age of Quarrel" or any of the more impactful and grandiose classics are more 'crucial' or seminal, I'd probably assert that "Start Today" is, for me at least, the more honest soundtrack to my early romance with punk and hardcore music.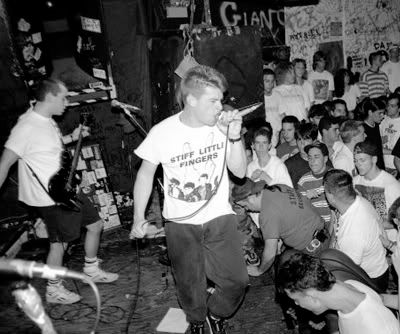 Pete Tabbot and Dave Franklin with Vision at CBGB, NYC, Photo: Ken Salerno

Pete Tabbot - Vision

Wow, quite difficult to cite one above the rest...Way too many great NY, DC, Orange County (CA), Boston/RI and Chicago area albums to name just one. But if I have to, it's The Misfits' Walk Among Us LP. There may not be another album with so many perfectly simple yet melodic hooks...The music couldn't be more basic, but Danzig croons, all the while in creepy/cartoonish fashion, with amazing sing-alongs in every single song. Predecessors like Buzzcocks/Clash/SLF and next-gen bands like Naked Raygun offered some of the best hook-laden, vocal-straining-worthy music ever, but 27 years after its release, I still sing along to Astro Zombies, Teenagers from Mars and the rest of those songs in my car at full volume (and perhaps will 20 years from now). Classic.



Rob Fish with 108 at the Burning Fight Fest, Photo: Matt Miller

Rob Fish - Release / Ressurection / The Judas Factor / 108

There are a lot of records that have stood the test of time for me but I am going with one from a band that introduced me to punk rock.

Black Flag - Jealous Again EP. My favorite release by one of my all time favorite bands. Chavo has always been my favorite Black Flag singer as there is an emotion and desperation in his voice that never fails to connect with me.