Mike Bringin' It Down with Mindset, Photo courtesy of: Mike Clarke

One of our goals here at DCXX for 2010 was to try and mix more current bands into our content, so why not kick it off with Maryland's own… Mindset. If you're active in today's hardcore scene, you're probably already familiar with Mindset because they've undoubtedly been busy making their mark. If you're not so active and come here more so to read the classic material, now's your chance to see what kind of impact the hardcore we all love is having on today's generation. Mindset's guitarist, Mike Clarke took some time out of his schedule to answer the following questions. Check it out. -Tim DCXX



Mike and Evan with Mindset at Champion Ship, Lemoyne, PA, Photo courtesy of: Mike Clarke

How did you get into straight edge hardcore and what made it leave such a powerful impact on your life?

Well, I enjoy when people ask me this because it's a fairly humorous story. I was definitely WAY into punk rock before I ever stumbled onto the core. Being from a very small town in rural Maryland, I didn't have anybody pointing me in the right direction so I had to really dig to find the type of tunes I was looking for.

As sheltered as I was, I knew enough to know that Minor Threat was (and is) the coolest band ever and that straightedge was fucking awesome. Now I know I promised some mild humor in this story so prepare yourself. I was flipping through the insert of Total Chaos' "Punk Invasion" Lp and noticed a skinhead with his arm around a clean cut looking dude with a Gorilla Biscuits shirt. Of course, GB is such a weird name that next time I was in a Record And Tape Traders, I picked up a copy of Start Today. I figured if skinheads were hanging out with fans of this band, they must be cool. My logic proved flawless.

From there it's the same kind of story...inserts, records, internet, Revelation Records and so on. I definitely have Total Chaos to thank for turning me onto the core though.

As far as the impact on my life? I mean, the edge is awesome. I think most readers of DCXX have heard it all but I will say, it's totally changed my life. I see substance abuse ruining lives all around me. I can't figure it out and I don't try too. I know what's right for me so I stick with it.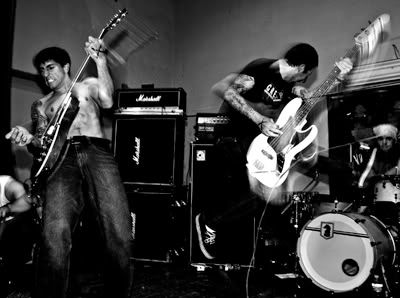 Mini Stigma and Chris with Mindset, Photo courtesy of: Mike Clarke

How did Mindset get started and what were a few of your biggest goals?

I started MINDSET when I was 17. We've been around a long time but it's always been in different phases, and different levels of seriousness. We didn't really buckle down and get serious or do anything until 2006 or so. We got a serious line up, we developed our ideas and concepts as far as what we were all about.

Ev and I are the only original members, but it's always been him and I. We've been friends since 9th grade. We would just stay up all night talking about what mattered to us and why we wanted to do MINDSET. That was a super cool time for the band. Nobody gave a shit about us, we didn't have any merch, we only played Baltimore and Central PA. It was very fresh and felt so awesome.

I think our goals are pretty simple and the same now as they were then. Mostly we just want to have fun, be sincere, and really HAVE OUR SAY. Ev always jokes because he's not the most musically inclined dude in the world but hardcore is so awesome, he can be in a band and say what he needs to say and people listen.

I feel like when I was coming up around 2004 or 2005 and even now, straightedge is characterized as some kind of a corny joke or something. Kids don't X up anymore, even if they are straightedge. So I'd say another goal MINDSET has is to challenge that idea. We always X up at shows, whether we're playing or not, you know? Making a statement to younger kids is important to us. I mean shit, we're still young as hell too, so most of the people reading this are probably laughing that we're considered the older generation in hardcore right now.

That being said, our biggest goal right now is to make hardcore the best it can be for punks, cores, bangers and skins. The scene is splintered as shit right now but I don't think it has to be that way. Baltimore and DC are a great example of the way things should be all over. We play shows with Trapped Under Ice, Surroundings, Coke Bust, Warpriest, LOJ, Give, Pulling Teeth, Mob Mentality, Police And Thieves, and others. Everyone gets along, everyone comes out to shows and supports what's going on...that's the scene MINDSET is all about.



Air Clarke with Mindset, Photo courtesy of: Mike Clarke

What's been the most memorable Mindset show that you've played so far and why?

So far there have been some totally awesome shows and tours that we've gotten to do. The first thing that popped into my head was playing the last TFS show. Those guys practically raised us as a band and we have a lot to thank them for. That was such an emotionally charged show and it was totally awesome to be apart of it. It was also the first time I did a dive with my guitar and that was bad ass.

Playing Gilman was awesome too. We also played Vancouver Island I believe, and we had to take a ferry there. We all hid under equipment and blankets in the van because it was like 20 bucks per person and we had 12 or so people in the van. The ferry ride was so beautiful, like some Alaskan wilderness type shit. The show was awesome too, kids went wild for us and it was just a great vibe all around.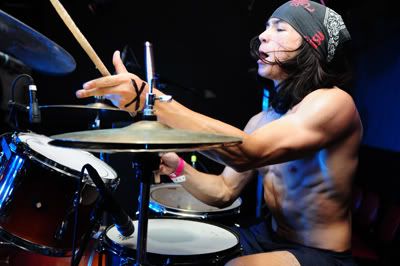 Daniel with Mindset, Photo courtesy of: Mike Clarke

What's been the most memorable show (non-Mindset show) you've been to and why?

Seeing Government Issue in DC a couple years back was the best. They are one of my favorite bands and I thought they played so well. There was a ton of younger kids there too and everyone was diving and having a killer time. The bouncers at the Rock And Roll Hotel were assholes and tried to put a stop to the fun, but needless to say, they were checked hard. I specifically remember a bouncer with long hair in a pony tail, a Nirvana shirt, and these black cut off gloves, like weight lifting gloves. Anyway, he was a real tool and became a favorite target for kids to launch off of. Some kid grabbed his pony tail and jumped in, giving him massive whiplash. GI rocked so hard.

Everyone wanted an encore but they didn't know any other songs so they played a couple of the same ones over. Stabb was live as shit, I was impressed.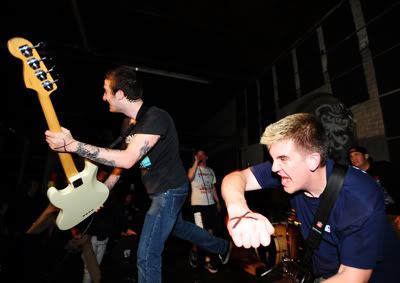 Chris and Mike deliver it to the Champion Ship crowd, Photo courtesy of: Mike Clarke

List three hardcore bands of the past and present that have left a great impression on you and why?

1. The First Step - TFS were THE coolest dudes to us. From the first time we played with them they were so willing to help us out. We were huge fans of their band and to have them just totally take us under their wing, it felt good. They really helped us figure a lot of stuff out and really helped us shift from a local band to a more mid level band. They took us on tours and just treated us like peers and that felt really good. Of course, Aram is our main man with REACT! and he is just next level awesome. They've definitely had the largest impact on us, not just as a band but as people too. Steve roadies for us a lot and it's awesome to be able to kick it with him all the time still.

2. Corrupted Youth - I'm sure nobody has heard of this band or cares but they've had a major impact on me all the same. They were a punk band from my town in Maryland and I totally cut my teeth on punk rock with those guys. They have had a huge impact on me as a musician and as someone in a band. They were so DIY about everything and totally had their shit together and that left a major impression on me.

I remember my first band when I was 14, called 3 Over Par (I know, it's ridiculous) - we showed up to this basement show we put on and we had a bunch of cdr demos with no insert, or sleeve, or writing on them or anything. Corrupted Youth made fun of us, but then totally helped us out and told us to make inserts, what the best ways to do it were, etc. They also toured the US relentlessly with no support from anyone. They bought a van, booked their own shows, and just did it. That inspired the hell out of me and still does. MINDSET does just about everything ourselves and I credit CY for that.

3. Youth of Today - enough said.



Mike Clarke with some Mindset in your face, Photo courtesy of: Mike Clarke

What would you like kids today to take away from seeing and hearing Mindset?

Well like I said earlier, making a statement and setting an example for younger kids is really important to us. We want kids to see the traditional hardcore ethics that we espouse. I'm talking DIY, unity, community, change, sincerity and everything else I thought hardcore was supposed to be. We are a hardcore band because we all love hardcore and believe in what we're doing and that's what we want kids to take from us.



Mike, Chris and Daniel with Mindset, Photo courtesy of: Mike Clarke

What are your interests outside of hardcore?

Right now I'm finishing up my last semester of college and I couldn't be happier to get out of there. I'm an intern at Monocacy National Battlefield and that takes up a lot of my time but I'm so stoked on it. I'm a avid Civil War enthusiast which Steve and Aaron TFS think is hilarious. To be truthful, it is pretty funny. Between that stuff, the core and work, I really don't have time for much else.

Tell us about your up coming record and what we should expect from it?

TIME & PRESSURE is an ep coming out on REACT! Records in the next month or so. Pre-orders went up on Monday, January 25 and I couldn't be more excited. It's 6 songs in all and I think it's way better than our first seven inch. It's a little harder than the first seven inch, maybe in a Hard Stance sort of way. I don't really know what else to say without sounding like a giant douche plugging my own record but, I am very proud of it.

We mean everything we say, we believe in what we're doing and that being said, I think this record represents who we are as a band very well. I don't think hardcore and straightedge is kids stuff, I don't think it's a novelty or a joke, MINDSET is out to set the record straight on that.