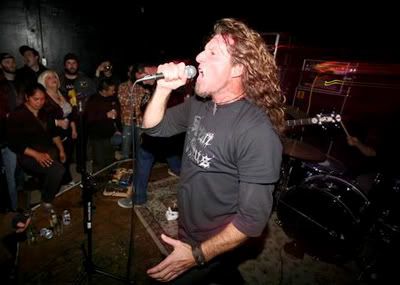 Clifford Dinsmore fronting his latest band, Dusted Angel

Legendary BL'AST! frontman Clifford Dinsmore stopped shredding for a minute to talk to us. Expect more on life before BL'AST!, life after BL'AST!, and what he's currently up to with his new ripping outfit, Dusted Angel.

Surf And Destroy!!!
-Gordo DCXX

I grew up in Aptos, CA before moving to Pleasure Point, East Side Santa Cruz at age 17. Before punk I was into Zep, Sabbath, UFO, Ted Nugent, Thin Lizzy, etc., and then the Ramones came along and changed my life forever. My brother and I, David, surfed and skated every day, and I still surf tons to this day. Punk was the natural sound track for the aggresive surfing, skating and localism that was going down at the time.

I accidentally became a singer after writing words to the song "Holocaust" by MAD when they were jamming at my house every day. My favorite singers early on were Ozzy, Joey Ramone, Dez Cadena, Ian MacKaye, and HR (Bad Brains). Oh yeah, and Danzig.



Clifford shreds it with Dusted Angel

My first punk shows were Ramones, Humans, DK, Black Flag, DOA, etc. Once I started, I pretty much went to every show. My fave bands early on were Germs, Flag, DOA, Bad Brains, Minor Threat, Misfits, Damned, Joy Division, etc. I saw Flag every time they played the Bay area, same with Minor Threat. Two real stand out shows were The Misfits the first time they came out west, as well as the first SF Bad Brains show...Fuckin' mindblowing!!!

I met the MAD/BL'AST! dudes through my friend Kieth Meek, and shortly after they moved to Santa Cruz. I moved into their pad and surfed Epic Rivermouth every day after the storm of '81/'82. When we got kicked out of that house, I took a shit, and threw it in the heater vent.

Every thing back then was just one big chaotic blur...let's put it this way: memories I can't remember, mammarys I'll never forget!!!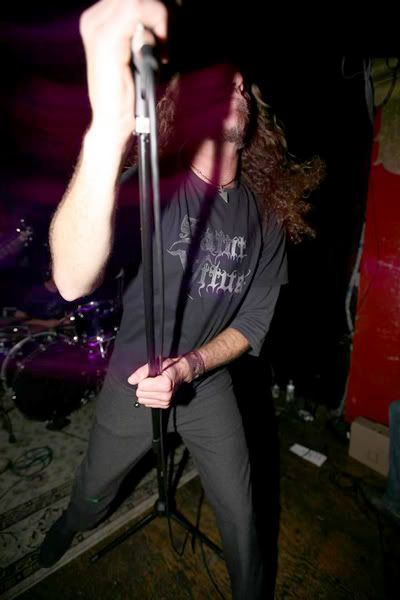 Dinsmore rocks the mic stand and the Saint Vitus tee