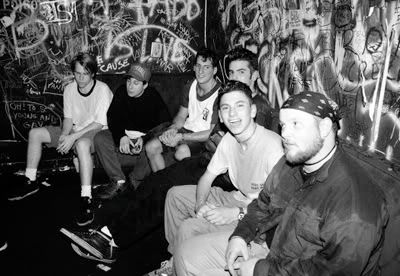 Mike with Judge back stage at City Gardens, Photo: Ken Salerno

The following begins a substantial collection of contributions from many of the major players within the hardcore scene, both past and present. Some answers are long and in-depth, some are short and sweet, but all are meaningful and interesting. Hopefully everyone enjoys reading these as much as I've enjoyed collecting them. Stayed tuned, many more to come. -Tim DCXX

Mike Ferraro - Judge

Pretty easy for me. Black Flag " Damaged." It changed me. I was a mixed up punk rock kid who couldn't figure out why I didn't fit in. When I heard side 2, it all came together. I was fucked up but so were a lot of people my age. Somehow it made me feel not so alone, if that makes sense. I still listen to the Damaged record all the time. It's just the heaviest thing ever.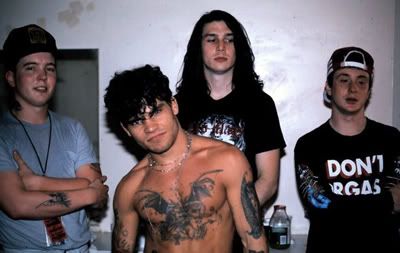 Parris with the "Best Wishes" era Mags, Photo courtesy of: Parris

Parris Mayhew - Cro-Mags

Sex Pistols "Never Mind the Bullocks" - Dead Boys "Young Loud and Snotty" - Cockney Rejects "Greatest Hits" - Crumbsuckers "Life Of Dreams" - Black Flag "Damaged" - Dead Kennedys "Fresh Fruit" - Circle Jerks "Group Sex" - Bad Brains "Roir Cassette" - and X "Los Angeles" - I still listen to them all often!



Patrick destroys the kit during a Citizens Arrest set at ABC No Rio, 1990, Photo: Christine Boarts

Patrick Winter - Our Gang / Citizens Arrest

Not sure if this goes down as punk/hardcore but I would have to go with CAN I SAY by DAG NASTY. I probably have heard that album 5000 times at this point. I can't think of a more perfect album from that era. Honorable mention to I DON'T WANNA GROW UP by the DESCENDENTS.