Mike Neider, the man behind the Dan Armstrong

Former BL'AST! ripper Mike Neider is always a welcome addition to DCXX, and here we get into some post BL'AST! history as well as what he's up to now with his new steamroller, GUSTO. - Gordo DCXX

What was the idea behind spelling "Blast" as "BL'AST!" - where did the name come from, why the apostrophe and exclamation mark, and what did that name signify to you?

I came up with the name around the same time we started to play or maybe even a bit sooner. Just thought it was appropriate and very suiting and it sounds real good. We were very literal almost to the point of not enjoying it as much as we should of. Haha. But believe me we enjoyed it thoroughly. The exclamation point was to make it heavier then it already is and the apostrophe between the L and A was to fill in the space a bit cuz it was kinda empty looking there. Ha. I know.

Post BL'AST you played in a few different projects, some of which maybe never got real far and are still mysteries to interested fans. Can you give a full run down on each project other than BL'AST!, what you did in the band, and some full line-up details and info? Favorite band you ever played with (including BL'AST!)?

Ya, Post BL'AST! was always myself (vocals/guitar), Bill Torgerson (drums) and Dave Dinsmore (bass). We started out as Black Out and there were to many bands using that name so we changed it to LAB, which was Live and Burn/Life After Bl'ast!, haha. Lab was probably the most amazing time because we had a ton of fun and the tunes were out of control in a great way, we literally played 20+ hours a week. We had a ton of songs we dug and it was an amazing time. Brant Bjork joined in briefly and we also had Jerad join briefly but in the end it was always Bill, Dave and I. At the time we started getting some label interest and we were about to sign and playing out allot w/ Fu Manchu and others. I went through some lame times that made me have to stop playing for a while. Then Dave and Bill had their share of reality with there personal lives. So it was halted in a lame way, even though at the time we were ready to roll. DAMN.

Anyway we have a bunch of recordings / demos / whatever that we will release this year I believe on vinyl. Looking forward to it.

Favorite, that's like picking your favorite child. Haha. Doesn't work that way, ha. No, but liked each band for different reasons.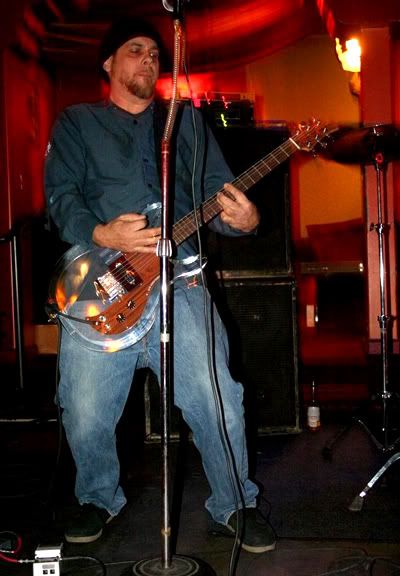 Mike Neider with Gusto, Photo: Ricardo Carles

The early 90s gave rise to a lot of bands in California that cited BL'AST! as a direct influence. Fu Manchu obviously comes to mind. It seems that bands like Fu Manchu, Kyuss, QOTSA, etc. borrow somewhat indirectly from the BL'AST! aesthetic: skate/Cali imagery, Dan Armstrongs, big Ludwigs, etc (especially Fu Manchu). Some of it is subtle but it is there. What do you think of this? Where did BL'AST! get it's own cues for these things? What is your relationship specifically with Scott Hill and the Fu Manchu guys over the years?

Well most of these bands that you mentioned are all friends and have been throughout the years. We all grew up with Sabbath/Flag etc...most of the same influences. Not too sure to be honest but for myself I liked doing stuff that was big and out of step w/the stream, dry and in your face as much as possible. Kinda the anti-text book, with quick attack, ha ha. Bands like Sabbath/Flag did the same thing.

I remember when Bill ordered his drums. He was a senior in high school worked his ass off and came up w/ enough dough to custom order his own set from Guitar Center/Ludwig. He ordered that huge chromo wood set that you have seen w/Bl'ast! It was radical.

Then we added our 12", 15", 18", 10" speakers w/ rack mount amps to do what we wanted to do with Bl'ast!

Mr. Scott Hill rips! The first time we met Scott I believe is at one of the first BL'AST! shows in '84? Maybe sooner or later a bit. We have been friends ever since, and all the Fu dudes rule. We have played with Fu a lot throughout the years. Scott got hooked up with Ampeg for Dan Armstrongs a while back and has hooked me up with guitars, very cool. But I am sure we will be playing more shows together. Fu Manchu is relentless.

Tell us all about GUSTO, and what's going on with the band now and what can we expect?

GUSTO is myself (guitar, vocals) Dave Dinsmore (bass) Alfredo Hernandez (drums) and the band is sounding very potent, it's kinda like our roots meet our present mentalled state, ha. In great ways. We started in 2006, due to tragedies in our families we have not gotten on a roll until now.

We have shows booked and good ones coming in the future and we are recording in 7-09 so it is looking good and we are stoked.

The tunage is very badass, like I said roots twined in some different ways and not. If your familiar w/ us you will know who it is. It is what we would like to hear and there will be a wide array tunes as time flows.

www.myspace.com/GustoJams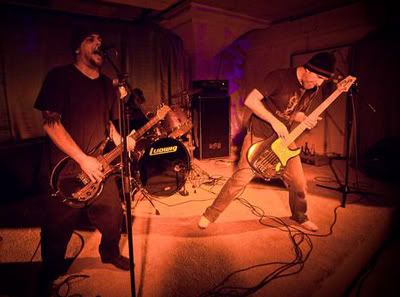 Gusto: Mike, Alfredo and Dave, Photo: Alric Kaczor