Last week we leaked some incredible photos taken by Gail Rush of the Boston Crew. Our minds were blown by the photos we were seeing for the first time, thus it was only logical we stalked her and fired off question after question. Hope you appreciate this like we do-
-DCXX
When did you start photographing HC bands? What was your connection with "the scene" in Boston?
I started photographing bands in 1979 or so...we were going to see bands at Media Workshop ( a 5th floor walk-up on Boylston St), Gallery East (behind a hotel near South Station), Jason's in Somerville and other small, alternative venues. Christine (my daughter) was my connection to the hardcore scene. She'd started hanging with Jaime Sciarappa. They are still best friends.
I needed a project for school, so I asked her to get the kids together for a shoot about their tattoos, why they got them and what they meant to them. Dave Smalley took it most seriously and wrote the most. The other ones, Anastas, Choke, Tony Perez, Steve Grimes and Pat Raftery were unsure about what it was I wanted. Nancy, Al Barile's wife was there too. Not too many girls had tattoos back in the day. Jaime was there but I don't think he had any tattoos at that time.
What were your favorite bands and clubs to photograph? Do any photos of yours stand out as your favorite? Why?
The Channel and The Paradise were great because I could get to the side of the stage and shoot out towards the crowd and not be in the line of stage divers. SSD was great...Jaime always ended up bloody for some reason. DYS was great too, lots of action and crowd response. I think some of the SSD at the Channel and the crew in the zone pictures are my favorites. They capture a time. And the tattoo pix, they are all SO young.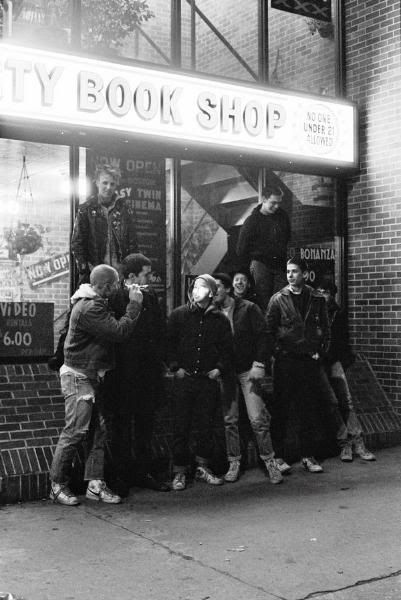 What was the early 80s Boston Hardcore scene like as a female photographer?
Easy, I felt protected. The bands & Christine always made sure I had a safe place to shoot from. Though I did get knocked down at the Minor Threat show...camera back opened and light leaks show on the only roll of color film I ever shot at a hardcore show. Not ruined but affected.

Who did you identify with and call your friends?
Well, Springa was at my house a lot...I used to write school excuse notes, and Doctor's notes for him...he was hanging with Christine then. They were more Christine's friends than mine, though I'm friends with a lot of them now...age differences aren't so important. I was "Christine's mother," not a friend then.
The epic Boston Crew photos - what was the idea behind these, when/where exactly did they take place, and what was the intention for their use? What do you see when looking at these photos?
Christine brought the whole crew out to our house in Roslindale...about 14 boys, her, Nancy and I left in their van. We stopped in Roslindale Sq. and took the van shots, then drove to the combat zone for the rest. Boys do love the combat zone. It was freezing, we went club to club taking pictures. Went over to Tufts and photographed in front of the huge Xs...straight edge, ya know. There really wasn't an intended use for them...just for me...they didn't have copies of them until a year or so ago when Christine had them all scanned and she gave them to the guys for Christmas.
When I look at these photos now I just remember how young they were and how seriously they took themselves...all their "rules"...and how glad I was that Christine was hanging with them...straight edge worked for me as a parent. I liked them, and I trusted Christine's judgment of them. Other people would ask me why I "let" my daughter hang out with these scary looking kids...most thought them racist and dangerous, but I knew they were far better than the 'cuda, Nike and LaCoste wearing locals from Roslindale who WERE racist and who spent their nights drinking in the school yard, smoking dope and harrassing the girls.
To you, how did the Boston hardcore scene change in your eyes by 1985? Did you continue photographing bands?
In 1985 the straight edge hardcore scene was over. Metal was in...not interested. Christine was in LA (ED. NOTE: Christine would go on to play on 90210 amongst other shows and movies, more on this below), so the connection was gone. I'm still photographing bands, though not live shows for the most part. We have a recording studio in Cambridge, MA called New Alliance Audio (http://www.newallianceaudio.com/) where a lot of bands you'd know have recorded, and a record label, Curve of The Earth. I do head shots and promo/album art.
What do you make of modern day hardcore bands, especially those that cite bands like Minor Threat, Bad Brains, and SSD as influences (and not the bands that aren't rooted in the origins of hardcore music yet still call themselves "hardcore")?
I don't care...people who know the roots see the differences.
Who would you say are your favorite hardcore bands ever? Favorite hardcore records ever? Best live hardcore show ever attended?
I liked a lot of the local bands, SSD, DYS, FU's, Jerry's Kids, The Freeze, and other bands like Bad Brains, Black Flag, Dead Kennedy's, PIL...My husband produced a DYS record, so it's a favorite. Hard to say what was my favorite show ever...SSD at Gallery East...might have been their first show..or very early, Dead Kennedy's show was packed and about 100 degrees, Bad Brains & Anti Pasti at Streets, a club that held about 100 people, Minor Threat and SSD at Gallery East...I've been to too many and too long ago to be accurate here.
Quote from the Boston Globe Oct. 8, 2006: Christine Elise McCarthy, the Boston native whose resume as an actress includes stints on "ER" and "Beverly Hills 90210," was an early fixture in Boston hardcore, which she remembers as "gi normously male." "It was a whole new eruption from the existing scene," she explains by phone from LA. "But people who were in the broader punk-rock scene didn't go to hardcore shows because it was too abrasive, and I must say those boys could be a little unwelcoming to people they didn't know. In the pit it could be pretty unfriendly. A 27-year-old guy would be considered an old man in that crowd and he'd get completely assaulted. But I got along famously with them -- to me they were just good suburban kids."